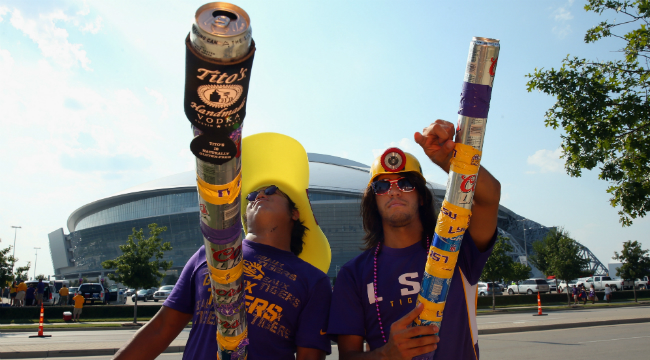 Among college football fan bases, drinking prowess is nearly as tied to their to collective pride as team success. And perhaps no college has more boozing pride than LSU, which seems to stand apart as a school of true hooch hounds, especially when it comes to their traveling fan base.
The Tigers are visiting Syracuse this Saturday, and the school and city are both buckling up, according to Syracuse.com. An estimated 7,500 visiting fans are expected, and they're planning on going hard, according to LSU alumni association VP Jason Ramezan:
Bloody Mary's, mimosas and screwdrivers in the morning at the OnCenter, site of the pregame tailgate for traveling alumni.

"I've gone places in the past where they've run out (of alcohol)," Ramezan said.

Bourbon, Crown Royal, cranberry vodkas and beer during the tailgating at Skytop.

And, yes, Ramezan was aware of the beer and wine sales at the Carrier Dome.

"They might meet their alcohol budget for the year," he said.
SB Nation's Spencer Hall, an authority on the topic, attests to the prodigious drinking of Tiger fans:
Now let this serve as a lesson to all colleges that LSU will visit (for this year, South Carolina, Alabama and Ole Miss): LSU fans are coming, so stock up on booze (and probably hydrate, if you want to keep up).
(Via Syracuse.com)