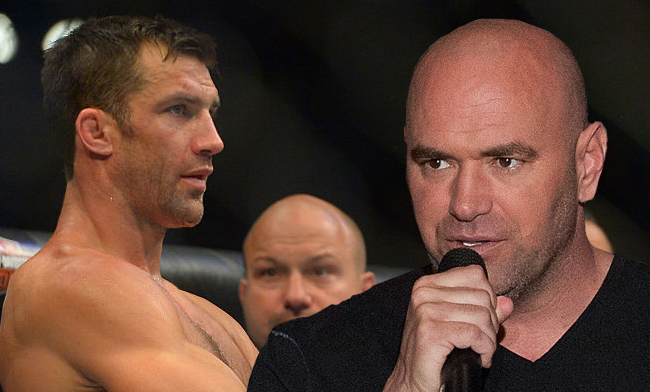 Another day, another upset fighter shut down by the UFC. At this point, with more and more fighters dismayed at their pay either from the company or the weak sponsor that is Reebok, it almost seems like a rare day when someone isn't taking the UFC to task. The latest is Luke Rockhold, who was shut down by Dana White at the somewhat eventful UFC 211 post-fight press conference. Luke just wanted his fellow middleweights to get some clarity as GSP and Michael Bisping held up the division, but here was White's response (via FOX Sports):
"There's a lot of guys talking about 'deserve' — nobody deserves anything. You've got to earn it here. You've got [Luke] Rockhold screaming right now 'I deserve this'. You just got knocked out in the first round. You've got to come back and earn it," White told FOX Sports at the UFC 211 post fight press conference.

The guy just got knocked out in the first round by Michael Bisping and he thinks he deserves this and he deserves that. You earn it. You want to come back and you want to fight for the title? Get back in here and earn it. That's it.

Nobody here deserves anything. You earn it," White said. "You want the next shot at the title. You come out and you earn it. Just because you're ranked No. 2, 3, 1, or whatever, things don't line up that way all the time."
Rockhold didn't hold back with his feelings:
The problem, as always, is the completely random ways the UFC deals with things. You have to earn it? Ronda Rousey got a title shot after getting knocked out. There are countless examples of fighters getting title shots off losses. Furthermore, the fact that Rockhold took an opponent, Bisping, on short notice should work both ways. He didn't have to take on Bisping. Sure, he got cocky and got caught, but he could've pulled a Jon Jones and asked for a full camp to prepare for Bisping. He didn't. He took the fight and lost. Remember when Conor did that against Nate Diaz? Now he's being gifted with a $100 million fight. Rockhold doesn't draw like Conor, but you know what I mean here — "earning it" is an obtuse notion that could mean anything depending on Dana White's mood that day.
The fighters just want clarity.
But will they ever get it? Here's White's rebuttal:

After a year of questionable matchmaking, maybe Dana needs to look in the mirror.