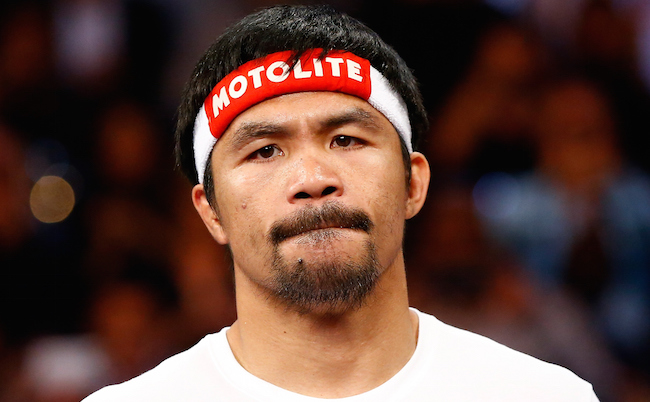 Manny Pacquiao is hanging up his gloves to focus on his role as a Filipino politician after he gets into the ring one more time in April, but as of now, we still don't know who his final fight will be against.
ESPN boxing writer Dan Rafael did a Q&A with readers on Friday morning, and one fan asked him the question of who Pacquiao would be finishing his career against.
I don't know, but I am told Pacquiao can't make up his mind. Personally, between Bradley and Crawford, I hope it's Crawford.
Rafael is referring of course to Timothy Bradley and Terence Crawford, who appear to be the two most viable candidates to face Pacquiao in his final bout. Amir Khan's name has also been thrown around as a potential opponent, but it now appears likely that he is out of the running and it is down to Bradley or Crawford.
Bradley has fought Pacquiao before, twice, with Bradley winning the first fight in controversial fashion, and Pacquiao defeating him in the rematch. Crawford, on the other hand, has been angling for a fight against Pacquiao, but may have actually looked too dominant in his win over Dierry Jean in October to be selected.
Either way, if it really is the end for Pacquiao, the fight will certainly generate a ton of buzz. Although losses to Bradley, Juan Manuel Márquez, and of course Floyd Mayweather in recent years have made defeating him slightly less impressive, Pacquiao is still considered to be one of the best fighters on the planet, and a win for Bradley or Crawford over him in his final fight would do wonders for their careers.
(Via ESPN)