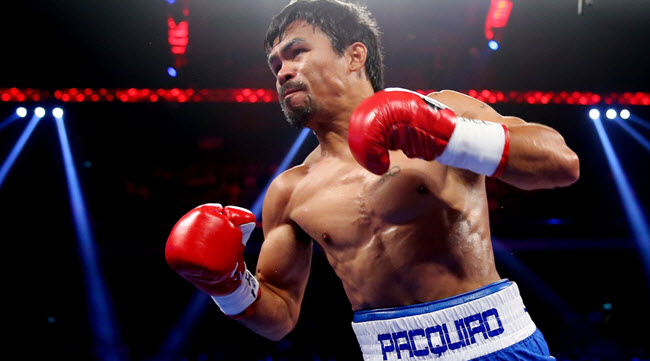 We now have a possible reason for Manny Pacquiao's lack of aggression during Saturday's fight with Floyd Mayweather. According to orthopedic surgeon Dr. Neal ElAttrache, the boxer suffered a torn right rotator cuff. The injury will keep him out of boxing for at least six months, and possibly longer.
"We have an MRI scan that confirms he has a rotator cuff tear. He has a significant tear,"

"Once you know he has a tear that's not going to heal on its own, then the decision for an active person is you want to try to fix this before it gets bigger," ElAttrache said. "If all goes as expected with the surgery and the rehab is successful, Manny could be back training in about six months. At that point, he will be regaining strength and endurance, and competition is reasonable within nine months to a year. But this is a severe enough tear that it won't heal without being repaired."
Word leaked after the fight of a possible Pacquiao injury. His camp reportedly asked the Nevada State Athletic Commission for an anti-inflammatory shot the night of the fight, but were denied. As a result, Pacquiao's punch totals were low, 429 to be exact. A far cry from the 1,000 he normally throws. Even worse he only landed 81. Sure, some of that can be attributed to Mayweather's stellar defense and strategy, but now that there's medical proof of a significant injury, things are starting to make a little more sense.
You can expect to hear talks of a rematch fairly soon. In the meantime, Mayweather's adamant he will retire after a September fight. A mystery opponent looms.
[ESPN]