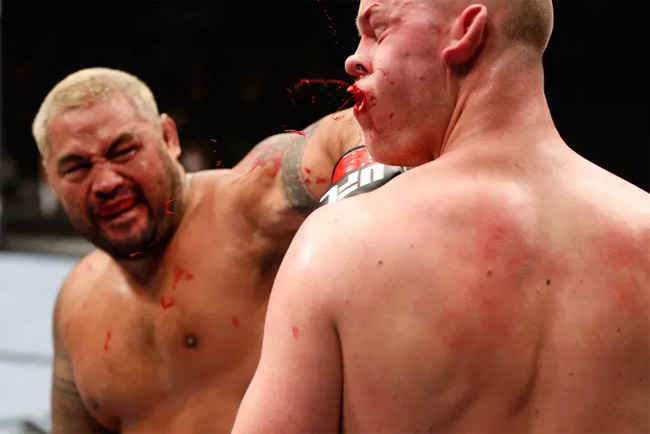 After the news that Mark Hunt was suing the UFC for a piece of Brock Lesnar's UFC 200 purse, we figured it would be a long, long time before we saw the Super Samoan back in the Octagon. Fortunately, it looks like Mark may be back sooner than expected … possibly as soon as UFC 209 on March 4th! Various outlets have reported that Hunt has verbally agreed to fight fellow K1 veteran Alistair Overeem.
But he hasn't given up on his attempt to get paid should his opponent test positive for performance enhancing drugs. If the UFC wants him to sign a bout agreement for UFC 209, it will have to include a provision that awards Hunt a large chunk of his opponent's purse should that opponent fail a drug test.
"I will not fight without this clause," Hunt said in a release on his personal website. "I've already fought three dopers in a row and I'm not going to fight again without security. All I want is a fair go and an even playing field.
"My clause will protect me in this instance and take the financial gain of the opponent of caught cheating. That deterrent will protect me and other fighters. I'm pushing for this clause, I want to fight and I am ready. If the fight doesn't go ahead it's not my doing."
It's an interesting demand, and not one we feel is all that unreasonable. Hunt wasn't wrong when he pointed out how light Brock Lesnar's punishment was after failing multiple drug tests leading up to their fight — the WWE wrestler was fined only $250,000 of his disclosed $2.5 million dollar purse. And considering Hunt was the one who took the beating and the hit to his record, why does that $250,000 go to the athletic commission?
Who knows how the UFC reacts to all this. We imagine Alistair Overeem would have to agree to this provision as well, since the UFC can't just change his contract to suit Hunt's whims alone. That's a lot of moving parts, but it's a great fight, and a fair clause. Here's hoping it all comes together.