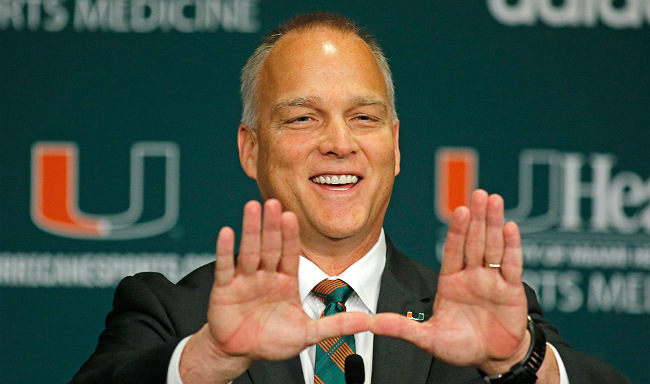 When Mark Richt was fired by the University of Georgia in 2016 he immediately found himself a new job at his alma mater, taking on the job of trying to bring the University of Miami back to prominence.
The 2017 season was the high point, as they finished 10-3 with losses to Clemson in the ACC title game and Wisconsin in the Orange Bowl. That performance had people very high on the Canes entering the 2018 season, with a preseason ranking of No. 8 in the AP poll and the expectation that they would roll through the Coastal again and challenge Clemson for the ACC crown.
Instead, Miami sputtered to a 7-5 regular season record and lost in miserable fashion to Wisconsin once again, this time in the Pinstripe Bowl. The season was defined by terrible quarterback play, and indecisiveness about who should be the starter, and an offense incapable of giving a stout defense any chance to compete. Still, it was only three years into the Richt tenure and while hot seat talk always picks up when a coach underperforms, no one thought this would be the end of Richt's time in Coral Gables.
That was until Sunday when Richt announced he was stepping down and retiring in a shocking announcement that even caught the Miami program off guard.

Now the question is what will Miami do next. Defensive coordinator Manny Diaz, who would've been the presumed favorite to take the job among those on staff, just accepted the Temple head coaching position and would seem to not be an option. Mario Cristobal, a former assistant at Miami (and Alabama) is currently head coach at Oregon and it might be a tough sell to pull him out of Eugene this early in his tenure. Just about every other hot name on the coaching market has already been gobbled up by other programs, although there are a few that stuck around at their Group of 5 spots.
Bill Clark has done a masterful job at UAB and has some buzz about possibly being a name Power 5 programs would consider, but he seems pretty set on staying with the Blazers for at least a few more years. Seth Littrell returned to North Texas after many thought he'd end up with Kansas State. Neal Brown likewise is still at Troy after being a hot name on the coaching carousel this year, and Miami could certainly do worse than taking a look at him.
One name immediately being kicked around is former Miami coach Butch Davis, who has done pretty well at FIU just down the road, and would satiate Miami fans' desire to return to the halcyon days of The U.
Outside of that, it would seem the options are to dig into the assistant coaching pool or make a run at Dana Holgorsen before Houston can. Whatever the case, the state of The U is now very much in flux and, just three years after they thought they'd found "their guy," they're on the hunt again.