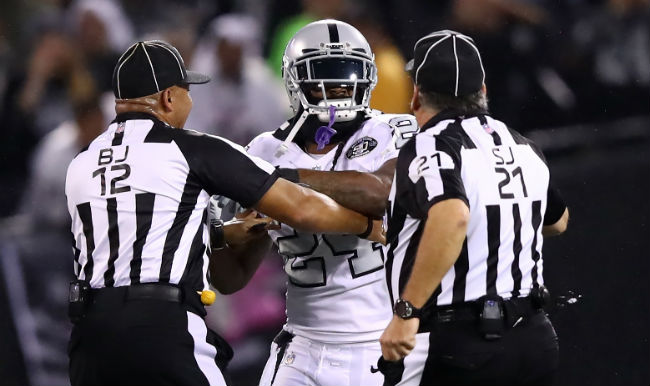 Marshawn Lynch was ejected from the Oakland Raiders' Thursday Night Football game against the Kansas City Chiefs after he made contact with an official during a stoppage in play.
It was a weird scene, as Lynch wasn't even on the field playing at the time. But when Lynch ran onto the field after a personal foul call against the Chiefs while wearing his helmet, he grabbed and appeared to shove an official. That garners an automatic ejection from the game, and the officials obliged him by giving him the gate.
Initially, there was some speculation that Lynch was so upset about the ejection that he left the stadium. That would indicate he was very, very heated about the incident.

But soon after, those in the media reported that Lynch had, in fact, stuck around for the comeback after all. In fact, he watched from stands for a bit.
Members of the media even caught him pacing during the comeback Oakland staged, which required them to score in the final minute and kick an extra point to win.
After the game, Lynch celebrated with teammates in the Raiders locker room.
Lynch's ejection is tough to paint in a positive light, and the initial report that he had left altogether made it that much worse. But Lynch managed to turn it into an extremely on-brand moment for him. It certainly helps, of course, that the Raiders managed to win without him.