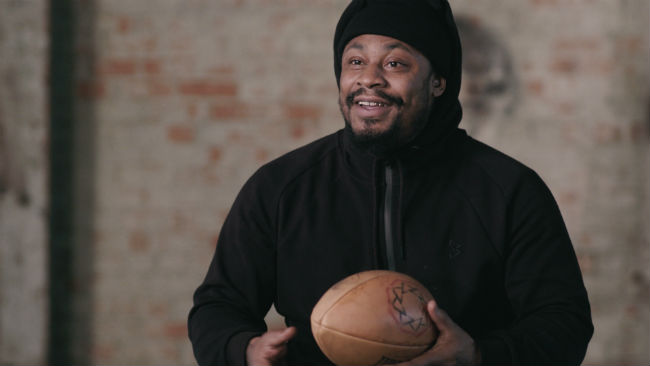 Marshawn Lynch is a very deliberate person. That is to say, he only does exactly what he wants to do, and at this point in his NFL career, he's certainly earned that right.
Lynch has already retired from playing football, for one, deciding to literally hang them up on Super Bowl Sunday in 2016 with a single tweet. After a year off, he decided he wanted to play again, though, un-retiring to join his hometown Oakland Raiders. He's already won a title in his career, forever solidified his reputation in the league as a force of nature with some epic runs, and is very careful about his public image.
So when Lynch does something, you know there's a purpose behind it. Which is why when Wilson wanted to partner with Lynch to auction off some very unique footballs, it was clear the project would include a bit of the running back's signature style. The NFL's official pigskin provider teamed up with Lynch and tattoo artist B.J. Betts to make some custom footballs tattooed with some designs near and dear to Lynch to auction off for charity.
This may not surprise you, but Marshawn Lynch can be a difficult man to get a hold of — I think at one point his dog walker was involved in getting him on the phone, if my transcription records are correct. But Lynch was passionate about the project once he got on the line, and a lot of that had to do with what Wilson was doing to help Fam1st Foundation, which spearheads a number of different projects for the youth of Oakland.
"Pretty much all of the work that I do, whether it's marketing or it's endorsements or anything like that, usually I make sure there's always a charitable component to toward my foundation," Lynch told Uproxx in a phone interview. "If you know anything about me, that's something that I guess you can say is standard."
Lynch is famously reticent when it comes to reporters, but it was clear the custom football project drew his attention. Betts incorporated some tattoos and designs Lynch already has, including using his signature "Beast Mode" slogan. Lynch had worked with Wilson to make a custom ball when the Raiders played in London earlier in the season, but these were much more involved.
"The first one was just basically a replica of a pattern that I already had and they just made the pattern based off of a shirt that I had," Lynch said. "But then this next one they got into a bit more expressive with the tattoo artist. The process alone is fairly easy."

https://bcove.video/2t7j7xj
"I like pushing art to different levels and I 100 percent think this was," Betts said of the chance to work with football leather to create tattoo art.
It hadn't actually occurred to me before seeing these footballs that you could tattoo a football. I asked Lynch if he knew it was possible and he said the end result was pretty impressive.
"Well I knew a football was pigskin," Lynch said. "What I didn't know that the process or the healing process would actually look like something that was done on some human skin."
Lynch has had some pretty cool things happen in his career. For example, the Bills put together a Beast Mode cartoon to play in Ralph Wilson Stadium back in the day, while Oregon had a bobblehead of him riding a golf cart from his days at Cal. So I had to ask where getting footballs tattooed in your honor ranks on the list of unique career achievements.
"It's fairly high because it's something new and something that I haven't done before," he said. "To see the actual work done on the football was pretty fly."
The auction began on Thursday and is set to run until Feb. 3 at midnight.
When we were done on the phone, Lynch asked if I actually remembered those cartoons the Bills used to play on the video board at the stadium after some of his big runs. I said yes, explaining I was a Bills fan growing up.
"I gotta find that commercial, dawg," Lynch said. "They probably got that on YouTube."
You can, kind of, but I told him I'll see if I can find something and send it this way. Given that some charitable folks will end up with these footballs, he seemed to appreciate the offer to track it down.
"Hell yeah," Lynch said. "That'd be platinum big dog."