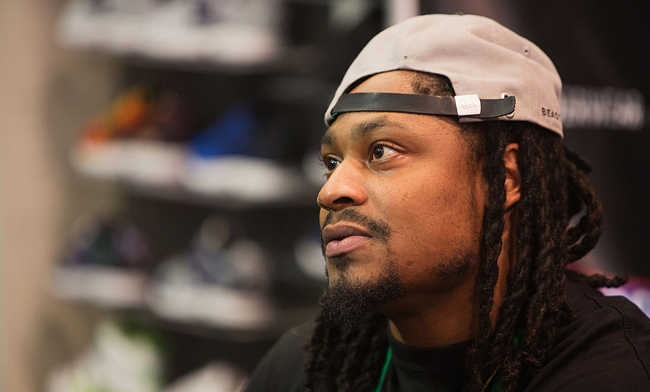 Hours after white supremacists and Nazis took to the streets of Charlottesville brandishing tiki torches chanting "Jews will not replace us," and while Colin Kaepernick continues to be blackballed from the NFL (because he's been brandished a distraction, not because he's unqualified), Marshawn Lynch sat on the sidelines during the national anthem before his first game as a Raider.
Lynch's perceived peaceful protest joined LeBron James' tweet decrying President Trump's blaming of "many sides" during the protests in Virginia which left one dead and 19 injured after a car drove through a crowd of counter-protesters to the polo and khaki-wearing hate groups.
The Oakland native is joining the Raiders after coming out of a yearlong retirement and is currently on a two-year, $9 million dollar deal. He's 31 years old, and has a plethora of highlights to his name, but none are more important than the vast amounts of time and money that he's given back to his hometown of Oakland.
Lynch joins an ever-growing list of players that are speaking out against the rise in hatred across the United States by protesting in a visible, peaceful way. In this instance, Lynch was seemingly blocked by two members of Raiders personnel as he sat on the sidelines.