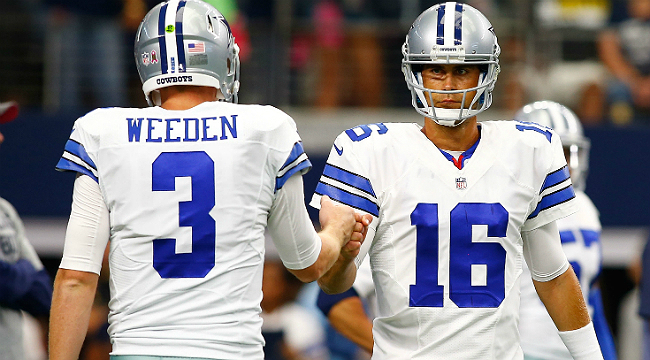 Rejoice, for Matt Cassel is back in our lives. The Dallas Cowboys, fed up with Brandon Weeden's essential Weeden-ness, have installed Cassel as their starter until Tony Romo's collarbone heals and he returns to save the 'Boys (unless it's already too late). The Cowboys traded for Cassel to back up Weeden just three weeks ago, and now he has already supplanted the 32-year-old.
Matt Cassel has spent most of his football life as a backup, and his public image is so inextricable from the wholly unique position in sports of "backup quarterback" that no fanbase has ever really expected much from him. He's never been better than mediocre, but by now, he possesses enough experience to justify a roster spot over a complete unknown. Coaches love someone who's been there before, even if they were never great, or even good.
Cassel spent all four years at USC backing up Carson Palmer and Matt Leinart, despite being highly recruited out of high school. The New England Patriots were still impressed enough with his pro day that they drafted him in the seventh round in 2005, ahead of more established college names like Hawaii's Timmy Chang and 2003 Heisman winner Jason White. (I'm convinced there's an alternate universe somewhere in which the Pats draft Chang and he enjoys a long career challenging Whitehurst for the title of "Most Chill Backup QB Bro.")
Cassel managed to stick around and win the backup job, never a sure thing for a late-round pick like him. And, true to the story of a backup QB, that might have been the last we'd hear about him outside of the occasional mop-up work and Week 17 start (long live Curtis Painter). Then Bernard Pollard tore Tom Brady's ACL in 2008, and the rest was history.
Cassel managed to not screw up the Patriots enough to get them 11 wins that year, which somehow wasn't good enough for the playoffs that season. Regardless, when Scott Pioli left New England for Kansas City after the year and the Chiefs needed a quarterback, Pioli knew that Cassel wouldn't immediately torpedo the team, which was good enough for him. And for a second there, it kind of worked.
Cassel's first season in Kansas City didn't go too well. He threw as many touchdowns as picks and only won four games. That's what happens, the story goes, when you take a man destined to be a backup QB and try to make him a starter. His competence collapses under the weight of expectation. But a funny thing happened in 2010: He was actually really good!
Okay, he wasn't Peyton Manning or anything, but he threw for 27 touchdowns to only seven interceptions and kept the defense honest for the Chiefs' formidable running back duo of Thomas Jones and a young Jamaal Charles. He even made the Pro Bowl (as an alternate to an injured Tom Brady, naturally), and the Chiefs made the playoffs. Maybe they were wrong at USC; maybe he was really good enough to be a starter!
Well, it turns out Cassel was more like Icarus, and his flightpath finally took him close enough to the sun to melt his QB1 wings. He was never nearly as effective in 2011 or 2012, and missed multiple games due to injury both years. He became representative of Scott Pioli's Patriots cronyism and general ineffectiveness as a GM, and Chiefs fans wanted him gone, so he was released before the 2013 season.
His dalliance with glory over, Cassel was prepared to back up Christian Ponder with the Vikings in 2013. And he put in a backup performance for the ages, eventually replaced Ponder either starting or coming in as a backup in all five of the Vikings' victories that season. He acquitted himself so well to the Vikings' staff that they named him the starter going into the 2014 season, even though they had drafted Teddy Bridgewater in the first round that offseason.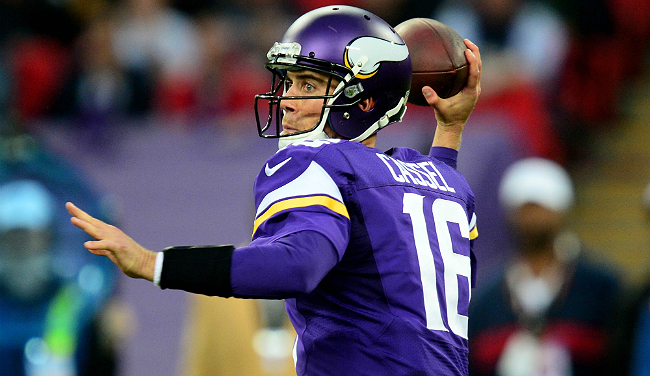 Yet those wax wings keep on melting, and Cassel broke his foot late in September, ushering in the Teddy Bridgewater era. The Vikings moved him along to the Bills, where he lost the battle in camp to Tyrod Taylor (who's looked pretty darn good so far, by the way), after which time he was traded to the Cowboys as Weeden insurance once Romo went down.
Now that insurance policy has come due. Once again, Matt Cassel has become a starting quarterback simply because he's so good at being a backup quarterback. If history is any indicator, the 33-year-old Cassel will be perfectly fine at quarterback because no one's expecting him to be a savior — well, he is Dallas' savior from Weeden, but he already accomplished that. The rest is gravy, as has been the case for Cassel's entire career, for those with the right perspective.
With luck, Cassel will perform well enough to supplant Weeden long-term as Tony Romo's backup, or failing that, another team with a shaky QB situation will bring him in as a security blanket. That's because we're finally ready to realize what he is — the ideal backup quarterback.