Life has been pretty good for Matt Light since his retirement from the NFL following the 2011 season. Light, a former standout along the New England Patriots' offensive line for a decade, spent some time doing television, and now is pursuing some non-football interests.
One of those is KEEL, a light vodka that hit the market a few years back. Its claim to fame is being the world's first premium light spirit, and in Light's eyes, the company had a simple mission.
"So 2012, I retired, by 2013, I had joined forces with them," Light told Uproxx Sports. "We launched the world's first premium light spirit. This concept that you can go out, you can have a great night, you can enjoy yourself, but you can wake up feeling refreshed and responsible and get after work."
Light is still a football player at heart, and like everyone, he has an eye on the Super Bowl, which will pit his beloved Patriots against the upstart Los Angeles Rams. Light sat down with Uproxx Sports to discuss the game, the mindset an offensive lineman has to have when going up against Rams star Aaron Donald, and what vodka drink he'd serve up at a Super Bowl party.
Uproxx Sports: I think we start with Rams cornerback Nickell Robey-Coleman, here's a quote he said about Tom Brady: "Age has definitely taken a toll for him to still be doing it as a great compliment for him. But I think that he's definitely not the same quarterback he was." What are your thoughts on that?
Matt Light: I think it's a young man that just kinda got caught up in the moment, said something, and now can't get away from it, so he's just gonna own it. I've seen it time and time again. There's a time where, when you say something, the best course of action would be just not to address it and move on, and not compound it or stick by. You don't have to necessarily say, "Oh I made a mistake," or acknowledge a boneheaded move. But if it was me counseling the young man, I would definitely not suggest the idea that Tom Brady's not who he used to be.
I mean, the obvious is that he's definitely not a 25, or 27, or a 29-year-old Tom Brady. He is a 41-year-old man playing the game of football. But the bigger suggestion there was that he's not what he used to be, therefore he's easy to overcome, what he brings to the game. I just think that's a terrible way of approaching the game against a guy like him.
How has Tom evolved as a quarterback so, like you said, he's not 25, 27, 29, but he can still manage to be effective?
He's done it in a lot of different ways. Everybody's seen The TB12 Method, and how he eats, and how he sleeps, and how he drinks all this water to avoid sunburns, and all this stuff that people have had fun poking holes at. And by the way, as a player, I did, too. I'm disciplined, I like to do things a certain way, I have a methodology. But I would say he takes it to the Nth degree, all those things, and therefore, when it comes to nutrition, and taking care of his body, and doing all the little things, and giving himself as much of a chance as possible to heal and stay healthy, he's figured out what works for him and he says it all the time.
Look, you take anybody that's as ridiculously driven and highly competitive and as disciplined as he is, you're gonna have a guy that can play when he's 41 at an extremely high level. Mr. Robey-Coleman, he would do well in really going back and analyzing his entire game, because I would assert that there is a case to be made that he's playing better than he's ever played, and he has as big of an impact to the game, and to his team, and the NFL as anybody's ever been at any point in their career.


Both of these teams have great quarterbacks, potent passing attacks. But both of them have really found success on the ground throughout the year, especially in the postseason. We hear so much about the NFL becoming a pass happy league, but is it possible for a team to be a championship contender without being able to run the ball?
Well, I mean, we've seen it a lot in the past. We've seen a lot of teams have great regular season records without much of a ground game. The ground game is getting attention now because it should be, and it's been a big part of the Pats, and really LA as well, obviously, to be where they are today. This postseason has been filled — whether it was here in New England or in the AFC Championship game in Kansas City both — with really good decisions in the run game, and how they approached the run game, and who they utilized, and who they didn't, and how they mixed and matched their personnel. Their run game is why New England is where they are, and obviously it's been a big part of L.A.'s production as well.
I think the run game, there's a big story there. I think it's gonna be a major part of this Super Bowl. The team that comes out and runs the ball effectively, which is also saying the team that's the most physical, is gonna win the game. That's the kind of football that, personally, I enjoy the most and I think the fans really respect.
I'm glad you said that, because specific to this game, I love how both of these offenses … for how good Brady and [Jared] Goff are, for how good their skills guys are, they both have really excellent offensive lines. The Rams have their five guys, the Pats have their five guys, plus Rob Gronkowski can do all sorts of linemen stuff. Do either team do anything really special up front? Or do they just throw a bunch of big old nasty dudes out there who can win at the point of attack?
It takes a lot. You've gotta be as disciplined in the run game as any other area — offensively, defensively, special teams. The run game is a very technical approach to football in general. It's a lot easier to throw the ball, and have success, and not have everybody doing the right thing than it is in the run game, right? So I'm throwing the ball, I'm dropping back, I'm the quarterback, I'm the receiver, it doesn't matter what end of the spectrum. I can have two or three other guys at the 11 that are on the field on my side not doing what they need to do. I could have a receiver that's not running technically the right route or the right side, I could have a lineman that whips on the block, I could have a back not stay in the block or do something else wrong, and we could still gain yardage. If those things happen in a run game that play is dead, over, done immediately.
I'm not sure the general public thinks of it that way. As an offensive lineman, my best friend is the run game. We worked on it ridiculously over the years. It was a major emphasis of every week of preparation. These guys that put themselves in a position where they have a healthy offensive line in New England, they've got road graders, they got two of the biggest bookends you could ever have at tackle. Trent Brown is a massive humongous mammal and I don't think Cain is too far behind him. He is a big boy as well.
And then in the interior they got smart guys that can move. They can pull, they can trap, they can do it all. So the fact that they're healthy and they're able to hit the ground and pound guys, you have to feel pretty good about their chances in the run game and being able to have success come Sunday. Man, and it's gonna be a major part of the game.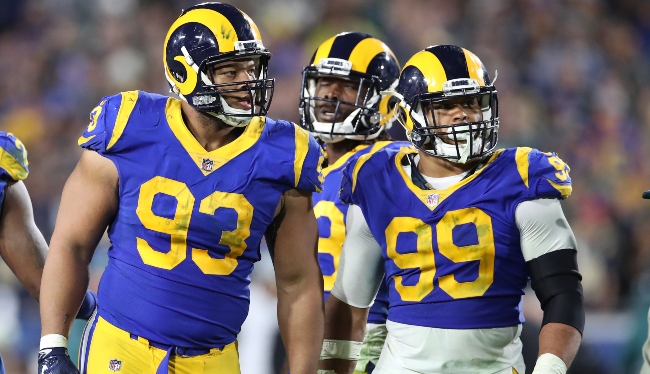 I wanna hone in on one match up, up front, which is the Patriots' offensive line going against that Rams' defensive line. Particularly Aaron Donald, how do you keep a guy like him in check for a whole game? Or do you go into this going, "He's gonna get me a few times but I can't get discouraged by that."
Both. He's gonna get you a few times. I mean the guy's a phenomenal player. He's really shifty. He's sudden upfront … the guy can get skinny, and get into a small space, and make you look bad early, which is your worst nightmare up front. They can move him around a little bit, too, and they can definitely come at you with a different approach using his speed and his quickness, and what he brings to the game. Obviously they got [Ndamukong] Suh, they got a host of guys that the front seven are made up of that can be disruptive and cause issues.
If you focus on any one of them too much, you're opening up areas of your offense to be exploited by other guys. I think [Sean] McVay is gonna have those guys dial up some unique things. You know, they're gonna throw some stuff at Brady to see how he deals with it and how the offense does. But ultimately, I think they're gonna let those guys do what they do, and they've been really effective all year in how they combat it.
They've gotta keep them off guard. You get predictable, you get into a point where you're trying to play catch up and you're trying to throw the ball all day, they're gonna tee off, and that's gonna be a really bad way to try to win that game with those guys up front. Again, the run game is your best friend. They gotta be able to go right at them with direct runs. They gotta be able to make those guys run sideline to sideline by getting the ball outside and getting the ball on the edge, which they did really well in the last two games, and then they've gotta keep them off balance with the screens. I think New England's as good as there is at screens. When I was there, we were one of the best screen teams in the league, they continue to be one of the best screen teams in the league. Then their intermediate passing game, when those guys are getting off the ball quick for really no gain, and using up a lot of energy. So I think to me that's the best way they can handle that defense.
So are you a predictions guy or do you try to stay away from those?
I've never made a prediction in terms of scores. I feel really good about New England. I feel really good about the way they're playing and the style at which they play. I said this before, I think it's the biggest story line in all of football, and that is since the 2011 CBA and the way that teams can prepare, practice, what it is they are and aren't allowed to do, the amount of time they get to spend together, the fact that they have no pipeline for players to come into the league. Since the 2011 CBA, it's made it exponentially easier for Bill Belichick to win championships.
I think that's the biggest story. I'm not saying that's a guarantee or it's a lock, but when you take away a lot of the preparation, when you take away a lot of the ways that you can develop players, and you take away the ability to just correct mistakes by just repeatedly running guys into the ground — which is what used to happen, I'm not saying it's the right way, but we used to practice a heck of a lot more in the National Football League. And because you can't do those things now, a lot of it comes down to the system and how well you can educate guys, and that's what Bill does better than any coach out there.
He has the historical data. He's collected so much on every facet of the game that he can prepare and train the guys in that locker room to do a very specific job, and they all do their job really well. I think because of that he's geared and he's set up the way he coaches and his staff to take advantage of these new rules that really limit all your preparation.

So how does a former NFL offensive linemen get into the vodka game?
Well I was in an alley once … No, I'm just kidding. Do what you love. I love the business, I love the marketing and the promoting of products. I like starting things from the ground level. I retired and I had two friends, Bill Dessel and Tom McGowan, who had this crazy idea about a low calorie, better for you, make you feel better the next day than what you've been doing, kind of an offering.
I would say five years ago when we launched, it was kind of a difficult conversation to have, because I don't think people were really open to the concept within the industry. But what we've seen over that period of time and today, the industry really leading the charge on a healthy alternative to beer and wine, always have a drink in your hand but do it responsibly, and why does vodka need to be 40 percent and taste like Russian rocket fuel? You know, the industry is definitely telling our story and we're having fun with it, man. It's been an awesome ride.
I like to compete with the big dogs. It's a big industry, a lot of barriers to entry, but we're having fun going after what we think is a very targeted sector or segment of the industry, but one that's just growing exponentially.
My last question, someone is having a Super Bowl party and wants to have a drink with vodka in it. Can you put on your mixologist hat? What would you recommend for that situation?
Well there's the minimalist approach and then there's the a little bit more sophisticated, right? So I'm a minimalist. I like the idea of grabbing a bottle, pouring it into my favorite tumbler. You know, one of those glasses that can hold ice for like three months without melting a drop, right?
But literally, I'm the guy that I get my little Yeti tumbler, I fill it full of ice, I pour the KEEL in. I add an orange or a lemon or a lime, whatever fresh fruit's laying around. Simple, no calories, no added nothing, and that's how I like to drink it. Our vodka actually has a really good flavor profile.
If I wanna get a little fancier we have the 72 and Sunny, and we also have one that we do that is great with a cucumber, it's more of a really fresh summertime drink. But if I wanna get fancy for this Super Bowl and I'm having a party I'd go with that one because it brings back that summer vibe, and I wanna feel that awesome feeling as I watch the Pats storm down the field and go on to win their … what is it, sixth Super Bowl? It's so hard to keep track.