Matt Mitrione has carved out a name for himself in the UFC as a heavyweight who will either finish his opponent quickly and brutally, or go out on his shield. A lifelong athlete, Mitrione is respectful to his opponents, but can build up a fight with a myriad of trash talk. The former NFL player, who starred on The Ultimate Fighter season 10, is also a big goofball that isn't afraid to speak his mind, no matter the consequences. With his departure from the UFC to Bellator, now was the perfect time to pick "Meathead's" brain on his former employer, renewing old rivalries and getting the details on that ridiculously awful eye injury.
Do you consider this kind of a homecoming to Spike?
You know it is, and that's a hell of a statement, man. To know that If you watched The Ultimate Fighter because it was on Spike, if you are a fan of the Spike channel, you know who I am. So, if you don't really care about MMA in general or even the UFC, I have a fan base with a familiarity already. That was unintentional and I think that's pretty cool, that's a great position to start in.
With Ben Henderson, Josh Thomson, and yourself moving to Bellator — yesterday Rory MacDonald said he's testing free agency — do you think we're going to see a lot of UFC fighters moving over?
There are a lot of people that are very interested in the conversation, and I think that once they find out about the money, the opportunity, the sponsorships — the 10-11 texts and the phone calls that I got yesterday were "Tell me about sponsorships." Did you reach out to them? Did they reach out to you? Are they open to sponsoring in Bellator? Are they worried about the demographics? What is the demographic reach, the viewership of Spike TV versus Fox Sports 1? A litany of questions that were primarily all predicated upon sponsorships.
The sponsorships brought about certain familiarity and personality to fighters. Do you think there is personality lacking in the UFC right now with Reebok?
That was one of the things, right? For being in the UFC for as long as I have been, I feel that I became accustomed to watching Cowboy when he comes out. The walk out, the weigh-in, the shorts. How he was doctoring his shorts up and how Jon Jones did it, too. There are things I looked forward to and saw and recognized because they were part of their signature and their personality. And that's gone now. You can no longer be an individual, and you sure as hell can't monetize on your individuality.
I get the black and white thing, but give Shogun his vale tudo shorts, give Overeem orange shorts. You wouldn't see this back in the day with Chuck Liddell. He would have his Iceman shorts, right?
But wait — Conor got a pair of green shorts. So there's always a rule to be bent somewhere, right?
Well, it usually happens with the same people, though.
Yeah, exactly. I said it in complete jest.
Now to clarify, the UFC has chosen not to match Bellator's offer, correct?
That is accurate.
On Spike, you have a commentating position for Bellator Kickboxing. Can you talk a little bit more about that?
We're in a position now that Bellator is offering up a contract with a position with kickboxing to be a color commentator for them. And I'm flattered by it, man. I'm really flattered by it. I'm happy about it, I'm looking forward to it. It's something that I've been building my life around and toward it and I look forward to it. It should be awesome.
I've always been interested in the idea of a 235-pound heavyweight division. Would you think it would be a good idea for Bellator Kickboxing to experiment with different weight classes?
If you're talking about kickboxing, absolutely. The only thing that would be different in respect to that would be that you would get too much fluctuation in there. A lot of people would start to cut down. In the heavier weights it would cause a little bit more confusion than anything helpful. That would be a little bit of a Pandora's box, but I see where you're coming from, I think it would be pretty cool to do it.
Do you have any plans to kickbox?
I have gotten my butt kicked by several incredibly good world champion kickboxers, and that's something I can think about if the money was right. I'm more of a small gloves fighter than a big gloves fighter.
How does it feel to announce that you're in Bellator the same week that the new UFC game comes out that you're in debuts?
[Laughs] You know what, dude? I didn't even realize last night and I wouldn't be surprised if I got dropped, if they added some update and I wasn't on it. I wouldn't be surprised.
I reviewed the game. You're pretty good in it, just to let you know.
Oh, well I'm flattered. I'm sorry that they lost that opportunity to make more of me.
There's some interesting fights to make for you in Bellator. You tweeted that you're down to fight Rampage, but do you think he's down to fight you?
I would love it if he were down to fight me. I would love to fight Rampage, especially if we had a winner-takes-all purse. Hell yeah, sounds great, man. I know that Rampage talks about not wanting to cut weight anymore, so I'm down. If he's down, I'm down. Winner-takes-all? Hell yeah, let's get loose, buddy. Let's give the fans something they want to talk about.
Is that a caveat that you want to include to get the fans talking? Because I've never heard of in MMA, a winner-takes-all purse.
Well, Rampage was the one that suggested it a really long time ago, when we were on the Helwani show.
Ah, yes.
So, if you want to keep those same terms, I'm down. I'm down.
Do you know if you're going to be able to fight in Rizin, for example? The Japanese promotion Fedor is in?
I don't know. That was definitely something that I mentioned to them. I would love the opportunity to fight Fedor. I would never ask to fight Fedor because I respect him enough, but if he ever said my name out loud, I would fight him in a heartbeat.
Do you think that you would want a Kongo rematch to avenge that loss?
For a long time I've wanted that, but, to be honest with you, I'm not trying to put on a pair of track shoes to fight somebody. If you don't want to fight me, if you want to run for two-and-a-half rounds and evade fights and then win by decision or points, don't waste my time. Don't waste the fans' time, man. I'm not trying to get into any kind of a fight where there's a single blue offer. Assuming there's going to be takedowns involved and we're going to grapple, sweet, let's do it. I don't have to be a standup guy, I can grapple, too. If that's the case, let's get down, let's grapple, let's do what we have to do. But as far as not being involved and avoiding conflict or interaction, I'm not looking for that at all.
You have one decision win in your career and it was a Fight of the Night. Why isn't that valued to the point that you think it should be?
I've got Lorenzo Fertitta's direct number if you want to call him and ask him. I don't have a good answer for that. I would like to think that I am about as valuable as a heavyweight can be in the world. I am exciting, I have the ability to finish anybody in the world at any given time, I don't shy away from contact, I don't play it safe, I don't know how to play it safe. There's so many points that I can say about myself that I find interesting as far as the fight goes. As a person I think I'm a complete degenerate, but as far as a fight goes, I think I'm a really interesting match-up. I'm a must-see. But also, the UFC sees that as well, because look at my placement on the cards.
I've always been on the main card, I've always been televised from the beginning. I'm a draw, I'm electric, I'm polarizing, either you love me or hate me. There's nobody that's like, "Oh, he's okay." Fortunately, when I was on The Ultimate Fighter — I was told this statistic a couple of years ago by the UFC — I had an 85 percent fan disapproval rating. Up to a couple years ago I had over a 90 percent fan approval rating. That's pretty substantial, man. That's nuts to think about. How they quantify that, I don't know. That's pretty cool. That's a pretty loyal fan base that I have built. So why did they want to get rid of me? I don't know. Maybe they didn't want to pay me the money that Bellator is paying me. Maybe they think I'm too outspoken. Maybe they think I'm too assertive or aggressive, and sooner or later I'll become a part of a fighters' union. You can call Lorenzo and ask him.
You also tweeted that you think Scott Coker is "doing the right thing." Can you expand on that?
Scott Coker is doing the right thing in a couple of different ways. I think that he understands the fans' perspective. I do not hear anything about Scott Coker saying one thing and doing another. I don't hear the hypocrisy or double talk about him. Everyone that I know that has fought for him or worked under him speaks volumes of his character, his integrity, and how he treats people, whether it's the guy spilling drinks in the crowd or Fedor. You don't hear about the disrespect. You don't hear about someone taking a fight on short notice and getting thrown under the bus. You don't hear about the negativity.
By taking a fight on short notice and getting thrown under the bus, are you alluding to Nate Diaz by any chance?
Oh yeah, for sure, man. I'm alluding to Nate Diaz, I'm alluding to so many fighters that have fought, scrapped, and were cut after they lost, after they took a fight to save a show on short notice. It's nauseating, man. And you don't ever want to see that. You want better. You want better for us, you want better for the fighter, you want better for the wife or the kids of the dude who just risked his entire life of walking out normal ever again on short notice, only to get cut and clowned publicly. Dude, fuck off, man. I just gave you everything I've got. You're gonna clown me for this? "Sorry I just beat your golden boy and you picked me over Cowboy because you figured I'm fat and out of shape. Sorry it's ruined your plans. And then I don't get any juice or respect for that?"
I hope I don't come off as sour grapes. Because I'm not, I'm not pissed at the UFC at all. I just feel like I'm a realist and I give my most real perspective possible.
I believe people deserve to stand up for themselves, especially when they're risking brain damage.
For sure (laughs).
If the UFC made $600 million last year, and I don't mean to pander to you, but do you think it's a little wrong that people are making 20/20?
Even now it is difficult to have a job in the UFC and not have a job somewhere else. That should be a hell of a conversation. Think about what you pay out as a fighter. You pay out 10, 15, maybe even 20 percent for the camp and for management, pay your taxes, tip your trainers, pay to bring in training partners if you need to. The expenses, the massages, the chiropractors, everything else that you have to get done, you're spending probably 40 to 60 percent of your money before it even hits your bank account. That's wild. And think about how much we don't get paid. That's a real serious problem. A real serious problem.
Let's do a hypothetical situation here. Let's say that there is a company that is a fight promoter. It's a privately held company, and they don't have to disclose their books at all. They don't have to disclose the pay-per-views either. What happens if you get a pay-per-view points contract and you fight on pay-per-view? They say, "Hey look, we have this many buys, this many sells" publicly, but then privately they say, "We only actually have this many, but we're trying to build the company up…" But you can't go through their books because they're a private company. So, there's a lot of worry there. I'm not saying I know that's ever happened. I'm just saying, in a hypothetical situation that I'm sure would come up some day.
Transparency between the employer and the employees is very important, especially in a violent sport.
Transparency is a very big deal. Like in any relationship. If you're a boyfriend/girlfriend, husband/wife, and one of them travels all the time and has a free, outgoing personality or whatever else — they better have transparency there or that's not going to last for a very long time.
You mentioned previously being outspoken and a fighters' union. Do you think it's any closer today than it was when you entered the sport?
I think it's definitely closer today than it was when I first entered. I don't think that many people were really interested in it. You could secure your own sponsors, you could control your own financial future, to a certain extent. I think that the missteps that have happened in regards to sponsorships and other things, and the taking away of privileges to have any conversation for approval or feedback or anything else, I think that has only pushed more people to openly have a conversation about it. I believe that there is a really good chance that there have been a couple good conversations between some very influential people in the entertainment industry, in the fight industry, across the board and I think they're doing quite a bit as far as getting the movement going.
Even guys like Fitch, who are very, very, very behind the Muhammad Ali act and very vocal about it. Even something like that, that when it's not as successful as it could or should be, there's a conversation, that fighters are sticking their names next to something like that, I think that's pretty significant.
Matt Serra said that Holly was a warrior for going to sleep and clowned Conor McGregor for tapping to Nate Diaz. As someone who has gone to sleep to Schaub, what do you think about that?
I completely agree with that. There's so much respect. I've tapped and I've given the thumbs up and gone to sleep. I tapped because that was an air choke, that was the horrible feeling of suffocation. Like, holy shit I can't breathe, I was massively panicked. And it was at the end of a breath so it was horrible. It was a great choke, wonderfully applied, and a horrible choke. Worst thing I've ever been caught in in my life. So, that being said, let me clear the air on that because I don't want the haters and Ben Rothwell to come out…
This is my perspective, and I think Holly is probably the same, though I have not spoken with her — if you catch me in a choke, good for you, but just because you won, doesn't mean that you beat me. You just won right now, that's all. So if I tap, that means I concede and you beat me. But fuck that. You caught me in a choke, good for you, but you never beat me. And I told my kids this because my kids asked me, "Dad, why didn't you tap?" How can I tell my kids that you never ever quit, but then go out there and get caught and tapped? The worst thing that can happen is that I fall asleep, and I hope that the ref gets him off my neck so that I don't die, but that's about all that's going to happen. I'm just going to wake up and just go like, "Oh shit, that wasn't very good."
The whole time Holly said that she felt like right up until the moment she woke up, she felt like she could get out of it, still fight her way out of it. I have the exact same feeling. With (Schaub), I actually thought his arms would get tired. I'm not going to get tapped, he's squeezing too hard, I'm going to be fine, I'm going to get out of this. And then I gave a thumbs up, I thought he was going to get tired and that's it, and then I woke up. I'm a big believer in you do you, man. If you're not going to have to get surgery after this, then take your ass to sleep.
As I was watching your fights, I noticed that you're a goofy guy and that you were all smiles in your first four fights and then you smiled less as the fights went on. Is there a reason behind that? Is that conscious?
No, but you know what's funny? A lot of people tell me that. A girl I was dating actually told me that. "Smile when you're in there, do it for me." Maybe it's a different mindset, maybe I'm there to work now. I've got three kids, I've got more financial responsibility, maybe I'm there to work now instead of having a blast. I have a great time in my life all the time. Literally, I have the most fun out of anybody I know in the entire world. And I mean that. I am happy every single day, really I am. I am so fortunate, I'm not religious, but I'm so blessed to say that, I really am. I've done more stupid things than anybody I've ever met in my entire life and somehow things worked out. I don't know how it happens, but it does. I've got the most active guardian angel on the face of this Earth, no doubt about it. And I keep him busy, buddy.
I don't know, it's not because I'm not enjoying myself. Maybe it's that the competition was better. Maybe I was like, "Look, I don't get paid by the minute, so let's get out there whoop this boy's ass and come back and go home and see my babies." Because I sure as hell enjoy my time, I'll tell you that much.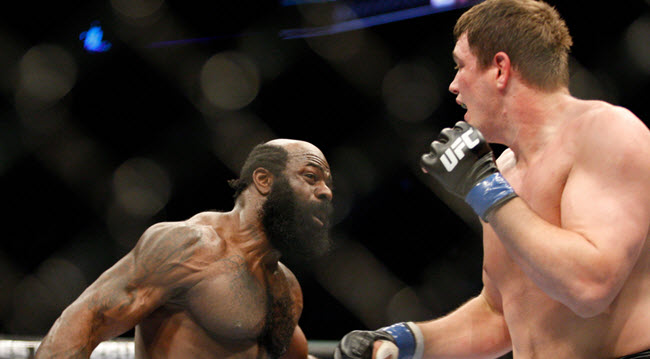 Did you check out the Kimbo Slice/Dada 5000 fight?
I did not watch it.
Did you have any interest in watching it?
(Somewhat long pause.) No, not really, I don't. I'd love to tell you I do, but I don't. No, I don't, I have no interest in it. I beat Kimbo's ass. I don't know who Dada 5000 is, I don't have any interest, I'm sure he's a great dude. But as far as watching that fight, I have zero interest in it. Maybe I'm a dick for saying that, but I don't know, that's how I feel.
Do you have any hard feelings towards Travis Browne?
Yeah, I'm salty towards that asshole. I'm salty that he didn't call me and check on me, that he was so smug and thought he won that fight fair and square, and that the got dropped in the first round and I was coming for blood. Even after the grievance, he didn't call. So fuck him.
When they were draining your eye or when it was puffing up, what was going through your mind?
I could feel it popping up when I got punched. I was like, "Yeah, that's not gonna be good, man." I could see the purple egg starting to swell up and I knew when I got dumped on my shoulder I either dislocated it or separated it. Because when I pushed I tried to shrimp and when I shrimped I could hear all my bones cracking. That's not good, I thought that's probably separated. So, I couldn't push, I couldn't try to re-guard or anything else. Then I looked up at Travis and I realized that I could only see half his face. I tried to grab him, but I couldn't grab with my left arm, I couldn't get any leverage to hold him down. I set up and I saw my eye and I was like, "Oh shit, that's going to be all over the world here in a minute" and then it was.
And when they were draining it, the doctor was popping it like a pimple so he was putting top pressure on it pushing down on it, so he was pushing right into my eye which was already sore from the eye poke. It was touch and light sensitive. Really sensitive. He couldn't see, but I was kicking my leg and trying to keep my head as stable as possible. But holy shit that was a miserable experience. If he would have went underneath it and lifted it up and put bottom pressure on it, it would have been so much more comfortable.
Ugh, did the blood or fluid shoot out or anything? I picture a horror movie.
He had a Kleenex over it so I couldn't see, but there was a lot of coming out of it. But I know there was a lot of blood on the napkin. And when they lanced it, it bled, it leaked out for like the next 30 hours and like whenever I would take a shower or anything it would bleed. My eye was so big that it was pressing against my sunglasses, it would bleed on my sunglasses and then there would be dried blood on the inside of the lens. It was not awesome.