#UGA great and @Lions QB Matt Stafford hits the Ray Lewis dance to perfection. pic.twitter.com/v5v7rJvRzo

— UGA Football Live (@UGAfootballLive) December 22, 2015
After beating the Saints 35-27 on Monday Night Football, Lions quarterback Matt Stafford was selected as player of the game, meaning he had to join ESPN's MNF crew for a postgame interview on the field. As is becoming a new tradition on the postgame show, Stafford was forced to give his best interpretation of Ray Lewis' famous entrance dance.
At first, it seemed like Stafford was hesitant to show off his moves, but it may just have been an intentional ploy to throw the crew off the scent, as the quarterback then swiftly broke out a pretty fantastic impression of the dance. Here, we have a comparison: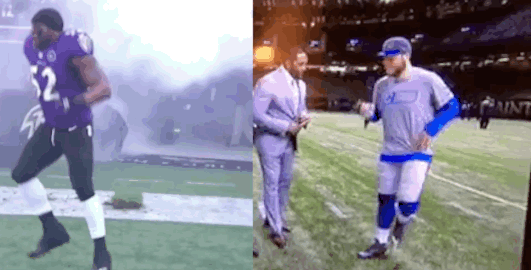 Not bad. Not bad at all.