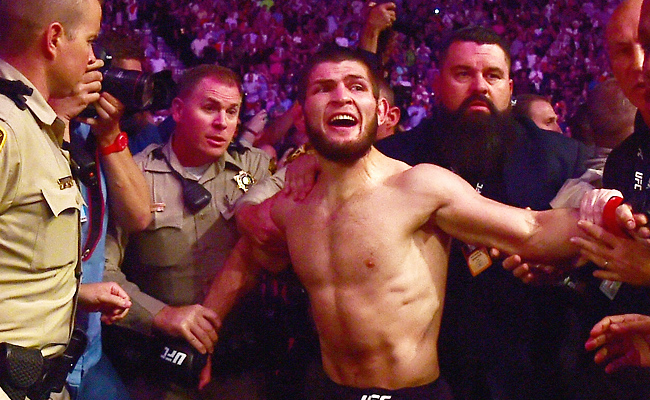 Announcer Joe Rogan's voice cracked oh the humanity-style while calling the post-fight melee at Saturday night's UFC 229 main event between Conor McGregor and Khabib Nurmagomedov, sounding almost like he was in tears. He later called the brawl a "black eye for the sport." On some level, I understood how he felt.
I remember how it felt eight years ago, after "Mayhem" Miller stormed the cage following Jake Shields' (impressive yet somewhat dull) victory over Dan Henderson, provoking Shields' training partner Nate Diaz and the rest of the "skrap pack" into a similar chair-throwing post-fight brawl at Strikeforce Nashville. As a longtime MMA fan, I remember how embarrassed I was that my favorite sport had finally scratched and clawed its way into being nationally televised, live, on a real network (CBS), only to look like a bunch of WWE clowns once the mainstream sports world was finally, briefly paying attention to us.
To add insult to injury, CBS play-by-play announcer Gus Johnson famously commented during the fight that "sometimes these things happen in MMA," earning the permanent enmity of MMA fans everywhere by telling the whole world, basically, that we were all hooligans and this was the typical behavior you could expect from us. And this after being hired to promote it.
Those feelings about Gus Johnson were perfectly emblematic of the MMA fan's fraught relationship to the mainstream sports world. MMA and MMA fans are kind of like the D&D nerds of the sports world. Insular, esoteric, with our own strict and often unspoken rules of conduct, yet simultaneously desperate for mainstream approval — at least, enough mainstream approval that we could see our favorite fights without having to find a grainy stream on the dark web or crowd into a weird dojo basement with our fellow punch-nerds. Also, it must be said, most people who get really into fighting-as-sport are people who've gotten their asses kicked, so the inferiority complex is somewhat built in.
Gus Johnson was typical of the kind of broadcasters MMA fans could expect: a guy with enough mainstream sports experience that MMA organizations thought he would offer the sheen of mainstream acceptance, but also not good enough to get the job he really wanted and thus forced to call a sport he didn't love nor fully understand (sorry, Gus, I still haven't forgiven you).
Johnson was far from the first or only of this ilk, and you can probably guess a few of the others, but the point is, we sought the appearance of professionalism and it backfired spectacularly. Like true nerds, it was really our own neediness that did us in.
And so I was struck this Saturday that I loved every second of a similarly idiotic brawl and felt no need to apologize for it. To recap, as briefly as I can (which is to say not briefly), the UFC had done what it does lately in hyping the fight: trot out Conor McGregor to do his usual quasi-racist trash talking, insulting the Muslim Dagestani-Russian Khabib Nurmagomedov, calling his Egyptian manager Ali Abdelaziz a "snitch terrorist rat," his father a "quivering coward," and saying Nurmagomedov training partner Zubaira Tukhugov was not "a true Chechen" for feuding with McGregor's training partner, Chechen-Russian Artem Lobov. Phew.
Nurmagomedov seemed a little pissed, but not that much more pissed than Nate Diaz or any of McGregor's other trash talk recipients, save for maybe Floyd Mayweather, who clearly seemed to be having as much fun as McGregor before their fight. Which was why it was somewhat surprising that Nurmagomedov, after submitting McGregor with a neck crank in the fourth round, immediately jumped over the cage to go after Dillon Danis, Conor McGregor's jiu-jitsu coach, who was apparently shouting insults at Nurmagomedov after the fight.
Nurmagomedov was fairly quickly subdued, but had set off a chain of events whereby members of his crew, including the aforementioned non-true Chechen Tukhugov jumping into the cage to basically jump McGregor. For a few minutes it was total pandemonium. Not to mention all the various scuffles between the Irish and Russian contingents who had had all day to drink before packing into an arena together (it should be noted that ex-fighter Brendan Schaub essentially predicted a big brawl before it happened).
I found this entire episode weirdly not-embarrassing. Certainly far less embarrassing than the UFC promoting a documentary about Donald Trump the fight fan or Nik Lentz shouting out Brett Kavanaugh earlier in the evening (truly, fuck you, Nik Lentz — you're an idiot if you think that born-rich prep school pre-authoritarian functionary is your buddy).


For one thing, the fight had lived up to the hype. Khabib, who hadn't displayed great head movement or footwork in the past and had never fought someone with one-punch KO power quite like Conor before, kept putting Conor, who had never fought as good a wrestler or ground puncher as Khabib before, on his back. But Conor, despite not seeming to have the usual pop on his punches, did a fairly impressive job of defensive grappling, managing to put Khabib back into guard and creating enough distance not to get smashed, and thus surviving into the next round or get the fight stood up, where there was always the possibility that he might win with a come-from-behind knockout.
Meanwhile, Khabib kept landing big punches when the fight was standing. It was great suspense!
So the fight itself actually owned its billing, on a night full of exciting finishes, and then the post-fight spectacle actually lived up to the pre-fight spectacle (which, in case you had forgotten, had included Conor McGregor throwing a dolly through a bus window). The Nevada State Athletic Commission is holding Nurmagomedov's purse while they investigate, and while McGregor declined to press charges, there will surely be some negative consequences for the debacle.
And yet … I can't bring myself to apologize for MMA this time. I think it's because MMA no longer feels like this weird, fringe event that I have to translate for people. Now it's water cooler fodder. I can talk about "Conor" and people know who I mean. He may be a loud-mouthed idiot who got what he had coming to him (I'm not saying he is, but there's at least enough evidence to say that he may be), but at least he's given us that.
We can be confident that this isn't the first and only exposure some people will have to the sport. We can trust that they'll see this like we do: both an aberration for MMA and something that has happened from time to time in almost every sport (the Palace Brawl, Larry Holmes drop kicking Trevor Burbick off a car, etc).
It feels like in 2018, MMA is finally mainstream enough that we don't have to apologize for it not being mainstream.