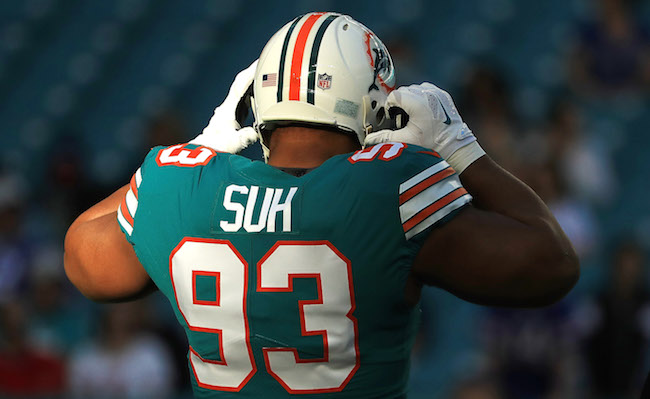 The Miami Dolphins are tearing it down and starting over this offseason under the guise of "changing the culture" in their locker room after a disappointing 6-10 season in 2017. It started with trading Jay Ajayi last October to the Eagles, bolstering the eventual Super Bowl champions' running back rotation.
Earlier this month the Dolphins agreed to trade star wide receiver Jarvis Landry to the Cleveland Browns for a 2018 fourth round pick and a 2019 seventh round pick. That left Miami with an opportunity to start over on offense at the skill positions, with quarterback Ryan Tannehill returning from his knee injury.
On defense, the Dolphins apparently plan on releasing star defensive tackle Ndamukong Suh, per ESPN's Jeff Darlington. Suh teased some "exciting news" on Twitter on Monday morning, which would seem to indicate he knew this revelation would hit the NFL news cycle today.

As Darlington and others have noted, the timing on when Suh is officially released is important for the Dolphins actually saving money. Suh being released now would only save Miami $3.9 million in cap space, while waiting until June 1 would save them $17 million, but also make it more difficult for them to use that space on a quality replacement player.
In any case, it appears as though the Dolphins are fully committed to starting over in 2018 after so much optimism entering the 2017 season coming off a playoff appearance in 2016. Tannehill's injury in training camp and the subsequent signing of Jay Cutler took some of the wind out of Miami's sails and they never recovered.