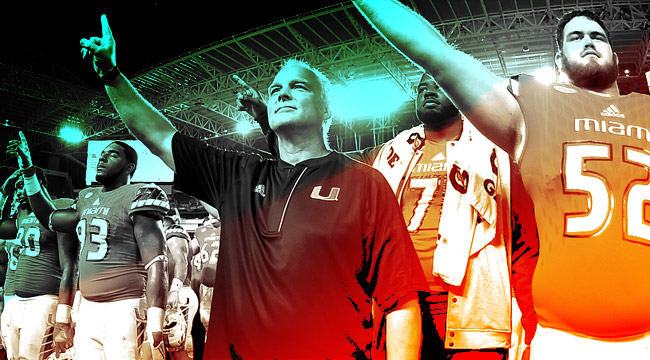 If you tune in Saturday night for this year's rendition of Florida State-Miami, you'll notice the Hurricanes in throwback uniforms designed to evoke The U's late-'80s heyday, a choice that works on a couple levels. One, aesthetically, the clean retro style looks great — compared to the many sartorial atrocities the Canes have rolled out in recent years, that should go without saying. And two, thematically, the entire point of Saturday night, and of Miami football in general right now, is specifically to inspire visions of the past.
Let's be real: More than a decade removed from the Canes' last major bowl game, the brand is nostalgia, and has been for awhile. It should be, because nostalgia still plays. To anyone older than 30, the default setting for Miami football is permanently fixed — no matter who you put in those helmets, the first response they elicit will always be of the NFL farm teams that won an astounding 82 percent of their games from 1980-2004 under five different head coaches, outfits that claimed five national titles and (just as importantly, nostalgia-wise) never passed up an opportunity to remind the rest of the world that they knew exactly how great they were. And the world remembers. There's a reason they're still making new 30 For 30 documentaries about those teams. They were so good, and so good at being good, that the collective response to the brand they created still resists that little mental box that asks, "Do you want to update?" It's Pavlovian, or something. The records fluctuate; The U stays The U.
So yeah, sure, objectively Miami has not been Miami in a very long time. On the field, it's a program that's yet to win so much as a single ACC Atlantic Division title in a dozen years in the conference, a span that's claimed the careers of three consecutive head coaches. To the extent the records have fluctuated, it's only been from one shade of mediocrity to another; the Canes have dropped 11 of their last 13 games against Top-25 opponents and finished unranked themselves in nine of the past 10 seasons. Off the field, the story has been even worse.
And yet: Through rain and heat and gloom of night, somewhere the Miami is Back! bandwagon remains gassed up at all times and ready to roll at the slightest hint of progress. Take one look at the context for this weekend's collision with FSU and you can hear the engines revving. Barely a month into the season, the 2016 Hurricanes are 4-0 and have already climbed from unranked on opening day to No. 10 in both major polls. They're slightly favored to beat the Seminoles, which would snap a six-game losing streak in one of the sport's most visible rivalries, in front of a primetime national audience. From there the road back to national relevance is a story that writes itself.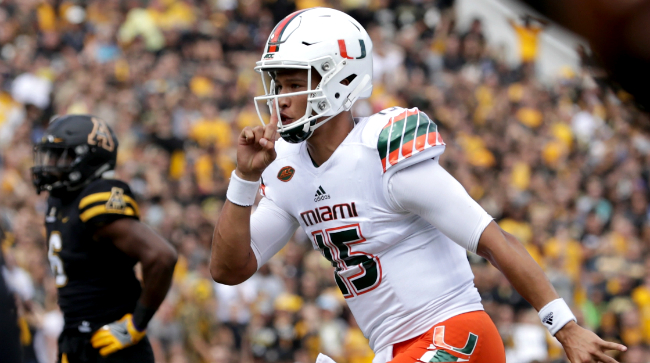 There's a recognizable, veteran quarterback, Brad Kaaya, who's almost certainly bound for the first round in next year's NFL Draft, and an accomplished new coach, Mark Richt, whose nice-guy rep and sudden departure from Georgia last winter are ideally suited for a feel-good, comeback narrative. (Like his alma mater, Richt is attempting to recapture is former mojo on the heels of a championship drought spanning more than a decade.) There are emerging skill players on offense who are ready for their national close-up, and a trio of freshman linebackers who are ripe for a lighthearted pre-game segment on College GameDay.
If the Hurricanes do manage to vanquish FSU — a very real possibility, as the point spread suggests — then there's an upcoming schedule that will allow them to capitalize on that momentum with a series of tough-yet-winnable games (North Carolina, Virginia Tech, Notre Dame, Pittsburgh) while missing both of the ACC's legitimate national contenders, Louisville and Clemson.
More importantly than any of that, though, there's the ongoing historical weight of The U, without which this conversation doesn't exist. The Canes are 4-0, but when is the last time you can recall a perennial mediocrity ascending rapidly in the polls for beating the likes of Florida A&M, Florida Atlantic, Appalachian State, and Georgia Tech? (Put it this way: You won't hear anyone making the Top-10 case for 4-0 Maryland, for example, which remains unranked despite a nearly identical résumé.) They're favored to end the skid against Florida State, but that's due largely to the fact that, at 3-2, the Noles have been disappointments — in four games against FBS opponents they've allowed 168 points.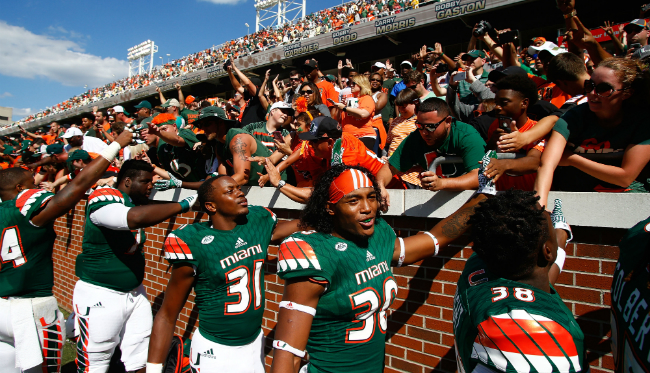 Unless it's a straight-up massacre, even a Miami victory won't reveal much about how well the Hurricanes actually stack up relative to the rest of the Top 10. But that's not going to prevent them from being ranked there, or for playoff chatter to begin in earnest.
If all of this sounds suspiciously familiar, it should: Because our lizard brains still reflexively define Miami as the kind of program that's never more than a shrewd coaching hire and a solid recruiting class away from national relevance, Is Miami Back? has become a fairly reliable midseason trope. In 2009, the Canes began the season unranked but needed only two wins (one of them coming at the expense of FSU, naturally) to convince voters to elevate them into the Top 10; from there, they rose as high as No. 8 in late October before eventually finishing 9-4 with a loss in the Champs Sports Bowl.
In 2010, they opened at No. 13 in the preseason polls — elevated by serious Heisman buzz for quarterback Jacory Harris — before taking a pair of early hits against Ohio State and Florida State; from there, they limped to a 7-6 finish that ended with Harris on the bench and coach Randy Shannon on the chopping block. Most recently, in 2013, they climbed to no. 7 in early November on the strength of a 7-0 start; from there, they were blown out in a massively hyped game against FSU, dropped three of their last five, and finished unranked.
But who knows? Assuming that, at some point, Miami actually will be back, maybe 2016 is as good a year as any for the prophecy to come to pass. For all of the reasons listed above — Richt, Kaaya, the favorable schedule — a win on Saturday night will leave the Canes in excellent position for a serious run over the second half of the season. At the very least they'll be favored to win the ACC Atlantic, pending next week's date with North Carolina. Including Florida State, Bill Connolly's S&P+ ratings give Miami at least a 56 percent chance of winning every remaining game on the schedule except one, against Virginia Tech (47 percent); ESPN's Football Power Index likes Miami in every remaining game except FSU (44.5 percent). The U's first 10-win season since 2003 is certainly within reach.
Still, when things are going well, there's a powerful tendency to grade any given version of Miami (or Texas, or Notre Dame, or USC, et al) on a more forgiving curve than it might deserve because, deep down, our default assumption is that a normal, knowable world Miami is still pretty good; a win like the one the Canes hope to earn this weekend only confirms what we already want to believe. On some subconscious level, it's just the way things ought to be. We want Miami "back" more than we want, say, Washington or Colorado "back," because Miami occupies a different, deeper place in the collective experience of the sport. College football is fun no matter what. But it's more fun when Miami is Miami.