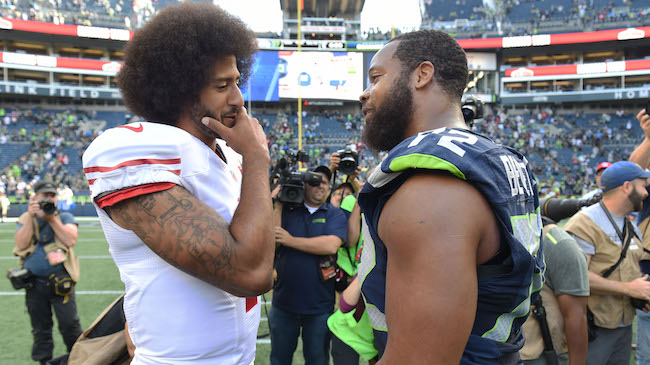 If the NFL was hoping that Colin Kaepernick's absence from a team roster would allow them to move on from player protests during the national anthem, they've been proven very wrong during the first week of preseason games. Raiders star running back Marshawn Lynch was the first to sit through the anthem on Saturday, which he insisted is something he's been doing for years.
On Sunday, Lynch's former teammate and Seahawks' star defensive end Michael Bennett joined him as stars to sit through the anthem in protest. Bennett is known as one of the league's most vocal players when it comes to social and political issues, so it shouldn't come as a significant surprise that he would be among those to take a stand in response to the tragic events in Charlottesville, Virginia over the weekend.

Bennett spoke on his reasoning for protesting during the anthem following the game, and sounded like he would continue to sit in protest going forward, via Gregg Bell of The News Tribune.
"The last week, with everything that's been going on in the last couple months—especially after the last couple days seeing everything in (Charlottesville) Virginia…just wanted to be able to continue to use my platform to be able to speak on injustice," Bennett said.

"First of all, I want to make sure that people understand I love the military. My father was in the military. I love hot dogs, like any other American. I love football like any other American," he added. "But I don't love segregation. I don't love riots. I don't love oppression. I don't love gender slander. And I just want to see people have equality that they deserve."
Whether he's on an NFL roster or not, Kaepernick's influence on the league continues to be present, as he showed the most effective way for players to protest and get their message to the public. Kneeling or sitting through the anthem now guarantees that a player will be asked about it after a game and, if it's a star player, becomes national news, creating an even larger platform for them to speak out on social and political issues.

Bennett and Lynch will not be alone in their protests, as there is plenty of outrage and anger following the events in Charlottesville where racism was on full display as Nazis and white supremacists marched through the University of Virginia's campus and protesters were injured and killed by someone driving a car through them and President Trump's tepid response to the tragedy.
NFL teams may be scared off of signing Kaepernick due to fear of backlash to his protests, but his impact remains and having two more legitimate stars joining in protests will only further encourage players to use their platform and voice as members of the NFL.
(h/t Sports Illustrated)