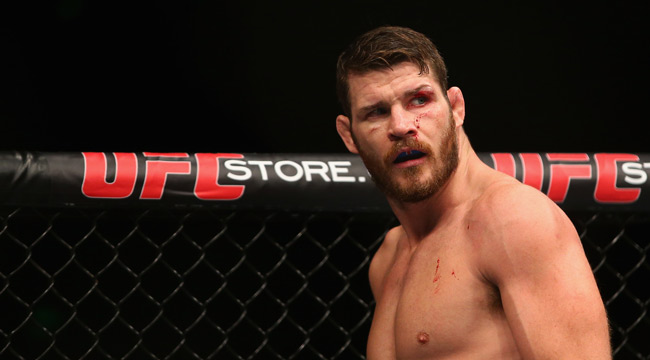 Is the bigGeorges St-Pierre versus Michael Bisping superfight at risk of falling apart? That's what UFC middleweight champion Michael Bisping has implied in a recent podcast. The volatile Brit is unhappy with St-Pierre's refusal to sign a bout agreement to fight before fall.
"So long story short, it looks as if GSP is trying to push for a later date," Bisping said. "I have heard rumors of that a while ago from Ariel Helwani. I heard that he wanted like September or October and that is what the UFC told me as well. But I am just throwing it out there right now. If he Georges wants to wait until September or October, then he can go find himself another opponent. Because I call the shots."
"Without sounding like an asshole, it is my belt. I am the champion, and I am not willing to sit around until September or October. This fight was discussed in January. You know a fight camp only takes 8 weeks. Or six weeks. So fighting in September or October is ridiculous. July 8 is the date. I may be a little bit flexible and be willing to go a little past that date if needed. But I want to fight international fight week July 8."
"So Georges St-Pierre, get it together," he finished. "Stop doing your f**king gymnastics. Stop doing your backflips and whatever it is. Let's do this buddy. Sign the paper work. You want it. You sat there at the press conference. You talked big. So sign the god damn paperwork. It is as simple as that!"
While this could just be seen as more drama designed to sell tickets and pay-per-views for this fight, the truth is Bisping vs. St-Pierre was announced weeks ago and there's still not an official date locked in for the fight. That's unusual. The UFC has also been upfront about wanting the fight to anchor their UFC 213 card on International Fight Week in July, while rumor has it GSP's camp wants a fall date – the better to execute his plan to win three belts back to back?
Whatever the case, it sounds like Georges and the UFC are once again unable to come to an agreement, and now Michael Bisping is jumping into the fray to apply pressure. Whether he's willing to back it up with concrete action (despite what he says, we're sure he'll make more off a GSP fight than off two 'normal' fights) is the big question. Not like the UFC won't kibosh the whole thing anyways if St-Pierre refuses to play ball, just to remind people who's boss.