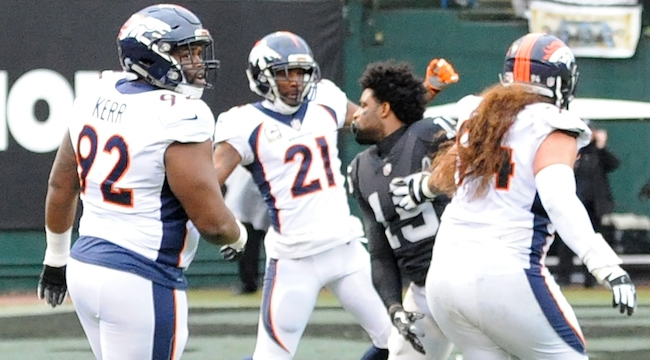 Michael Crabtree and Aqib Talib came together to produce the most memorable moment during Week 12 of the 2017 NFL season, even if it was not for the best reasons. After an incident a season ago in which Talib snatched Crabtree's chain off his neck during the course of game action, the Pro Bowl defensive back, well, did it again less than 12 months later.
This time, the scuffle caused a full-blown fight between the Raiders and Broncos and, after the fact, Adam Schefter of ESPN unearthed a nugget concerning Crabtree's preparation for the game that made things all the more interesting.

While that adds a bit of comedy to the proceedings, the NFL clearly was not amused, as the two high-profile players have been suspended for two games without pay.
This seems quite severe when compared to other semi-comparable fights on the field, especially in light of what many have presumed as light punishment for others like Cincinnati's A.J. Green in recent weeks. Because of that perception, we could see an appeal from one or both of the players but, for now, the Broncos and Raiders must plan to be without very valuable pieces for a two-game stretch in November. That isn't exactly ideal.