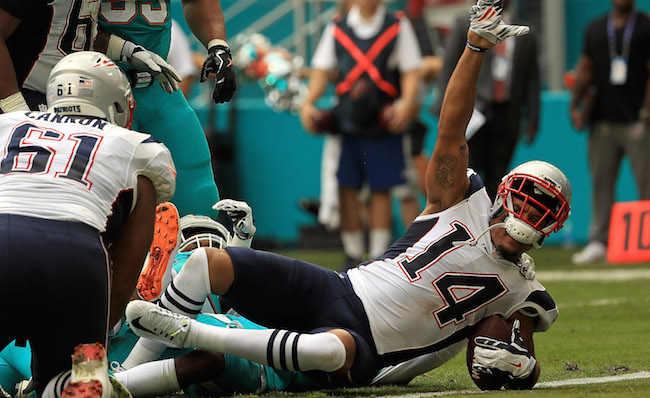 Wideout Michael Floyd's dismissal from Arizona isn't one to look back fondly on. Police video caught Floyd passed out behind the wheel of his vehicle, and that was enough for the Cardinals to cut ties with the wide receiver. The Pats snapped up the suddenly available touchdown target, and now he's basking in the spoils of being a Super Bowl champion. Now, the overall cash and prizes Floyd is walking away with may raise some eyebrows.
As noted by For The Win, Floyd's acquisition equaled a grand total of three games (two regular season contests, one playoff) and he's coming out with $1.2 million added to his bank account and a Super Bowl ring for his five total catches on with Belichick's football club. As you may have noticed, Floyd was inactive for Sunday's Pats comeback win, but a limited presence with your team isn't treated as harshly jewelry wise as other sports ventures.
An overpaid star athlete with personal demons is nothing new, although Floyd's perplexing spin on his February title win reads a touch tone deaf.
The comeback narrative doesn't exactly pop when it's "guy cut over a very serious arrest" converted to "and now he was fringe part of his newly adopted team's success in three games!" It's not exactly Eric Berry battling back from cancer to have Kansas City underpay him territory, is it? That's not to sh*t all over Floyd's festive Super Bowl parade, mind you. It just reads a touch crass.
Speaking of Michael Floyd and his championship prospects, the 27-year-old Notre Dame product is a free agent heading into the offseason. Where he ends up may depend on how his current legal situation plays out. Floyd is scheduled for a pretrial hearing later this month. If convicted, he may face jail time.
(Via For The Win)