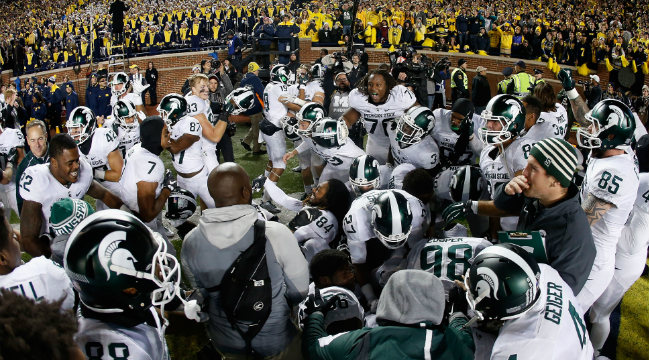 Michigan State beat Michigan on Saturday in the most insane way imaginable. The Spartans didn't have the lead until the final play of the game, when it returned a messed up punt for a touchdown to win in Ann Arbor, 27-23. Even watching it one day later, it is still kind of unbelievable that a college football game ended in such a mind-boggling way.
There were a million different things happening in the Big House right after the play, between Michigan fans not knowing what just happened and Michigan State fans losing their minds. The final play also led to one of the 111,000+ fans in attendance needing to be rushed to the hospital. According to MLive, the punt return led to one fan going into cardiac arrest.
According to Diane Brown, a spokeswoman for the U-M Division of Public Safety, the fan was transported by an ambulance to the University of Michigan Hospital just after the final whistle.

"We were going into the stands right after the game ended," Brown said.

Brown said EMS responded quickly and began to perform CPR on the person in the stands.
There's no word on this person's condition right now, or if they are a fan of Michigan State or Michigan.
(via MLive)