CHARLOTTE, N.C. – The day before he was set to play Michigan State, Virginia forward Darion Atkins said the game would be a "d*ck swinging contest." Well the Spartans swung harder, and Tom Izzo is back in the Sweet Sixteen once again.
"They're a bunch of warriors," Atkins said after the loss. "They go after you."
Atkins set the tone early with his defensive presence, which should come as no shock to anyone who followed the ACC this season. The Landon School (Md.) product was named the conference's defensive player of the year this season, and he frequently made things difficult for the Spartans.
With 12:01 left in the first half and Virginia trailing by 11, Alvin Ellis thought he had an open lane and bounced up for a would-be dunk. In a flash, Atkins was there.
The Cavaliers seemed to come alive after that, closing the half out on a 14-8 run. But the second half of Atkins' now famous quote from Saturday was even more pertinent when describing Michigan State's Branden Dawson – "You've just got to get ready to go up against his physicality."
Dawson brought that physicality in bunches to open the second half, scoring seven straight points for the Spartans, including an and-one on a dunk over Atkins that pushed the lead back to 10.
That's Izzo in March for you. Even with a seemingly flawed team, and one that the Spartans coach has expressed frustration with plenty, he always seems to wring every last win he can out of his guys.
Following the team's opening round win over Georgia on Friday, Izzo was forthright in his evaluation of his guys.
"I think it's pretty easy to see we're not a typical Michigan State team," Izzo said. "We don't have maybe as much talent as we had. […] We tell our guys you have to play hard enough, good enough and smart enough. For the most part, we play hard. A lot of times we play good. Now, the third one, that's got to fall on me because we're just not playing as smart as we need to play in certain situations, and it's cost us, between that and some free throws, it's cost us during the year."
March is a new year in a lot of ways, and as we've seen with teams like UCLA and NC State, who are in the Sweet Sixteen despite up and down seasons; what cost you during the regular season might not cost you in March. And what got you here might fail you – as evidenced by Virginia's exit at the hands of the Spartans in two straight NCAA Tournaments.
Atkins seemed to have another monster block with 8:40 to play that would've resulted in a Michigan State shot clock violation, but the officials called a foul, and Atkins picked up his fourth.
"That was a terrible call," Atkins said. "I don't know why he called that. It is what it is. You just have to play through stuff like that."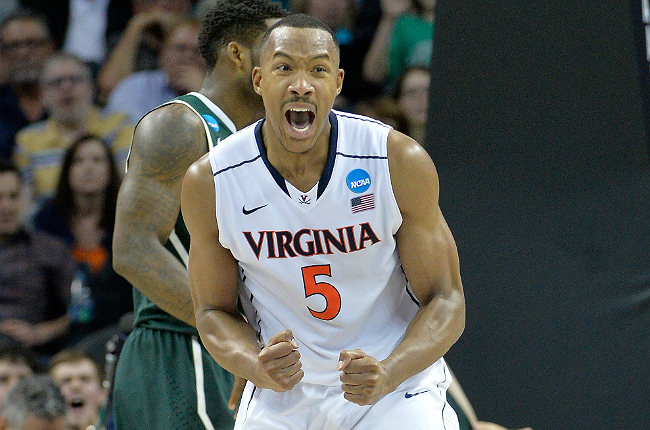 Even with Atkins' phenomenal effort, including 14 boards (seven of them offensive rebounds), the Spartans always seemed to have an answer. Michigan State knocked one-seeded Virginia out of the tournament last year, and once again the Cavaliers met a team they didn't want to see earlier in the bracket than they wanted.
As the Spartans entered the locker room, former Michigan State and NBA great Magic Johnson stopped to say a few words to a group of reporters and cameras. With a smile on his face, he said "This team is coming together."
Virginia, on the other hand, looked like it was falling apart. They didn't play with the energy they played with during the regular season, and at times it just looked like the only one with any fire was Atkins, especially in the first half. Other players may have tried to gloss things over, or use some more politically correct language, but Atkins is different. The senior speaks his mind, and in his last game in a Cavaliers uniform, he wasn't about to stop now.
"To be honest, yeah, I felt like I wanted it more than a few other guys on the team," Atkins said. "I felt like I tried to rally everyone together and bring everyone together in the second half, and I felt like we played a lot better in the second half than the first half. It was just a little bit too late to get things going."
Following the game Cavaliers junior Justin Anderson wouldn't answer when asked if he'd be heading to the NBA or returning to Virginia next season.
It wasn't a pretty game by any means for both teams. There were a total of 21 missed free throws, both offenses lacked flow, and Virginia shot 2-of-17 from beyond the arc. That's the thing, though, about the survive and advance cliché. It's true.
Michigan State can crumple up the stats, tape over the game with some episodes of Broad City and never speak of it again if they want. Hours later, Charlotte's going to be in their rearview mirror and they'll be on the road to Syracuse to focus on another game.
There's a giant bracket in the hallways at each of the NCAA Tournament sites, and at the very bottom there's a short disclaimer reminding everyone that "The NCAA opposes all forms of sports wagering." If you're going to disregard that message and go for it anyway, it's probably wise not to bet against Tom Izzo.