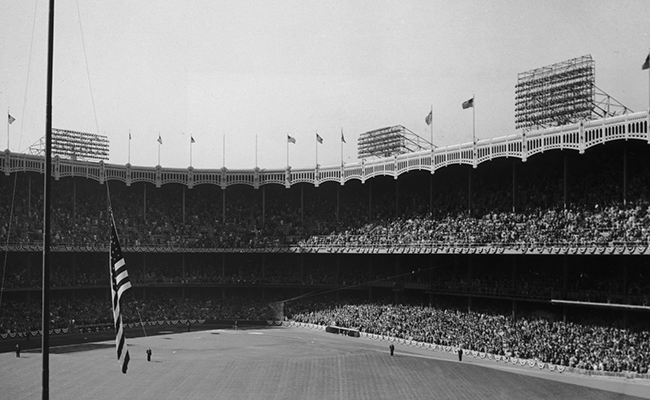 MLB's Opening Day is Thursday, and as the new-look New York Yankees take the field at the Rogers Centre, all eyes will be on their prodigious sluggers, Aaron Judge and Giancarlo Stanton, two 20-something superstars with much to prove during the 2018 season. The hype and hot takes that have surrounded them over the last few months are not unusual. They wear pinstripes. But their 2018 story should remind us of another Yankees masher who hit just as many tape-measure home runs as No. 99 and No. 27 and had also lot to prove in a season that took place over 60 years ago — No. 7, Mickey Mantle.
Mantle was born to swing a bat. Just like Judge and Stanton, the sky was the limit for the golden boy with the chiseled physique from rural Commerce, Oklahoma. But it took Mantle a while to rise to expectations.
This week, co-authors Randy Roberts and Johnny Smith present a different angle on Mantle's early major league journey with the release of their new book A Season in the Sun: The Rise of Mickey Mantle (Basic Books). Roberts and Smith believe that to truly understand the man and the ballplayer, they must return Mantle to the 1950s "when he became the most celebrated athlete in the country and reigned as king of the National Pastime." To Roberts and Smith, too many biographers and sports writers rush to present Mantle as he we now know him, a tragic hero and future alcoholic, ignoring the man he was pictured by every man, woman and child alive in 1956 as "an American colossus, [who] personified and fulfilled the country's most fervent desires." In short, a true hero.
1956 was just one of the 18 Major League seasons in a Hall of Fame career. It was one of the great seasons in baseball history, and the focus of A Season in the Sun, a literary time capsule for when "The Mick" was as culturally relevant as Ike, Sinatra, or Elvis. Maybe more so.
Mantle's early years with the Yankees (1951-1955) were marked by the death of his father, Mutt, injury, immaturity, and insecurity in the shadow of incredibly high expectations. And failure. When it seemed like he wasn't going to be "the next Babe Ruth" or "the next Ted Williams" in his first few seasons, he was thought to be a lost cause — that he lacked both character and ambition. That he was buckling under the pressure, shrinking away from the ghosts of Yankees past. It got so bad that during the 1955 season, Mantle was serenaded by a chorus of boos in Yankee Stadium. Yes, the great Mickey Mantle was booed. At Yankee Stadium.

And then the 1956 season began. That season, Mantle seemed rejuvenated at the plate. He developed a better sense of the strike zone and became more patient. As his production on the field picked up, he embraced the spotlight and, in turn, embraced his new home — New York. He rehabilitated his image and soon ruled the city at the epicenter of celebrity, media, commerce and culture while he chased Babe Ruth's single season home run record and vied for the Triple Crown. 1956 confirmed his greatness. He finally met those high expectations and became Mickey Mantle.
As Roberts and Smith fully explain, fans didn't know the real Mantle. It would be years before they realized how flawed a hero he was. The heavy drinker. The philanderer. The indifferent father and husband. The weak Mantle. His escapades were airbrushed, and secrets kept until they couldn't be kept any longer by a media industry with a burgeoning fascination with scandal. But in 1956, nothing mattered but the crack of the bat and those long fly balls in the summer sun.
Readers may balk at whether biographers can proactively and selectively cleanse a man's life and narrative for nostalgia's sake, but I believe the authors' reasoning and thesis is solid. Roberts and Smith are not asking "Who was Mickey Mantle?" All of these years later, it's been covered to death. We know that answer. Roberts and Smith are asking "What did Mickey Mantle mean to America?" That answer provides for an extremely compelling read.
They transport readers back to the mid-'50s, a time when sports fans were still encouraged to believe in infallible sports heroes. Before Ball Four, social media, and 24-hour news cycles. They "sought not to judge Mickey Mantle but to reveal him as others saw him at the height of his career." Our perception of him. Then. This is not history as revision. This is history as it was lived. Providing context while not shying away from the truth. A Season in the Sun does not exonerate the man, it just provides another entry point to the Mantle of memory. Before he became tainted by his own missteps.
The Mickey Mantle Robert and Smith present in A Season in the Sun is a naïve, malleable young man with one overriding, basic desire: to succeed at the job that would keep him out of the mines that killed his father. Everything else was white noise to him. Mutt "wanted something better for Mickey — a life aboveground, in the sun." And maybe that's all Mickey ever wanted and needed. He needed 1956. His "season in the sun" that would ensure that he would never have to return to Commerce.
By the time the Yankees beat the Dodgers in the '56 World Series, Mickey Mantle — at the age of 25 — was already a living legend. He had transcended baseball, and he still had over a decade left in the game.
Will 2018 be that kind of year for 25-year-old Aaron Judge? Will 28-year-old Giancarlo Stanton be able to duplicate his MVP 2017 season in the Bronx and achieve baseball immortality in the process? Times have changed. We know so much more about the real lives of these modern-day Yankees. Yes, Judge and Stanton, like Mantle before them, are heroes to many. And I'm sure their numbers this year will be awe-inspiring. But at the apex of our tell-all, no-holds-barred expose culture, for better or worse, we could never really have a hero like Mickey Mantle again, and we may never witness another "season in the sun."