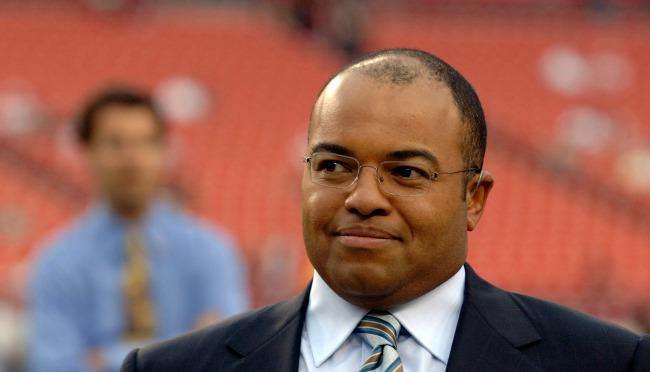 Mike Tirico recently made the move from ESPN to NBC, and his first gig for his new network has been working the Olympics. Considering the fact that Tirico was the play-by-play man for Monday Night Football for ten years though, one would presume one of his primary gigs at NBC would be to call football, specifically the five-game Thursday Night Football package that NBC will be showing this season.
However, that is apparently not the case, as Al Michaels has been tapped to do both his usual Sunday night game schedule and the new Thursday night game package. According to The New York Daily News, that decision is comes not from NBC, but from the league itself.
NBC Sports execs asked their NFL partners if they could use Tirico instead of Michaels on "TNF." NBC made the case it was bringing in Tirico, a high caliber, high quality yakker, who was the voice of an NFL primetime package for 10 seasons. And it wasn't like the NFL's broadcast division wasn't familiar with Tirico's work.

Still, the NFL wasn't impressed, sources said, and nixed the Tirico option.
Brian McCarthy, the NFL's VP of Communications said in a statement that the reason behind the decision was that the league wanted the number one teams from Sunday night to carry over into Thursday:
"They (Michaels and Collinsworth) are (NBC's) number one team. So are (CBS' Jim) Nantz and (Phil) Simms. We like the idea of having the same booth announcers from Sunday night and Sunday afternoon to carry over to Thursday. We're hoping for that same magic 'Sunday Night Football' has with Al and Cris to carry over to Thursday night."
While no one was suggesting Tirico take over Michaels' spot as the number one NFL guy for NBC, it's super bizarre that the league would tell NBC not to allow him to call Thursday games, especially considering his reputation as a top-level broadcaster and his experience being the voice of MNF. Still, the league gets what the league wants, so Michaels — and Cris Collinsworth — will have to double-down on the weeks that NBC plays Thursday night games this season and Tirico will have to focus on other things.
(Via The New York Daily News)