There's little doubt that Mike Trout is the best position player in baseball, and to further support this argument, the Angels outfielder went ahead and won his second MLB All-Star Game MVP award on Tuesday night, becoming the first player to do so in back-to-back years.
Trout helped the AL team win the game 6-3 with a lead-off line drive homer to right field off Dodgers ace Zack Greinke in the first inning. No player has started an All-Star Game with a home run since Bo Jackson in 1989. Trout later scored the go-ahead run in the fifth.
For his efforts, he was awarded a special trophy from Chevrolet: This Silverado Midnight Edition.
Trout gets to add that truck to his prize from last year's All-Star game, a Corvette Stingray Z51: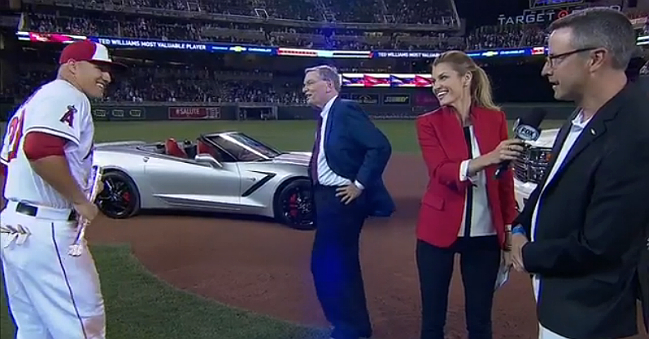 Trout is only 23 years old. At this pace, Chevy is gonna run out of vehicles to give him.