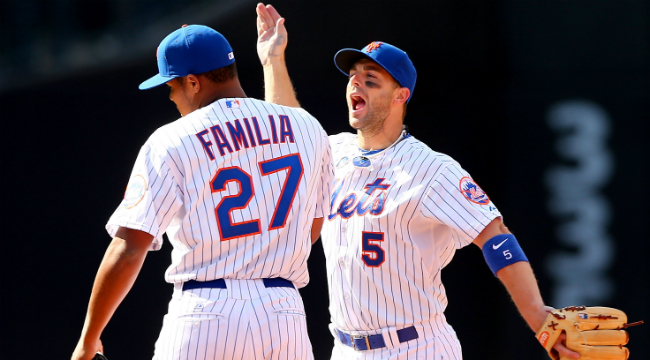 Major League Baseball's regular season is approaching quickly, as we enter the "Can we just start the season already?" portion of spring training. There are still a few roster spots to be determined, but largely, these last days teams spend in the warm climates of Florida and Arizona are about making it to Opening Day with everybody as healthy as can be. Otherwise, our eyes are firmly fixed on that point in the not-too-far distant future when the games really matter. When that happens, this is what we'll be looking for.
A Massive Giancarlo Stanton Dinger
Even though we love baseball, the day-to-day events of the sport, like home runs, rarely move the needle for us. Giancarlo Stanton's home runs, however, are the exception, because his dingers are not the dingers of mortal men. He's had his last two seasons cut short by freak injuries, so we'd like for him to hit the ground running and blast some balls out of the park while he's on the field, thank you.
Some Epic Bat Flips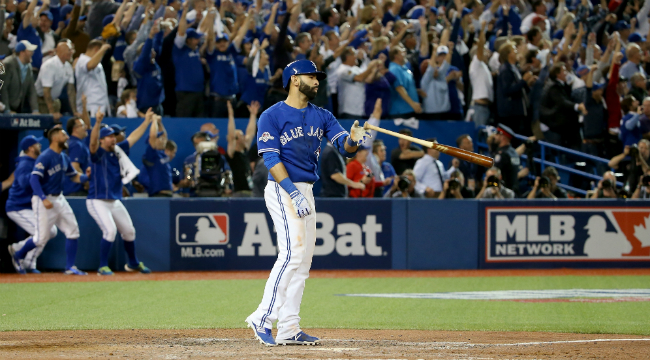 When it comes to the unwritten rules of baseball, count us firmly among the new school (or any school that doesn't listen to Goose Gossage). We love the big personalities of the sport, the ones who give our country's oldest major sport an injection of youth. As mentioned above in regards to Giancarlo Stanton, dingers are maybe the best thing baseball has going for it over other sports, so right off the bat, we'd like to see stars like Bryce Harper and Jose Bautista making the most of them.
A No-Hitter Right Off The Bat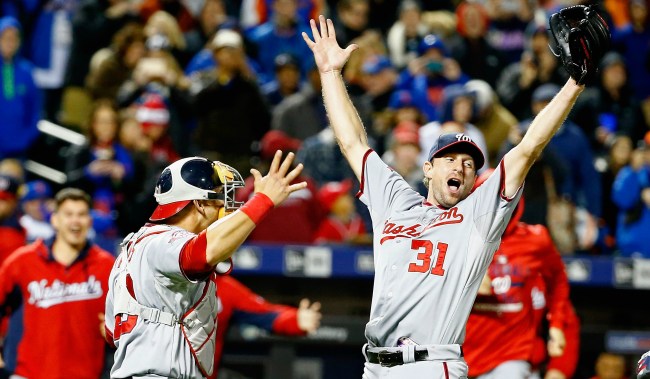 MLB has never been this rich with pitching talent since the late 1960s, when the likes of Sandy Koufax, Bob Gibson and Whitey Ford were so good, they had to lower the mounds to (literally) level the playing field. Health permitting, look at the names that will take the ball for their teams' first games: Clayton Kershaw, Jake Arrieta, Matt Harvey, Chris Sale, Corey Kluber, Dallas Keuchel, Sonny Gray, Max Scherzer, Zack Greinke — we could go on. With all this talent, why shouldn't we be treated to something historic on Opening Day, like a no-no? Heck, Scherzer had two no-hitters just last year. The only time a no-hitter's been recorded on Opening Day was by the legendary Bob Feller in 1940 — seems like we're overdue.

Some More Mets-Royals Drama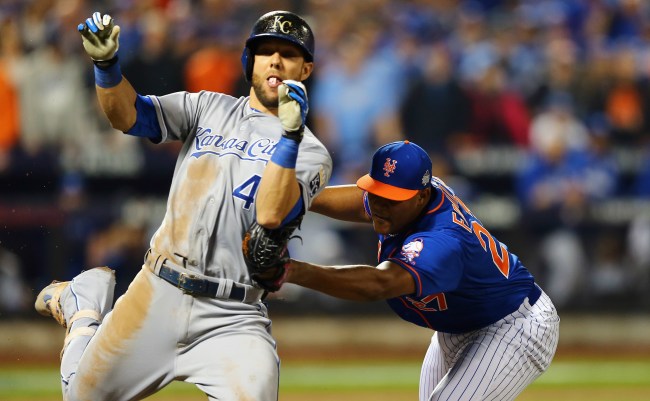 Even though the 2015 World Series only went five games, it was still an incredible series filled with late drama between teams with fanbases starving for titles. The Kansas City Royals were the team that wouldn't die, snatching victory from the jaws of defeat multiple times. In a stroke of scheduling genius, they face the Mets once again in the first series of the season. Sure, the stakes won't be nearly as high, but pitting the two sides against each other right off the bat is a great way to turn this series into something resembling a real rivalry.
A Chicago Cubs Offensive Barrage
The Cubs may have gotten swept by the Mets in the NLCS last season, but they return more powerful than they've ever been. They have three guys who could plausibly hit 40 home runs in Anthony Rizzo, Kris Bryant and Kyle Schwarber, and they have on-base machines Dexter Fowler, Ben Zobrist and Jason Heyward to make sure those home runs aren't solo jobs. Their starting rotation is no joke, but make no mistake — this is an offensive ball club, the favorites to lead the majors in runs scored. The hot summers at Wrigley always promise some crooked numbers on the scoreboard, but why wait for the humidity, Cubbies? Come Opening Day, it's clobbering time.

A Highlight From The Stands
As excitable as we are, sometimes we still don't appreciate just how difficult it is to do the things professional players pull off on a daily basis. Now, when some average Joe in the stands gets his or her chance at glory, that we always appreciate. Whether it's a catch in the stands or a fully-clothed dip in the pool, we feel like we can count on the fans at the ballpark to spice up the experience for those viewing at home.
Some Mid-Game Entertainment From The Grounds Crew
Listen, no one wants to see a rain delay on Opening Day. Rain delays are some of the cruelest forms of "hurry up and wait" in sports, none more so than when the wait's been for months. That being said, April has the screwiest weather of any month on the baseball calendar, and screwy weather is how we meet the unsung heroes of an MLB stadium experience: the grounds crew. Once you get over the agony of a rain delay, a grounds crew rolling out a tarp is a win-win proposition. Done right, it's an impressive form of teamwork to ensure baseball gets rolling again quickly. Done wrong, it's a fine source of slapstick comedy, of nature laughing at man's attempt to corral it into something convenient. Unfailingly, we laugh right along with it.

A Hilariously Bad First Pitch
It was just two list items ago when we extolled the virtues of regular folks making like the pros do, but you know what's even better? Normal humans failing miserably at replicating those very same baseball stunts! Even pro athletes from other sports somehow struggle to throw a ball 60 feet and 6 inches straight, but that's what the bright lights do to you. For non-athlete celebrities like Carly Rae Jepsen and 50 Cent? Sorry, but your dignity has been sacrificed at the altar of our entertainment.
A Young Shortstop Invasion
During the 2015 season, three young shortstops had eye-opening debuts in shortened seasons — Carlos Correa of the Houston Astros, Corey Seager of the Los Angeles Dodgers and Francisco Lindor of the Cleveland Indians. While they each have slightly different skill sets, all three are seemingly already legitimate players at tender ages (Correa and Seager are 21, Lindor's 22). At possibly the most important position on the diamond, no group of youngsters has had this much promise since Derek Jeter, Nomar Garciaparra and Alex Rodriguez all debuted around the same time in the 1990s. All three of their teams have legitimate designs on the playoffs, and they'll all be in the starting lineup from Opening Day (health permitting). Let the "Who's the best" debates begin.
Time to get your cap on for MLB opening day. Find the New Era lid that's right for you. New Era has only been around for about a century, so you know you'll be sporting a quality cap for the 2016 season.