We're now a few days removed from BJ Penn's downright disheartening showing against Yair Rodriguez at UFC Phoenix, and still, the sting is just as painful as ever. What was supposed to mark Penn's triumphant comeback — no, not that one he had for the third Edgar fight, the real one — instead served as the latest entry in a trend we've seen all too often in MMA: a former great just not being able to let go.
And because money knows no age restrictions, it's certain that 2017 will offer no reprieve from this depressing pattern of MMA legends suffering brutal beatings in the name of pride. If Tank Abbott wanted to unretire tomorrow, you can guaran-damn-tee that he'd be booked in a "grudge match" against Kimbo Slice's son by the weekend. That's just the way that our sport (and most professional sports, if we're being totally honest) is. So to that end, we might as well start taking bets on which of our heroes will fall the furthest in the coming year, right? Because separating yourself emotionally is the best way to deal with any issue, RIGHT?!
I thought so. Let's get this sadness pool underway.

Fedor Emelianenko — 4/1
"The Last Emperor" has been trending toward disaster ever since coming out of retirement in late 2015, teasing, then once again passing on an offer from the UFC to instead accept another multi-million dollar freakshow fight in Japan — which, in terms of his legacy, is certainly not tarnish-worthy. Slightly more concerning, however, was Fedor's performance against former UFC light heavyweight contender Fabio Maldonado last June, which saw the former Pride champ nearly KO'd in the first round before eeking out a decision so unearned that it forced even the ringside announcer to cry "Russian influence."
Now, the man who many once considered (and some still consider) to be the greatest fighter of all time is being pegged by most to lose his upcoming Bellator debut against TUF 10 alum Matt Mitrione. As much as I'd like to spend the remaining amount of this paragraph lamenting the career of the ONE fighter I never thought would let this happen to himself, I'll instead say that I think Emelianenko has just enough gas left in the tank to put on a respectable showing here. Because I am a stupid person.
Anderson Silva — 5/1
Speaking of former GOATs, is there any fighter that has suffered a steeper decline, status-wise, than Anderson Silva? Less than five years ago we were treating "The Spider" as if he had tapped into the Matrix and unlocked all the secrets of Mortal Kombat . We were penning fanfic about him going on Taken-style revenge missions and offering hypothetical breakdowns of how a bout between him and God might play out (Silva by Crucifix choke, round 1). Now, we're forced to sit back and watch him answer questions about which black market sex juice he may or may not have purchased in the midst of his four fight losing streak.
And yet, Silva keeps fighting. Just last week, it was announced that Silva would be facing the largely unknown brawler Derek Brunson at UFC 208 next month. For the longest reigning champion in UFC history, that already feels like a major step back. But should he actually lose this fight, it will be nearly impossible to argue that he shouldn't have hung them up by now.

Tito Ortiz — 7/1
Now, it would be easy to say that Tito Ortiz continues to tarnish his legacy every time he opens his mouth. Too easy, if you ask me, which is why I've gone a little against tradition here and given him 7-to-1 odds with the prop that he only embarrass himself physically in the coming year. Considering that his Bellator 170 headliner against Chael Sonnen this weekend is being billed as his last (probably), I'd say the odds of him slipping and legitimately cracking his skull in the sauna while cutting weight are pretty slim. Good luck to him, though.
Randy Couture — 100/1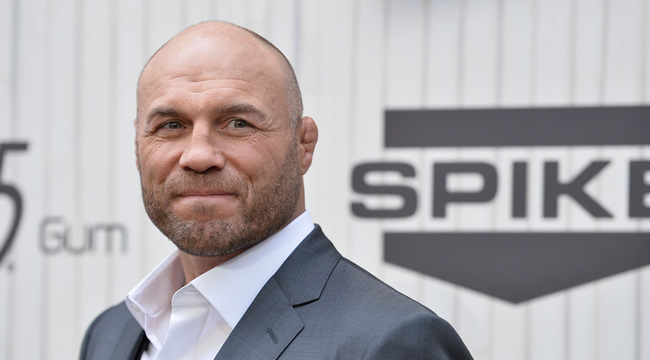 While "The Natural" has shown no signs of stepping back in the cage since calling it quits in 2011, I would like to direct you toward his IMDB page for a moment if I could. Specifically, the summary of his upcoming (likely straight-to-DVD) movie, Treasure Hunter: Legend of the White Witch, which is currently in post-production:
An altruistic doctor (Natali Yura) and a cocky treasure hunter (Randy Couture) must join forces to uncover the Mayan legend of the White Witch.
So basically, it's The Rundown meets The Mummy, only with about 1/5th of the production values and starring an MMA fighter and an Instagram pop star. Suffice it to say, I will have my review of this movie up the day it is released.

Antonio Rodrigo Nogueira — 13/1
"Semi-retired." That's how Big Nog is listed on his Wikipedia page, and if we know anything about the loose boundaries which define actual retirement, then it's safe to assume . Nogueira has dropped his last three fights in a row, four out of his last five, and five out of his last eight fights dating back to 2009, a year which marked his tenth as a professional fighter.
"But wait," you're saying, "Didn't Nogueira announce his actual retirement like two years ago, you big stupid idiot?" Well to that I say, yes and no. What Nogueira actually did was accept a desk job with the UFC under the terms that he would no longer fight for the promotion or jump ship to Bellator. But that was the old UFC, the Zuffa UFC, and with the new WME-IMG management clearing house of superfluous employees left and right (even if those employees include a couple UFC Hall of Famers), it would be safe to assume that Nogueira may soon find himself out of a job.
Which means accepting a fight against Cheick Kongo in Bellator. And losing. By submission. Due to nut shots.
Ken Shamrock — EVEN
I mean, let's be real here. Any year is a prime time for The World's Most Dangerous Man to go out in a blaze of glory. Or whatever. This is a man who once launched a "fully confidential" hotline service for $11.99 a minute. You think he won't come out ? Fight license be damned; Shammy will find a way to further degrade himself in 2017 and we will watch it happen.