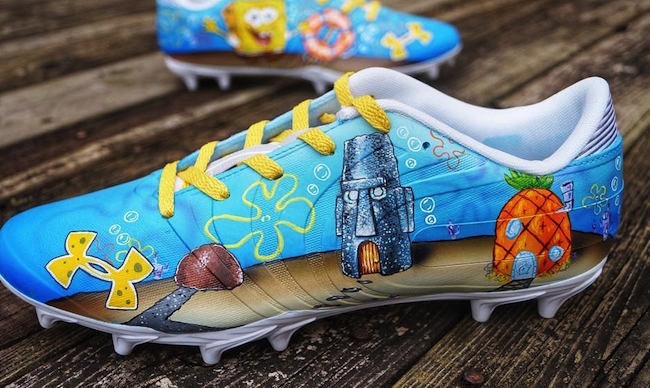 SpongeBob SquarePants creator Stephen Hillenburg died last week after a battle with ALS and over the last five days there have been many tributes to the creator of one of the most beloved cartoons of all-time.
Fans showed their love for Hillenburg and the show on social media, and plenty of famous fans of his show have paid tribute as well. On Sunday, Falcons receiver Mohamed Sanu joined Enes Kanter and others from the world of sports in honoring Hillenburg with some SpongeBob custom cleats made by Dez Customz.
Custom sneakers and cleats have become increasingly popular in sports, especially in football and basketball — where players are now no longer beholden to regulations on the colors their sneakers can be. Sanu's SpongeBob cleats look great, as Dez Customz did a phenomenal job with the artwork of SpongeBob and he and Squidward's homes on the other side.
Sanu, who is 29, would've been right in the target demo for SpongeBob SquarePants when it debuted in 1999, so it's not a huge surprise that he and others his age in sports and other areas of entertainment would be effected by the news of Hillenburg's death and want to do a little something in tribute to him and his creation that was and is beloved by so many.