Sunday is the final day of the Rio Olympics. This means that basically everything that is happening today is being done for a medal, so emotions are high among many of the competitors who have waited a fortnight to earn their shot at glory.
One of those competitions was the bronze medal match in men's freestyle wrestling in the 65 kilogram weight class. The match was between Uzbekistan's Ikhtiyor Navruzov and Mongolia's Ganzorigiin Mandakhnaran. It was a close match, and Navruzov ended up coming out on top, 3-1. This really upset Mandakhnaran's coaches, who felt like a controversial call cost him the bronze. In fact, it upset them so much that they started stripping and one went all the way down to his skivvies on the mat.
Apparently, the crowd in Rio was 100 percent behind this protest. No one knows if they were supporting the coaches because they agreed with them or if it was because this was absurd, but either way, the crowd couldn't get enough of these two adult men going wild.
And yes, the video of this incident is just as absurd as you would think. Just look at this dude rip his clothing off in disgust! There are also a number of photos that are fantastic and really get across the agony they were feeling.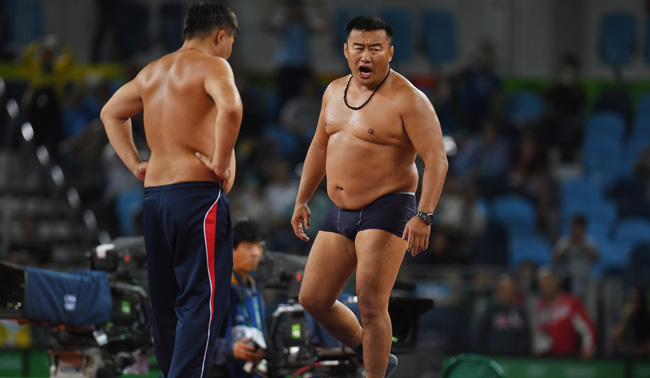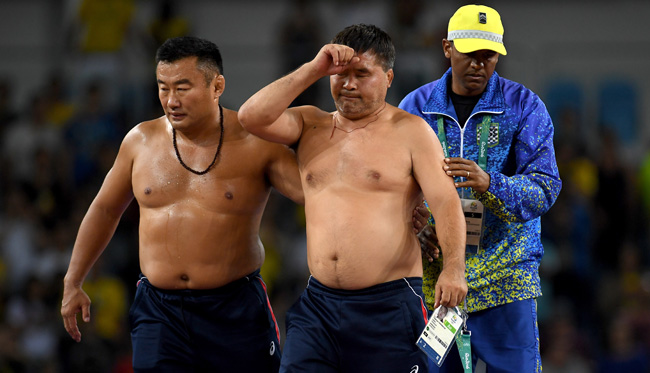 Eventually, security came and escorted the pair off of the mat. Unfortunately, our hero who ripped his pants off had to put them back on. The Summer Olympics bring us unforgettable moments every four years, and hopefully none of us ever forget where we were when we learned about the angry Mongolia wrestling coaches who were fed up with all of this nonsense.