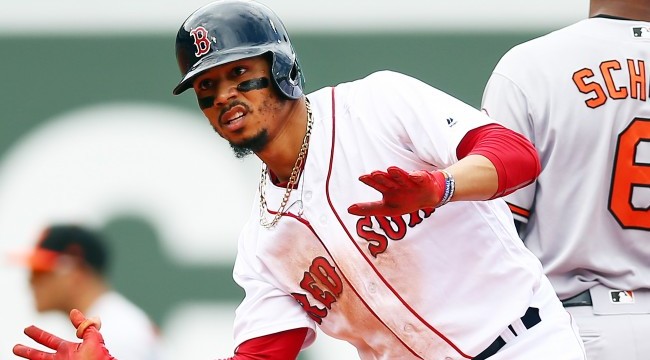 Baseball is a game reluctant to change. Nine innings. Nine players. Three outs. Four balls. It all works, and the rest of the sport falls into place.
But baseball is also a game that's changing in more subtle ways, and that's because it has to. Major League Baseball's fans have the highest median age of any other sports league in the United States. The game's old guard has also, for the most part, retired. Derek Jeter and Alex Rodriguez are still highly recognizable names and faces, but the former owns the struggling Miami Marlins and the latter is a broadcaster.
David Ortiz is gone and Albert Pujols hasn't been an All-Star in going on three seasons now. The game is changing, and the faces people associate with baseball are disappearing. Thankfully, a young crop of talent is taking the game over in a big way. The New York Yankees and Boston Red Sox are full of home-grown youths who can hit the hell out of the baseball. The Los Angeles Angels of Anaheim still have a ridiculous name but an even more ridiculous young talent.
There are a lot of different ways to look at "young" in baseball because players are drafted early and some reach the majors before others, so let's go with three established young stars and three players to watch on the rise in the Majors in the coming years.

Mike Trout
Trout is the game's best player and the best athlete most of America can't pick out of a fast food line as a superstar athlete. The records he's currently setting as a hitter are remarkable, and he's already a two-time American League MVP. Trout has played eight years in the Majors, is still just 26, and is literally on pace to have the best season — italics and bold time! — in the history of baseball.
There are so many things about him and his game that are absurd, and yet few casual sports fans know he even exists. It's baffling, and in some ways he shouldn't even be on this list. But his talent is transcendent, and it's a matter of time before the Angels get it together and Trout gets a chance to show off his talent come October.
It just doesn't make sense that Mike Trout isn't one of the biggest stars on earth. He should be. It feels like it's just a matter of time that people figure it out, so he's on the list.
Aaron Judge
Gleyber Torres should probably be the Designated Yankee on this list, and while the hype for Torres is off the charts as well, you have to give Judge some credit for the excitement he's already brought Yankees fans. He hit 52 home runs last season, and many of them were absolutely crushed. Sure, the balls are juiced, but with his swing and power, it wouldn't much matter. He, for example absolutely terrorized the Baltimore Orioles last season.
Judge and Giancarlo Stanton make Yankee Stadium look like the launch pad at Cape Canaveral back when NASA had federal funding. There's always a chance something is going into orbit.

Mookie Betts
The Boston Red Sox have an entire outfield full of absolute flames, but Betts is the best of the bunch. Sox broadcasters often joke that he should have been given that season's Gold Glove award on Opening Day, but it's not a ridiculous suggestion. Many people have already made up their minds about the Red Sox and what they are, but objectively speaking, they're a fun young team full of players likely to shine for years to come. In 2018, Betts is an MVP candidate that led the league in home runs before a recent injury, but what he's best known for are defensive plays like this.
Betts is also an excellent bowler. Like, bowling 300s in PBA tournaments good. He's going to destroy fools at Chris Paul's celebrity bowling tournament for the foreseeable future. The kid can do anything he puts his mind to, and he's chosen baseball as a way of blessing us all with his skill and charm.
Vlad Guerero Jr.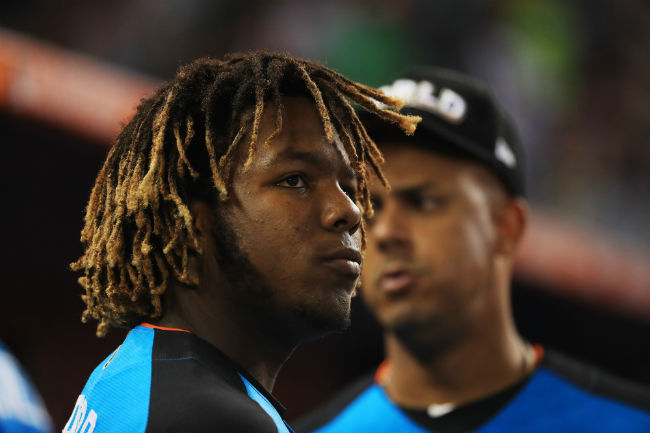 Vlad Jr. isn't in the majors yet, but at this point, it's really just a matter of time. The Toronto Blue Jays prospect is currently raking in Double-A, as he has a .407 batting average and a 1.124 OPS with 11 dingers. There's talk that he will go to Triple-A Buffalo sometime in the next month, and it would be a huge boon for Western New York. After that, it's just a short trip up the Six, where expectations are high.
But why? The easy answer is that he's a young slugger with loads of potential. The more nostalgic answer is that he hits a lot like his father, Hall of Famer Vlad Guererro Sr. He's already made a splash with the Blue Jays when he hit a walkoff home run in an exhibition game in Montreal, where his father used to play.
The hype surrounding Vlad Jr. is very real and he's worth getting excited over, and it's a name that's extremely familiar to baseball fans, which means Major League Baseball is very interested in him making a splash when he finally reaches the show.

Ronald Acuña Jr.
Acuña is part of a young duo of Atlanta Braves players turning the franchise around and putting butts in the seats at the team's new stadium in Cobb County. Along with Freddie Freeman, Acuña and the Braves have bounced back in a big way this year. He's a legitimate five-tool player, hits for power and has a world of hype surrounding his game. Thus far, though, he and the Braves have delivered.
Then he went and did this against Boston last month and scared everyone.
Thankfully, the injury was minor and he will be back this season. It would be a shame for baseball to go on too long without him.
Michael Kopech
There aren't pitchers anywhere else on this list because good pitching, while platonically ideal and necessary to win baseball games, is not always the most fun to watch. But young pitching potential is a wondrous and magical thing, especially when you can throw like this.
Besides, the Chicago White Sox need something to get excited about. Those poor fans have been through enough. Kopech is the only part of the Chris Sale trade Red Sox fans worry about. He's still ironing out some of the wrinkles that he possesses in AAA Charlotte, especially when it comes to command and not walking dudes. But if he is able to figure that all out, Kopech has the kind of stuff that can turn him into one of the most feared pitchers in baseball. A lot can go wrong with pitching prospects, but Kopech is something to get excited about. Unless he's pitching against your team someday.