There's something about still photography and fighting. It shows things you wouldn't normally see during a fight broadcast. Individual moments captured in time that full-speed could never do justice. Shifts in momentum, a strike landing and two athletes doing everything they can to get their hand raised in a photographic vacuum. It's beautiful.
Sports writers get to see these images all the time, and so many of them never see the light of day, so let's take this time to look back at Diaz and McGregor's first fight at UFC 196. It was a perfect fight, and it's made even better in still photos.
We'll start at the weigh-ins. Typically, fighters laugh at Diaz's mean-mugging antics at weigh-ins, but the confident and well-fed McGregor did nothing but sneer and joke. In his mind, this was going to be another easy fight.
The few tense moments before the fight began would show Nate in his usual zone while Conor would enjoy the moment and bask in the glory of his rising star.
The fight begins and Conor starts busting Nate up immediately. That stiff left hand of the Irishman's was flowing freely.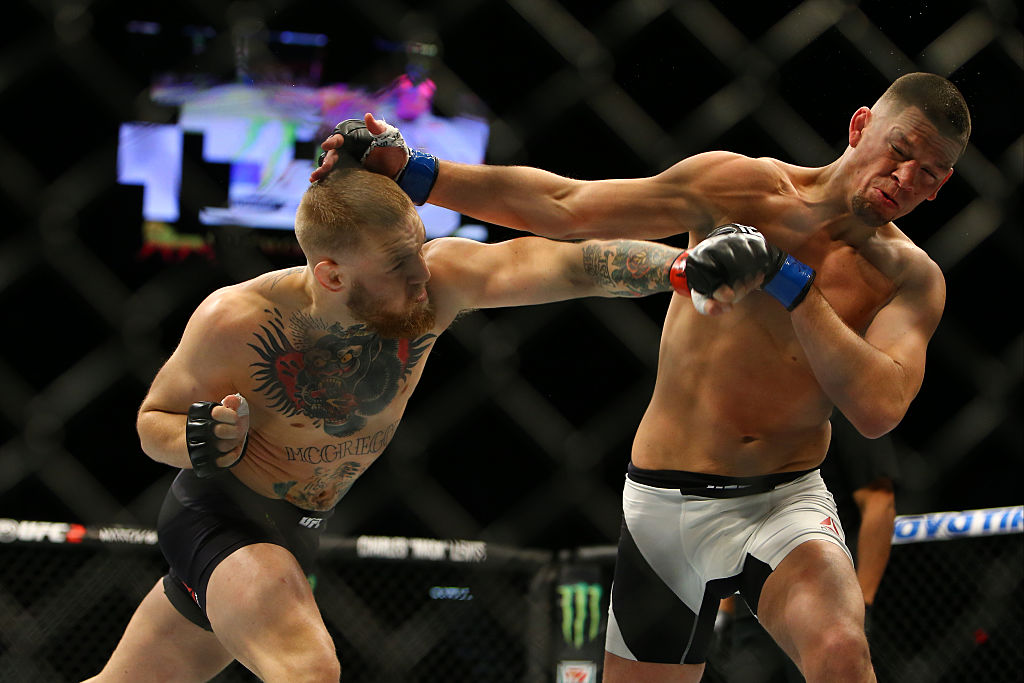 Conor was enjoying himself.

At this point, fans of Diaz saw him eat the shots and not be phased, while fans of McGregor thought it was only a matter of time until Diaz would wilt to McGregor's power. Of course, the Diaz brothers are guaranteed to do three things — mean mug, smoke weed, and bleed — so this wasn't dire for Nate yet. But still, he was getting tagged and tagged hard.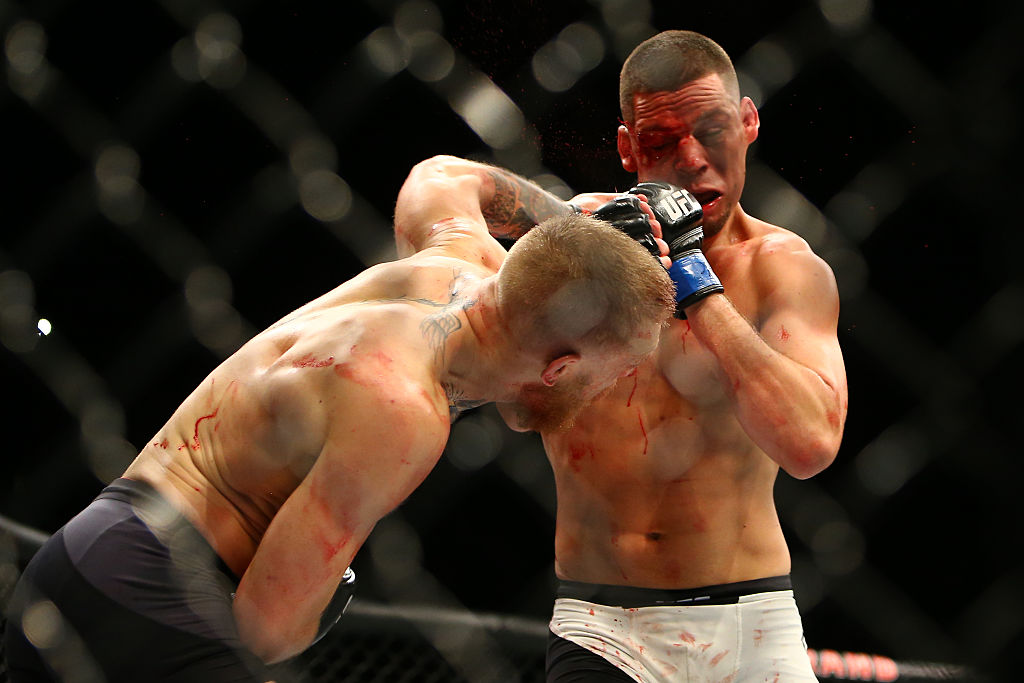 Meanwhile… Conor was all smiles.
Then, midway through the second round, Conor began to slow down, and Nate would start peppering him with the legendary Diaz boxing.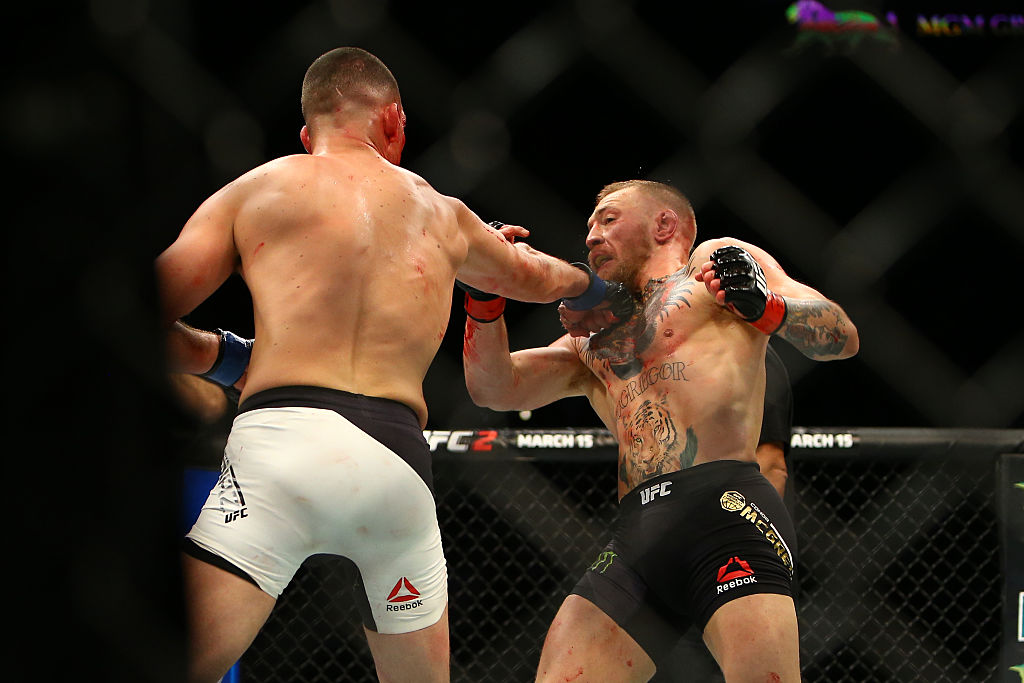 Now Nate was the one smiling.
After multiple, slick 1-2s, Conor would bite down on his mouthpiece and come forward, still swinging with bad intentions, but he was too slow and not hitting hard enough for this higher weight class. Twenty-five pounds is a leap when a fighter is used to knocking out men at featherweight. Now Nate was taking care of business. On 11 days notice, Nick Diaz's younger brother was defeating the most hyped fighter in the world.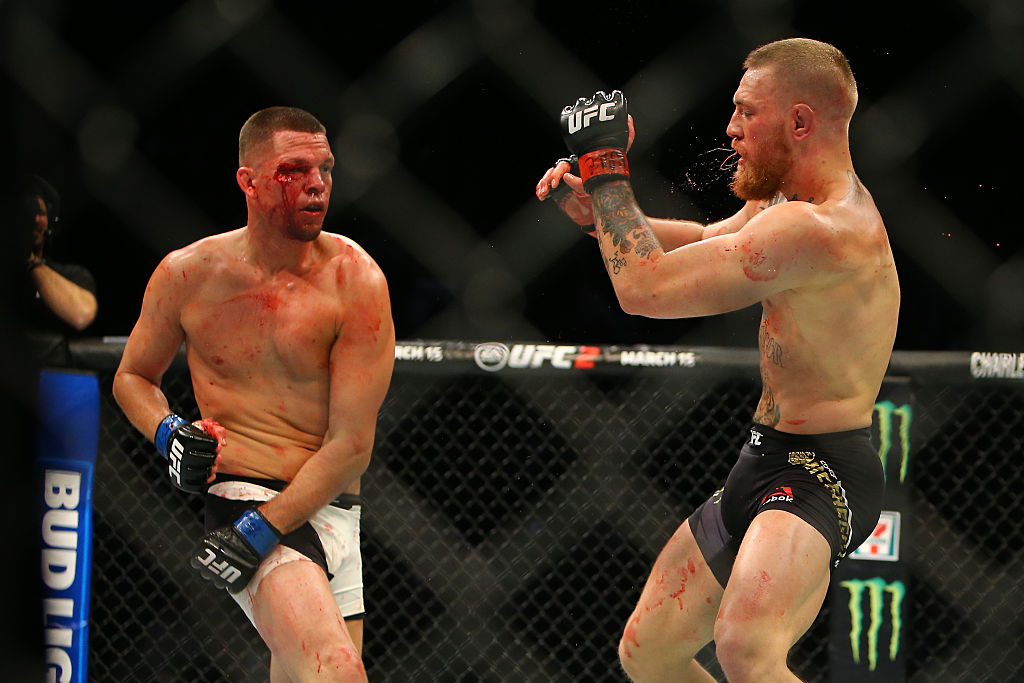 Another 1-2 would stumble the featherweight champ, who would, in an unprecedented move, go for the desperation takedown, where he was quickly sliced through by Diaz's superior jiu jitsu. For a moment, he would be pounded in the mount.
McGregor would roll over, either in an attempt to escape or in an offering of his neck. It would all be over soon. Nate would slide his arm under Conor's neck, and the tap would come. The underdog reigned supreme.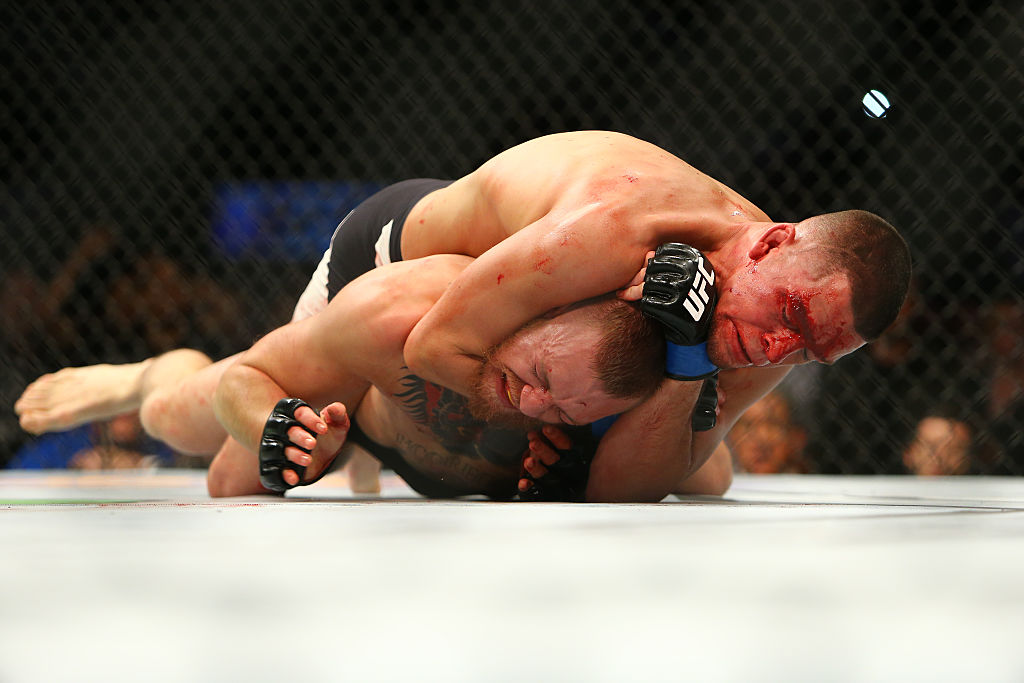 Conor was finished.
Nate was victorious.