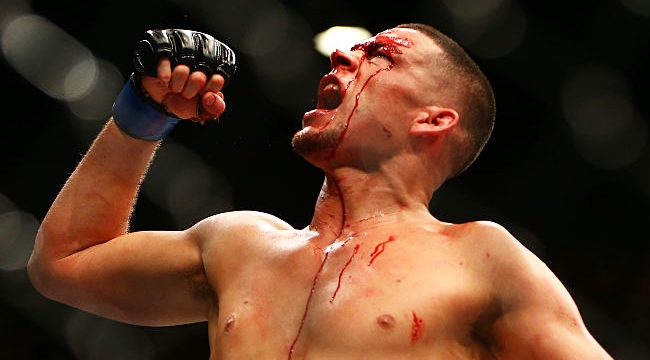 Nate Diaz is here to remind everyone he already "slapped and punked" both Conor McGregor and Khabib Nurmagomedov. Possibly while laughing and smoking a blunt. We've seen Diaz and McGregor chuck cans at each other at a press conference, they've nearly brawled at weigh-ins and face-offs, but there's no way Diaz and his crew would've allowed McGregor's team to go crazy and trash a bus.
Let's go to Nate:
He's right, too. While they're 1-1 against each other in the Octagon, leading to a begrudging respect, the Diaz crew never backed down from an unofficial battle whenever McGregor tried to impress his will. Same goes for Khabib Nurmagomedov, who Nate called a bully when he and his team surrounded McGregor's teammate and best friend Artem Lobov earlier in UFC 223's fight week.
The last time Khabib tried to intimidate the Diaz bros, this happened:

That's at a World Series of Fighting event that saw the crowd brawl spill out into the stadium food court where things were thrashed and Khabib backed off.
This is obviously not how you handle things ever, but it's a reminder that Khabib has a way of bullying other fighters and some people take it, others clearly don't. Now McGregor is possibly on the outs with the UFC (maybe) and fighters are fed up with his antics.