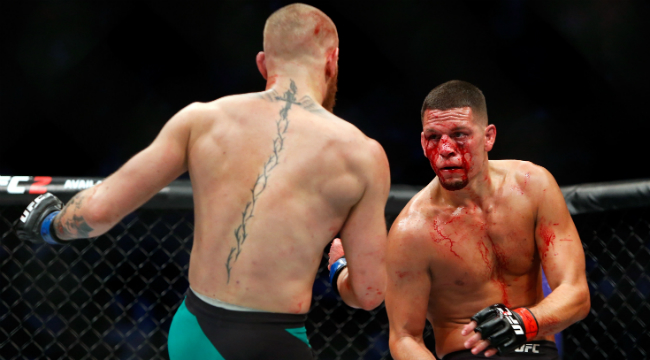 Nate Diaz may not have beaten Conor McGregor at UFC 202, but in defeat he stayed true to himself, smack-talking even as he was bleeding from the face. That's just how Diazes do, and he continued into his post-match interview in true Diaz fashion, hitting a vape pen which he said contained cannabidiol, a non-psychoactive component in cannabis which Diaz said "helps with healing process and inflammation and stuff like that."
Even though cannabidiol doesn't contain THC, the chemical most commonly associated with the high feeling of marijuana, it's still on the USADA's list of banned substances. Diaz hitting it at his press conference means that it may not have been in his system when he was given the standard post-fight test, but according to MMA Fighting, Diaz's admission of the vape's contents might be enough for the UFC or USADA to punish him.
Diaz claims he isn't fighting again until his rematch with McGregor, so he may just have time to wait out a suspension, but this situation just further underscores the outdated thinking of all the major sports and drug-testing agencies when it comes to cannabis and injury recovery. Not everyone will appreciate the differences between what Diaz was using and simply lighting a joint, and while that's a problem when it comes to a purportedly medical organization like the USADA, it should also be irrelevant.
(Via MMA Fighting)