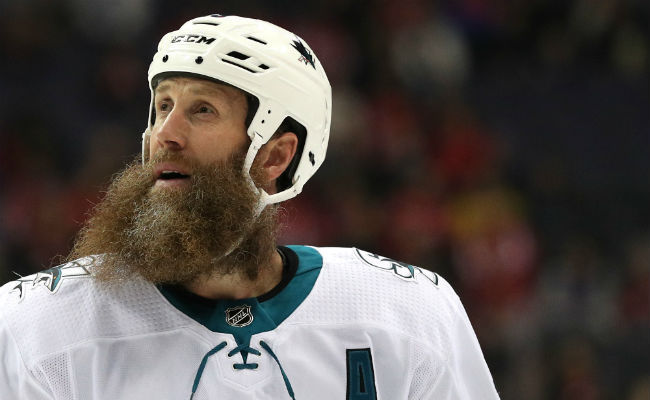 Jumbo Joe Thornton has grown a pretty impressive beard during his time with the San Jose Sharks. But he got a bit of an unexpected trim during a fight on Thursday night.
Thornton squared off with Toronto's Nazem Kadri just two seconds into the first period of Leafs-Sharks on Thursday night, a clearly premeditated big of on-ice violence that indicates the two clearly do not like each other. And Kadri wasn't gentle during the fight, grabbing Thornton's jersey and, perhaps accidentally, a large chunk of his beard during the scrap.
You can sort of see Thornton's beard getting pulled during the fight, but when the two hit the ice and the officials come in to shake the players loose from one another it's clear that thing unusual happened during the fight. As in, you can see Kadri throw a big chunk of grayish beard onto the ice.
Someones gotta clean that off the ice, of course. You don't want that getting stuck in the ice resurfacer's auger and causing even more problems. So does Kadri get that as a souvineer? It's not like Joe can reattach that in any meaningful way, right? Nope, the Leafs were kind enough to hand it back to the Sharks bench, where I'm sure someone will take care of that.
https://twitter.com/JonnyRoot_/status/949072098940526592
Thornton's probably going to have to trim his beard a bit to even things up now, but hopefully he has a good sense of humor about it. Hair, after all, eventually grows back.