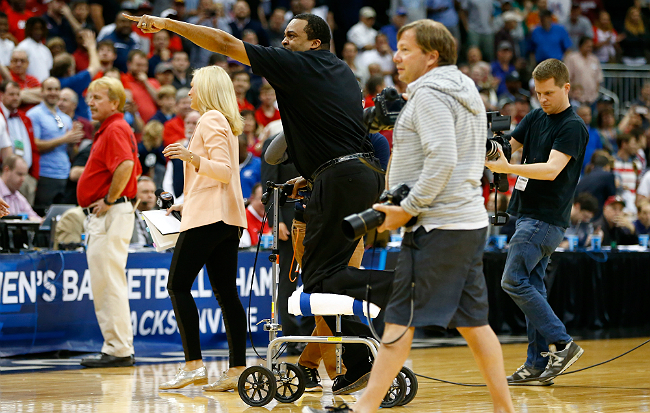 Thursday may well have been the wildest opening day in NCAA Tournament history. There were a record five games decided by 1-point, two 3-seeds lost to 14-seeds, a coach fell off his stool in celebration, and a shoe was thrown on the court. Before day two starts, let's look back at the six most insane moments of day one.
Georgia State's Buzzer-Beater Knocks Their Coach Over
Coach Ron Hunter tore his Achilles celebrating his team's conference tournament win last weekend. As a result, he was coaching No. 14 Georgia State's game against No. 3 Baylor from a rolling stool. When his son R.J. Hunter hit a miraculous game-winner to seal the massive upset, it was too much for Coach Hunter to handle. And this happened:
https://uproxx.com/wp-content/uploads/2015/03/ron-hunter.gif?w=650
He was just fine, and after the game …
Georgia State's Coach Calls Out President Obama
Like everyone else in America, President Obama filled out a bracket and picked Baylor to beat Georgia State. Coach Hunter didn't forget this, and addressed it to CBS' cameras after his team's win:
The Goaltending Call That Divided A Nation
Was it goaltending or not?! This was the debate that set Twitter aflame following UCLA's win over SMU.
Late in the game, UCLA's Bryce Alford (another head coach's son, coincidentally), chucked up a desperate three to give his team a late lead over SMU. The shot was way off the mark, but the refs called goaltending.
The Bruins held on for the win, marking possibly the first game-winning goaltend in Tournament history.
Someone Threw A Shoe Onto The Court
Because nothing made sense yesterday, the basketball gods decided to add a projectile shoe to the mix. After Arkansas' Rashad Madden lost his sneaker heading up the court, one of his teammates decided to throw a replacement onto the court while play was going on:
[protected-iframe id="1a873d2e9469a074119980866099a281-60970621-3039052″ info="" width="640″ height="358″ frameborder="0″ scrolling="no" webkitallowfullscreen="" mozallowfullscreen="" allowfullscreen=""]
The refs delayed the game for five minutes to discuss what foul to enforce, and ultimately decided to give Arkansas, well, a delay of game.
N.C. State Completes Incredible Comeback With A Buzzer-Beater
LSU had its game against N.C. State all but locked up. They were up by 12 with eight minutes left, and had plenty of opportunities to seal the victory down the stretch. Instead, the Tigers went 0-for-12 from the field to close out the game, and missed six critical free throws in the waning minutes.
This meltdown by LSU allowed for this to happen:
The Toilet Bowl Buzzer-Beater
Down by two points with seven seconds left, Cincinnati's Troy Caupain drove the length of the court himself, and threw up this prayer as the buzzer sounded and the backboard lit up red:
[protected-iframe id="47db1af08b933e3d7c3a549752bb1924-60970621-3039052″ info="" width="640″ height="358″ frameborder="0″ scrolling="no" webkitallowfullscreen="" mozallowfullscreen="" allowfullscreen=""]
Of course the Bearcats would go on to beat Purdue in overtime, 66-65.
And all of this doesn't even include No. 14 UAB taking out No. 3 Iowa State, which wasn't so much a specific moment, but certainly added to the overall insanity of the day. Let's hope day two can match it. Or not — our hearts could probably use a break.