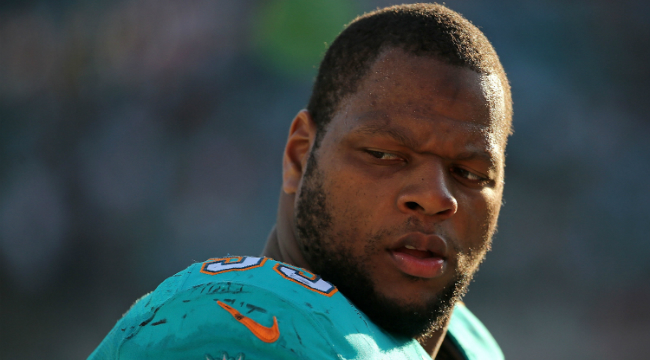 So far, Ndamukong Suh's time in Miami has been a bit of a disaster. Despite signing a gargantuan deal worth $114 million over six years with $60 million guaranteed, Suh hasn't done anything for the Dolphins this season. The former Detroit star has racked up three tackles and no sacks through two games in Miami.
There are probably plenty of reasons for this – and it is important to remember that, you know, Suh has played two games for the Dolphins – but one of the main reasons is reportedly that the former All-Pro is ignoring coaches and doing whatever he feels like on defense.
A big reason why: Suh, who for the second straight week was a nonfactor, strayed from Kevin Coyle's script.

The Miami Herald has learned that Suh freelanced at times Sunday, creating confusion on the defense. By taking matters into his own hands, the Dolphins' $114 million man took a bad situation and made it worse.

"I couldn't tell you," Suh said, when asked to explain his uninspired play. "At the end of the day, we have to go back to the drawing board and figure out what we want to run so guys can make plays and go from there."
To Suh's credit, Dolphins head coach Joe Philbin said that this report is false.
"There was a report that Ndamukong Suh was freelancing out there on the field," Philbin said during Monday's press conference. "I just watched the entire tape with the entire defensive staff. I didn't see anything of the sort. So I'm not sure where that came from."
No matter what Suh's doing on defense, Miami should probably figure out who's leaking this info to the press.
(via Miami Herald, ESPN)