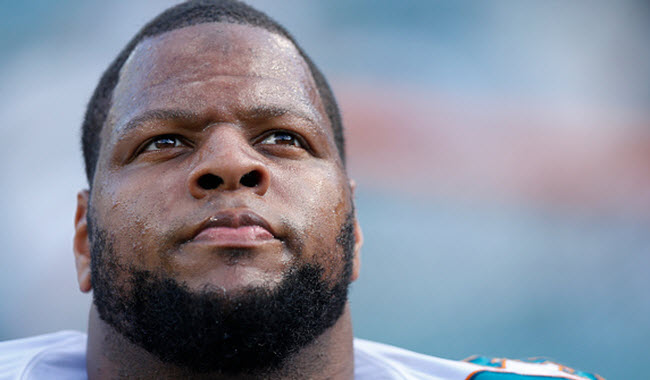 Things aren't going particularly well for Ndamukong Suh these days. His Dolphins aren't very good, he's not playing all that well, and there have been numerous leaks about him to the media from someone in the organization. It started in September when a source told the Miami Herald that Suh was freelancing on defense, doing whatever he wanted and not listening to coaches. It continued on Sunday when NFL Network reporter Ian Rapoport dropped this bomb about a speech Suh gave to defensive players one week ago.
"I'm told he told them: 'I run this defense, I'm going to be here for the next five years, there is no guarantee any of you will be, as well. Only a handful of guys are good enough to play with me right now,'" Rapoport said. "He also said the schemes were not good enough, the techniques were not enough and everyone needed to be better. He said, 'Follow me.'"
That's a pretty scathing allegation, one that paints Suh as a selfish leader (if that's even a thing). There were rumblings in Detroit of Suh going off script in games, but nothing like this, especially not to this extent.
Anyway, on Sunday night, Suh responded to the allegations on Instagram. He didn't hold back who he was referring to, going with an #IanRapoport hashtag.
The problem here isn't Ian Rapoport, who is by all accounts a very a good NFL reporter with very good sources. The problem here is that somebody in the Miami Dolphins organization doesn't like Ndamukong Suh. Somebody on the Dolphins is out to smear Suh's good (bad) name. Is it someone in the front office? Perhaps. I lean toward this being a disgruntled player on defense. One who probably isn't happy about Suh's massive contract.
That makes a lot more sense.