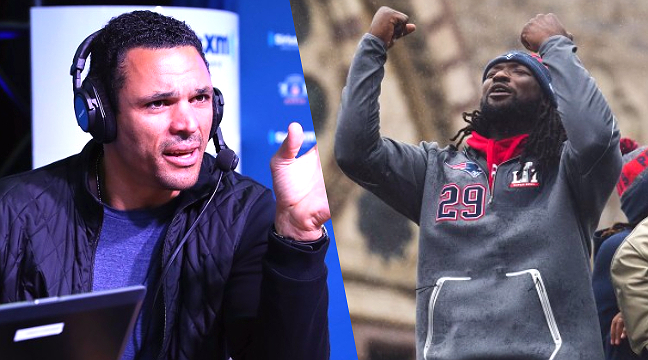 Tony Gonzalez never won or played in a Super Bowl but he has thoughts about some of the New England Patriots skipping the White House visit with Donald Trump. You know how doofuses tell sportswriters who have "never played the game" to shut up? Is this White House visit version?
Gonzalez was stopped by a TMZ camera, laughed for like six seconds at the question, then listened to it delivered again. The first 30 seconds of this video is just a guy stumbling through a question and Gonzalez trying to find the answer that won't get him fired from his TV gig at CBS.
Here's the best Gonzalez could think of on the spot.
"If they don't wanna go, that's their right," Tony said … "For me, I think that's silly."

"If you've got a problem, go there and meet him! Say something! That's your opportunity to get your voice out there, to get heard."

"Tell him what's on your mind," he added … "Maybe he'll listen."
Great point. If there's one thing Trump is known for, it's listening. Chris Long whispering in his ear as he shakes his hand, "Perhaps your Muslim ban is not only illegal and racist, but it's also fueling terror organizations and helping their recruitment in a way nothing else before it has, so you should perhaps reconsider your executive order" will set us down a path to peace.
Gonzalez thinks it's silly to skip the White House, not because he loves Trump, but because he sees Trump as a wise, even-tempered man thirsty for knowledge and insight from others. It's hard to say which is stupider.
(TMZ)