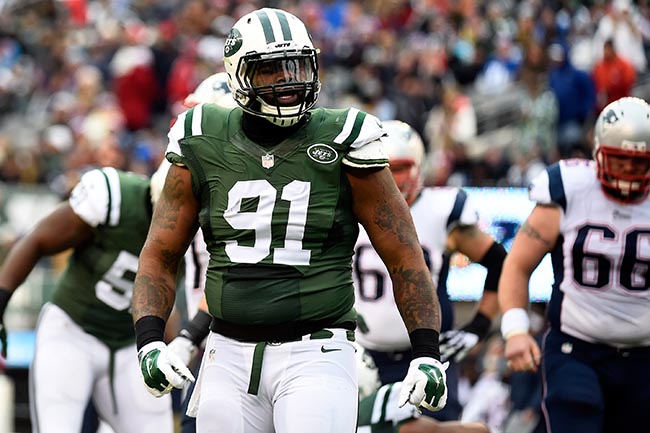 Last Season: 4-12
Key Acquisitions: QB Ryan Fitzpatrick, RB Stevan Ridley, WR Brandon Marshall, CB Darrelle Revis, CB Antonio Cromarite, Coach Todd Bowles
Key Losses: WR Percy Harvin, QB Michael Vick, Coach Rex Ryan, a working jaw for Geno Smith (At least temporarily)
The Jets. The angriest, bitterest fanbase in football. Why? Is it because they've been viewed as the perpetual little bro to the Giants, who have had more recent success? Is it because they finally got past Sanchez and it looks like Geno Smith might actually be worse and they don't want to admit it? Is it lingering anger over the Buttfumble? Is it because New Jersey smells bad? Is it because all the old fart Giants fans always leave the stadium smelling like old people? Probably all of these things.
The Jets finally pulled the trigger on an old, rabid Rex Ryan last season and then brought in a different defensive guru to run the operation. Todd Bowles made the Cardinals defense great last year and, with the defense being the strength of the Jets, we can only expect more greatness, even with Sheldon Richardson missing 4 games for being a giant dumb dumb.
The Jets have Revis back. They got Antonio Cromartie back. They drafted Leonard Williams, the best defensive prospect of the incoming class. The Jets are going to absolutely pummel the hell out of every offense in the league. They may legitimately end up with the best defense in years. So what I'm saying is that the defense won't be the problem. The offense will.
The offense doesn't really look substantially better. Brandon Marshall is still a headcase and he's getting up there in age. Stevan Ridley is serviceable, but he's not setting any backfields on fire. Ryan Fitzpatrick is going to do the Ryan Fitzpatrick thing: have two games where he looks like an all-pro and then turn into a pumpkin. That's the Ryan Fitzpatrick #brand. At least his beard still owns. Geno Smith is gone till about week 10 with a broken jaw, but I doubt he'll be missed much considering his play up to this point.
The Jets don't suffer from big expectations this season, thanks to the coaching changes and the problems on offense. So the Jets can be bad, good, or mediocre and none of the results will be particularly shocking. If they are good, it's the defense. If they suck, it's the offense. If they are mediocre, well no one will pay attention to them because mediocre teams are boring.
For this team's fan perspective, things get a little existential. Being a Jets fan is tough, and Jets fan "Weekly Font" is ready to lay it all out on the line.
Having been born and raised in noted American armpit New Jersey, there are only a few possible answers to the question, "Which football team do you root for?" If you are under the age of 16 the answer is likely the Patriots or Seahawks because our fat moron governor has waged a war on teachers and all of our children are idiots. If you're from South Jersey you have more allegiance to Philly because proximity and getting to a worthwhile metropolitan area would require crawling out of the Hills Have Eyes set that is the Pine Barrens and getting on a spooky scary highway. If you're the biggest turd in the room at any given moment, the answer is the Cowboys.

But then, of course, there are the two teams that play in this wretched state and rightfully ignore this fact entirely. Giants fans will proudly announce their allegiance to two recent and undeniably amazing Super Bowl wins, your adorable mentally handicapped younger brother of a quarterback and a human highlight reel wide receiver. Jets fans will either start stammering and making excuses without actually admitting a lifetime of misery or finish their Bud Light Limes in one swig before screaming J-E-T-S into your face with all the marinara garlic breath they can muster up.

Being a realist Jets fan is condemning yourself to a life of penis envy. It's playing fantasy football when you don't even like it because it gives you something to root for and literally anything else to watch on Sunday. It's willfully lumping yourself in with the kind of people who still proudly wear Hooters wing sauce stained Testaverde, Pennington and Chrebet jerseys because those guys were hard working and scrappy and all of the other dog whistles that come from barreling out of Staten/Long Island and Hudson county, the United States' most corrupt county (hey we won something!). Sad fact is most of us are also Mets fans so sports-related depression runs in our genes.

The funniest part is that the Sanchez/Ryan era has been the greatest era of the New York Jets since Super Bowl 3. We almost made the Super Bowl in consecutive years in the same way a fedora-wearing neckbeard claims he almost nailed a total babe but actually just rifled through her underwear drawer. Could you imagine if that Jets team goes to the Super Bowl and faces the Saints and/or Packers? In these, our greatest years, every drive was two runs up the gut for no yards and then a dump pass short of the first down line. It would have made Broncos-Seahawks look like a competition. It would be the football equivalent of the third act of Audition. The Washington Generals don't get styled on as badly as the Jets would have.

Hope may spring eternal but nothing grows in the Swamp of Sadness that is the Meadowlands. All you can hope for from the Jets is entertainment. At the very least, this was delivered in spades during the Sanchez/Ryan era. Two of the greatest plays in the last 10 years have come from New York football teams – the Giants have the Helmet Catch and we have the Buttfumble. In the past you could count on comedy and Rex Ryan schenanigans to get you through the season with only a slightly spoiled liver. But I'm supposed to be talking about the current incarnation of this overturned tractor trailer of a football team so I'll stop my filibuster.

The season started with so much potential with Geno getting Johnny Cage fatalitied down to the injured list. But now I have to lean on Harvard journeyman failure Ryan Fitzpatrick for entertainment. Geno was an interception machine and it was wonderful. This gifted us a Vick sighting which is always worth watching. Other than another scrappy, educated, white icon for the worst fans to hang an inflatable plane hat on, what could a Fitzpatrick season possibly do for us realists?  Who could possibly care that Darrelle Revis is back? Cool! Awesome! He'll lock out any chance of great offensive displays by the other team while our offense gifts out field position like Halloween candy. Maybe this year we'll get that rare, but oh-so-rewarding, upset of the Patriots that we somehow stumble into. Maybe Rex will take a shit on the 50 after Tyrod Taylor runs for 150 and two TDs on us. But probably not. The 2015-16 Jets season is a guaranteed 6-10 or 7-9 expedition with little to no chance of the memorable mishaps and football follies of Jets past. It's a season as bland and forgettable as Todd Bowles.