Trying to determine the worst division in football can be a subjective exercise some years (and one we've already explored this season), and some years you have a grouping like the 2014 iteration of the NFC South wherein all four teams finish with a losing record. That's an almost impossible feat to pull off, especially considering the eventual division winner, Carolina, was, at one point, 3-8-1 with just four games to play. For them reeling off four straight wins to best New Orleans (7-9) by a half-game and Atlanta by 1.5 games (6-10), the Panthers got to host wild-card team Arizona (11-5) in the first round. What a country, as the kids say.
But this season, the script was sent back for a full rewrite. Both Carolina and Atlanta have started off the year with 4-0 records. New Orleans, which has already survived a bruised Drew Brees rotator-cuff injury, hasn't quite put it all together, yet but it pulled off a dramatic 26-20 overtime win at home Sunday night against NFC East co-leader Dallas to save its season.
Tampa Bay … well, they got to pick Jameis Winston in the draft, so good luck with all that.
Yes, we're only a quarter of the way through the season, but there are three teams leading the way in the NFC. One of them is Green Bay, which hammered out a 17-3 win over the Niners in Santa Clara, where the Pack hope to return for Super Bowl 50 in February. And the only other undefeated teams in the conference reside in the south. Atlanta and Carolina have accomplished this with precision quarterback play, opportunistic defense, and by beating the teams they're supposed to beat.
A lot of people will make a big deal about the incredibly weak strength of schedule for both Atlanta (32nd, easiest in the NFL) and Carolina (27th). New Orleans (28th) and Tampa Bay (29th) are also beneficiaries, of course, but you still have to go out and win the games. Case in point: The teams sandwiched in between on that list — Houston and Indianapolis — are both basically anthropomorphized tire fires at this point. And you don't get an extra-shiny Lombardi Trophy if you happen to win the title against a slate of foes above a certain winning-percentage threshold. Atlanta and Carolina have no control over who they play; they have complete control over who they defeat.
And so far, seven teams have tried and seven have failed. (The Texans have already been felled by both squads.) And credit for both of these roaring starts begins, as these things usually do, at the quarterback position. Matt Ryan, with a 101.2 passer rating, is on pace for almost 5,000 passing yards. While that specific stat's importance is fairly overrated, it becomes a tad impressive when it feels like almost of them are going to one Julio Jones, who is now pace for 1,912 receiving yards and 16 scores. Running back Devonta Freeman has already eclipsed his 2014 season total in yards, and while his average yards per carry isn't sensational (3.8), his seven touchdowns do lead the NFL. This is an offense with big-play potential on every down, even as it has essentially phased out a four-time Pro Bowl wide receiver (Roddy White) who's averaged nearly 1,200 yards a season for the past eight years. That's the kind of depth for which offensive coordinators sell their souls.
The Falcons have five more games to go until their Week 10 bye and it's not completely inconceivable they could still be sporting a zero in the loss column by that time: Washington at home, at New Orleans, at Tennessee, Tampa Bay at home, and at San Francisco. Those are all very winnable, and while, for example, Freeman won't stay on a 28-touchdown pace, the Falcons have shown the kind of balance that was perhaps a bit of a question mark coming into this season. The defense has been good enough — Atlanta is plus-6 in turnover margin after forcing three against the Texans yesterday and have already scored four defensive touchdowns thus far — so provided they don't suffer any catastrophic injuries, the Falcons will be there at season's end, just as they were in the first part of Ryan's career, when they reeled off four division titles in five seasons.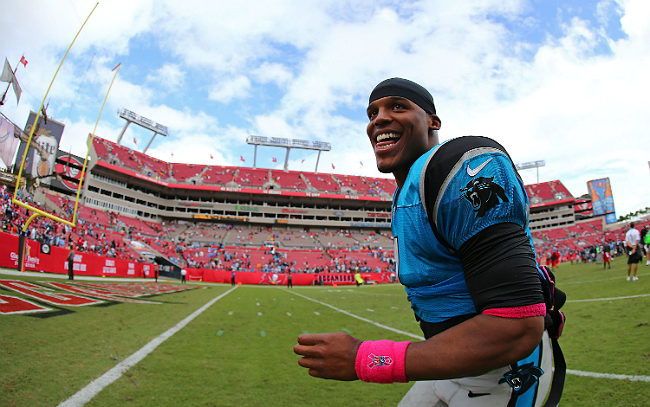 Meanwhile, a mere 250 miles up I-85, in Charlotte, the Panthers are already past the halfway mark to the division-winning win total from last season. Cam Newton may not be putting up the kind of gaudy stats that make QB gurus drool, but he has been playing MVP-caliber football in almost all areas. Newton has accounted for nine scores overall (seven passing, two rushing) and his 195 rushing yards is not only second on the team but has him on pace to break his career-best of 741 from 2012. When passing, he's not beating teams with the deep ball (a paltry 6.7 yards per attempt thus far) but, more importantly, he's protecting the ball. His two picks so far on 121 pass attempts would make for the lowest interception rate (1.7 percent) of his career, and he's getting sacked at a far lower rate (seven times in four games) than usual. With wideout Kelvin Benjamin gone for the year with an ACL tear, it's fallen on tight end Greg Olsen to again be the main beneficiary of Newton's targets. (Olsen and Benjamin actually tied for the team lead last year with 1,008 receiving yards.)
It'd be unrealistic to assume that Newton can keep bearing such a lopsided weight of the offense — Jonathan Stewart, who is finally the No. 1 back with DeAngelo Williams in Pittsburgh, is only averaging 55 yards per game — except that is, more or less, what he does. Newton can facilitate a multifaceted offense almost all by himself because that is Carolina requires of him. This year, even with a receiving corps that is somehow more undermanned than it was last year, if that's even possible to fathom, Newton is creating plays seemingly at will. The Panthers have a harder slate of games after the bye this upcoming week — at Seattle, then home against Philly, Indianapolis, and Green Bay — and if they can get through that stretch, they'll be set up well for the final four weeks of the year. And the game they had on Sunday, in which they forced five turnovers against Tampa Bay, is the kind of effort that gives a defense confidence they can do that most every week.
But it's in those final weeks when these two teams will meet twice — in Charlotte on Dec. 13 and in Atlanta on Dec. 27 — that in all likelihood, the entire division will be decided, so long as these juggernauts continue apace. Based on what we've seen so far, there's every reason to think that is possible and that the division will come down to some late December football action, as we all hope, but the only thing we really know for certain is that seven wins isn't going to be enough for the NFC South crown this time around.