The NFL playoffs are supposed to be a matchup of the best of the best. Except when the Raiders and Texans play and it's a battle between Connor Cook and Brock Osweiler. Most times, however, it's a battle of the best. Which is why we put together an all-playoff all-star team to get us ready for the run to the Super Bowl. These players may not be on the best team, but they are the best at their position.
Offense
Quarterback — Tom Brady, Patriots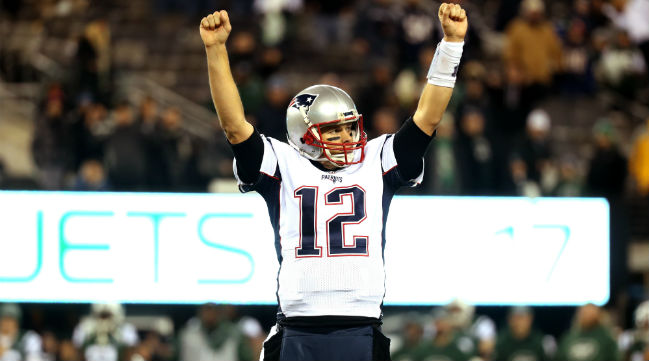 There are a lot of good quarterbacks in the playoffs this year. And then there are Cook and Osweiler. But even guys like Aaron Rodgers and Ben Roethelisberger can't match up to the postseason success Brady has in his career. And he's played a month less than everyone, so he's healthy and ready to go. Say what you will about New England's passing targets this postseason, but if you get your pick of the entire league, you start with the ball in Brady's hands.
Running Back — Le'Veon Bell, Pittsburgh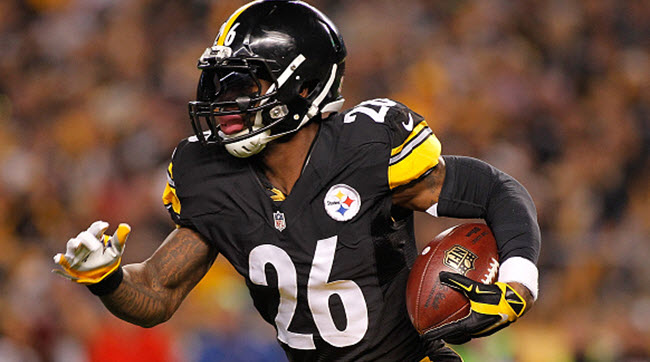 If you're noticing a trend here, yes we picked another guy who missed the first month of the season. Football is hard, and the season is a grind. At this point in the year those nagging, lingering injuries add up and slow you down. Bell has four fewer wear on his tires (61 less carries than Zeke Elliot, for example) and can do special things no matter what conditions. Consider this: he put up 298 yards in the snow against the Bills in Week 14. He's a special running back, and he's our starter.
WR1 — Antonio Brown, Pittsburgh
There are a lot of dynamic wideouts in the league, but it's hard to argue against Brown's consistency and ability to explode for huge games. Let's say the running game doesn't work. Put the ball in Brown's hands, even just off the line of scrimmage, and watch him dance. Into the end zone, I mean. Well… I suppose he's gonna dance when he gets there, too. Just two pumps though.
WR2 — Julio Jones, Atlanta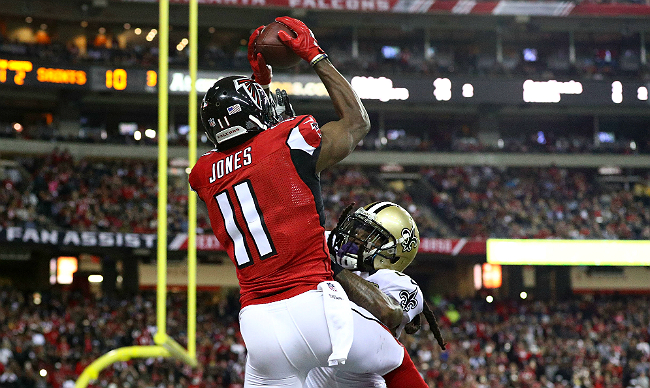 Odell Beckham has had too weird of a year to trust here. Julio, on the other hand, has been tremendous each week. Six 100-yard performances and that 300-yard outburst against Carolina in October make it hard not to give him a roster spot on this fictional team of excellence.
Tight End — Jimmy Graham, Seahawks
This is obviously a different pick barring Rob Gronkowski's health, but Graham's current health state is actually a big reason he's here. Graham is nearly playing like his old self these days, playing a big part in Seattle's blocking schemes and catching crazy touchdown passes to boot. He will be a big weapon for any team in the playoffs, including this group of all-stars.
Ofensive Line — Dallas Cowboys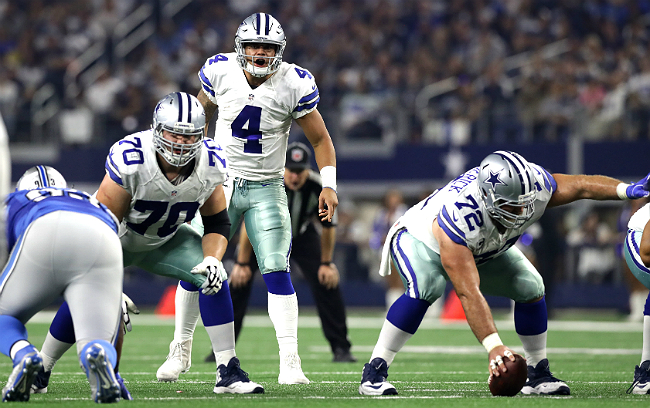 Listen, Ezekiel Elliot has been spectacular this year. But this offensive line is a huge reason for that. Don't let that sentence discount the work Zeke has done, but think about how much more Le'Veon Bell could do running behind the Cowboys five up front. Yeah, that's what I thought.

Defense
Defensive Line — Seattle Seahawks
The Seahawks defense is still formidable, and that's saying a lot considering how many injuries the team dealt with this year. The key here is that Michael Bennett is back after missing nearly two months. A healthy Bennett joining standouts like Cliff Avril on the D line makes this team scary. And very tough to run on.
CB1 — Malcolm Butler, New England
Butler is one of those typical cornerbacks who get feature stories written about how great they are, but the entire piece is about how no one notices how good they are. It's a typical angle to take on a corner because things aren't supposed to be exciting for them. They make plays not happen. They avoid getting burned. Butler is often the reason your favorite team's stars go quiet when they play the Patriots. This has been another extremely meta blurb about Malcolm Butler. Glad we can keep this narrative up.
CB2 — A.J. Bouye, Houston
Bouye has been great in press coverage for the Texans this year, and had a career-high 62 tackles. But what made him look especially good was not allowing a touchdown all season. Pretty great for an undrafted free agent out of Central Florida. But don't worry about his bank account—he's a UFA after this season. Plenty of reason to play lights out.
LB1 — Bobby Wagner, Seattle
Leading the league in tackles has to get you somewhere in this day and age. I mean, it's a stat that often indicates your team got worked a whole lot on the defensive line — Buffalo's Preston Brown is second on that list — but Wagner simply plays a huge role on the Seahawks D. I think tackling is somehow underrated in football. Let's focus on tackling in 2017, you guys.
LB2 — Khalil Mack, Oakland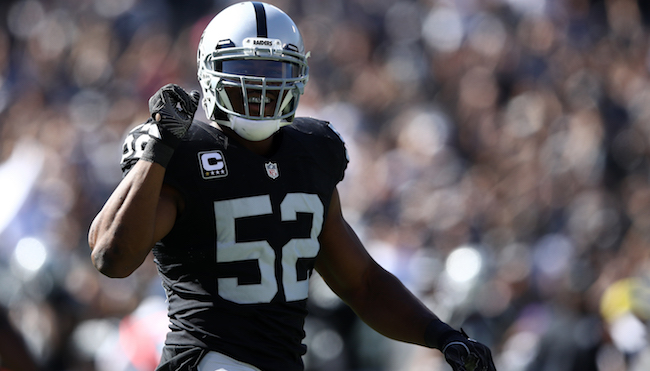 I know Mack plays defensive end a bit, but he's been an all-pro at two positions so he gets a spot on the team. As dynamic a pass rusher you're going to see in the league. We want him, and now he is ours.
LB3 — Sean Lee, Dallas
Lee is second in tackles this season behind Bobby Wagner, but this isn't about tackles. This is because Tony Romo said Lee's the best linebacker in the league. Lee wasn't even voted into the Pro Bowl this season, but Tony Romo needs a win. I believe in you, Tony.
Safety 1 — Earl Thomas, Seattle
Skeptics may look at Seattle's playoff run as an easy coast through the NFC West, but Seattle is third in points allowed this season because they have a ton of individual talent on defense. Thomas didn't make the Pro Bowl this season, either, but the Pro Bowl is a false flag shielding the truth of this world from the harsh light of day. He's as solid as ever.

Safety 2 — Eric Berry, Kansas City
We've somehow avoided including any Chiefs on this list, and representation matters. Berry is very good, and was an all-pro last season. He's been good again this year, and leads a Chiefs defense that hopes the offense and coach Andy Reid can keep it together in the playoffs this time around. Good luck, Eric.
Special Teams
Punter — Marquette King, Oakland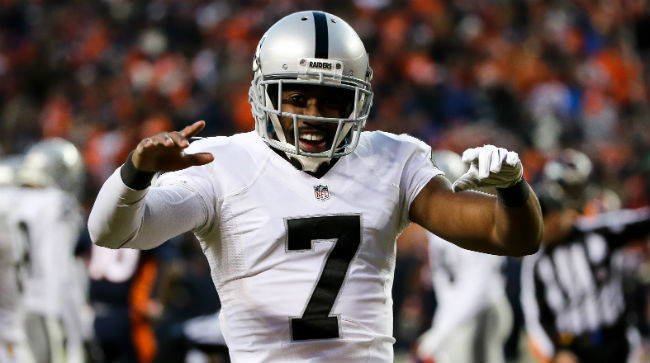 You're talking to a punters-only fantasy football league champion here, so this is the pick I feel most comfortable making. Though Dolphins punter Matt Darr had more total yardage than King, he leads all postseason punters in average yards per punt (48.6) and has a respectable 41.4 net yards per. And with Derek Carr out, Oakland will need someone to swing field possession for an offense that might struggle. Marquette King is very, very used to that. He's gonna get some work.

Kick returner — Tyreek Hill, Kansas City
Hill has three kick return touchdowns this season, but his last one was special — a 95-yard punt return against San Diego that helped the Chiefs win the division and get a first round bye. Hill ran so fast he had to push his own teammates out of the way. As much as I'd like Antonio Brown to punt another punter, Hill is the guy.
Kicker — Matt Prater, Detroit
Everyone knows Prater has some leg from his days in Denver, but what gets him here over others is that he's a perfect 7 of 7 this season on field goals of 50 or more yards. That's clutch, and something to lean on when you're desperate for points or need a game-winner late. The Lions might not be able to deliver as a team, but Prater can.
Coach — Bill Belickick, New England
You're coaching an All-Star team against no opponent? Bill has a guy that's been scouring No Opponent for three years now. He's got a defensive scheme to stop them. Consider it done.