I've had a theory about the longevity of a certain segment of NFL coaches for a very long time. We will come back to this in a moment.
Los Angeles (nee: St. Louis) Rams head coach Jeff Fisher is rumored to be on the verge of signing a three-year contract extension. This would be despite four straight losing seasons with the Rams (with a fifth likely on the way) to go with his final two seasons with the Tennessee Titans in which he failed to crack .500.
By all reasonable standards, the Rams should have fired Fisher long ago, yet he has not only survived, but he is possibly extracting three more years out of the organization.
That brings me to my theory: Bad NFL coaches with mustaches last longer than they should because of their facial hair and also last longer than their naked-lipped brethren.
Look at Fisher. He just looks like a head coach in the NFL. I think there's something comforting and reassuring about hearing football talk from a mustachioed man when you're losing. A bare-lipped Fisher would have been out on his ass and coaching arena football years ago if not for the mustache. I truly believe this.
But that's just one mustached coach; what about the other bad coaches with a mustache? What's the best way to go about seeing if my mustache corollary is real and not imagined? How do I know objectively this is true and not just heavily influenced by Fisher, whose record is as poor as his mustache is glorious?
I did my best to set up parameters to keep this study as fair and balanced as possible, because I don't want to finagle numbers to my benefit. I want the truth. I can handle it.
1. The "bad" coaches, mustachioed or otherwise, are any coach with a career record below .500. If you lose more than you win, that pretty much guarantees you will lose your job eventually. Miraculously, this doesn't include Fisher, but we'll get back to him.
2. I only included coaches that got their start in 1990 or later, aka The Mustache Era. I did this because most coaches before that with only a couple exceptions were heavy-set white guys with zero facial hair. Also, there weren't as many games in a season in olden times. I searched about two-dozen coaches from the 1920s, 1930s and 1940s and the image results were all smooth-faced white guys. Excluding them only serves to weaken my theory — the average sub-.500 coach throughout NFL history logged an average of 39 games; only including the post-1989 coaches bumps it to 53 per game, which is our study's baseline number.
3. Goatees are not part of the study. There is lip hair there, yes, but we are only concerned with the power of the mustache. If Ben McAdoo goes 11-5 this year and starts next season with a mustache instead of a goatee, he will coach the Giants through at least 2021.
4. I wasn't sure what to do with interim mustached coaches that replaced fired coaches during the season. In theory, that interim coach wants a head-coaching job and if he goes 1-6 and doesn't get the job next year, should that count against my theory? Is taking out those guys unfair? To be honest, I already calculated everything with the interim guys, so I left them in.
5. If anyone was omitted, I assure you it was accidental. I did everything I could to learn about NFL coach lip hair, but maybe I missed someone. It's not like I can reach the Elias Sports Bureau and get mustachioed coach stats. For instance, you won't see Kevin Gilbride's stint in San Diego mentioned here because while he rocks a duster now, he didn't then.
So with 53 games set as the average number, let's first look at all the mustachioed coaches that inexplicably exceeded this number.
BAD AND MUSTACHIOED
DAVE WANNSTEDT (TOTAL GAMES: 169)
CAREER RECORD: 82-87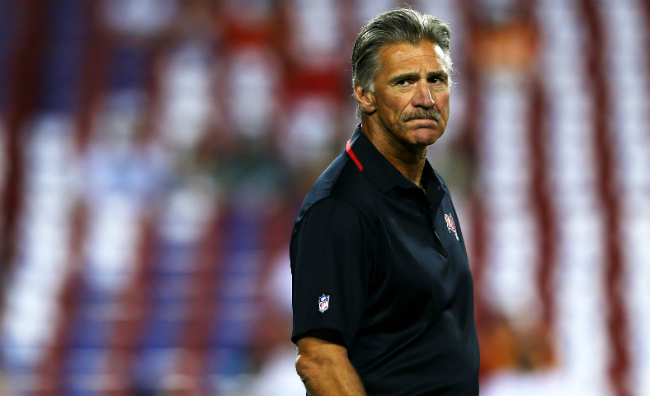 The bargain store version of Mike Ditka, Wannstedt coached approximately 100 more games than the average losing coach. He went 42-31 with the Dolphins from 2000 to 2004 and was fired after opening 1-8 in 2004, which seems to go against the mustache theory.
The fact that he got another job in Miami after first being so bad in Chicago speaks to his mustache's power. He went 40-56 with the Bears, had one playoff trip, never won more than nine games in a season and went 7-9, 4-12 and 4-12 before the Bears finally gave him his walking papers. There's no way a coach with a bald lip gets that many years in Chicago.
RAY RHODES (TOTAL GAMES: 80)
CAREER RECORD: 37-42-1
While Wannstedt and Fisher sport the Tom Selleck 'staches, Rhodes is more about the pencil-thin variety. That sweet thing had power, but only enough to get him one year in Green Bay after going a combined 9-22-1 in his final two years with the Eagles.
There's no way Rhodes' mustache didn't extract that contract from the Packers.
TONY SPARANO (TOTAL GAMES: 73)
CAREER RECORD: 32-41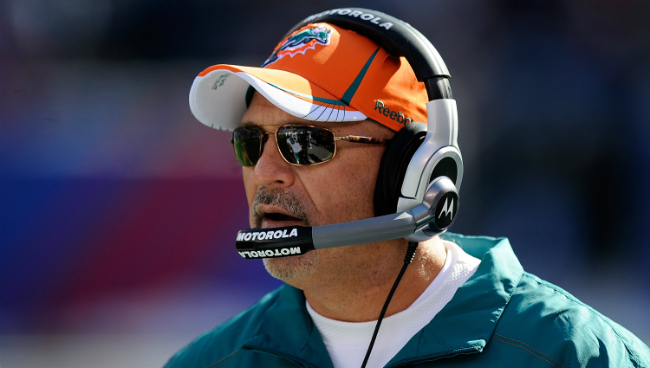 Much like Rhodes, Sparano's mustache got him one more chance with a new team after he was fired. That record includes an 11-5 mark in his first season with the Dolphins, who seem to fall for the mustache scam as much as anyone. Sparano was allowed to go 7-9, 7-9 and 4-12 before getting the axe.
Sparano took over for a fired Dennis Allen in Oakland in 2004 and wouldn't you know it, he went 3-9. It makes you wonder if the Raiders could have had more success if they tabbed a clean-shaven assistant for the interim gig.
ROMEO CRENNEL (TOTAL GAMES: 83)
CAREER RECORD: 28-55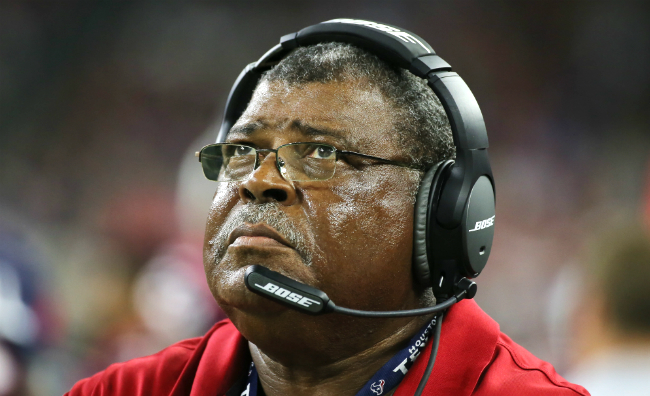 Crennel has the most underappreciated money-stealing 'stache in football history. He won 24 games across four seasons with the Browns, a pretty sure sign he wasn't a good head coach. Three years after his dismissal from Cleveland, he found himself as the defensive coordinator with the Chiefs in 2011. That's when he enabled Mustache Power.
Crennel took over for Todd Haley and went 2-1, which included a Week 15 win over the undefeated Packers. The Chiefs named him the head coach for next season and went 2-14.
Whatever the overall value of that contract in Kansas City, it all should go to the mustache.
HERM EDWARDS (TOTAL GAMES: 128)
CAREER RECORD: 54-74
After posting a losing record in six seasons with the Jets (39-41), he landed in Kansas City, another mustache haven. He went 15-33 and now works for ESPN.
JUNE JONES (TOTAL GAMES: 58)
CAREER RECORD: 22-36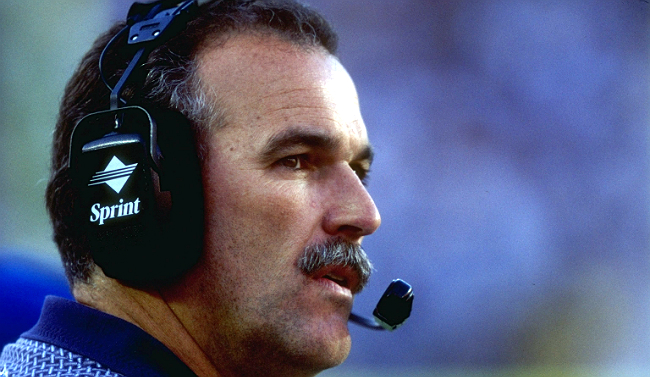 He barely gets over the 53-game bar, and I feel like if he had more interest in coaching in the NFL, he could have cracked 100 games. Alas, he started coaching college football, shaved the mustache and now he's a high school coach. Coincidence? No way.
June — grow the mustache back and you can be coaching Notre Dame next season. Trust me.
THE ANECDOTAL MUSTACHES OF WINNING COACHES
MIKE DITKA (TOTAL GAMES: 216)
CAREER RECORD: 121-95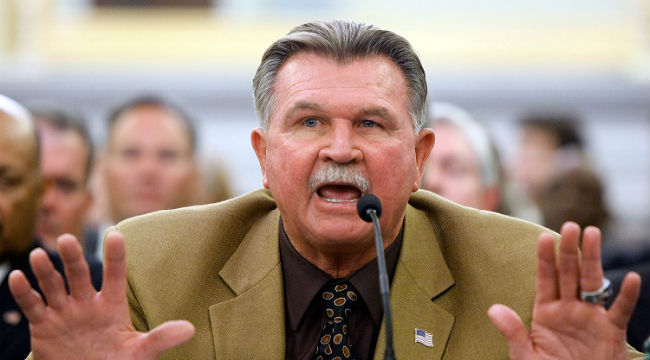 Clearly, Mike Ditka was a very good coach for a very long time. He won a Super Bowl, for crying out loud. He's not part of the study because he is both a pre-1990 coach and has a winning record for his career.
So let's focus on his three seasons with the New Orleans Saints from 1997 to 1999.
Forget that he went 15-33, because even those 48 total games are five fewer than the average. But do you think if a man without a mustache could have convinced his boss to trade the franchise's entire draft for Ricky Williams after two straight 6-10 seasons? No, goddamn, way.
Ditka went 3-13 the following season and went on to work with Edwards at ESPN.
ANDY REID (TOTAL GAMES: 274)
CAREER RECORD: 162-111-1
Again, not part of the original study. And unlike Ditka, he has a winning record in his two stops in the NFL. He has the 15th-most wins in NFL history. Objectively, you can't classify him as a bad coach.
But, I mean, come on. This guy survived in Philadelphia for WAY longer than he should have. His time management blunders are legendary. He disappoints in the playoffs constantly.
Despite the mathematical evidence, you will never convince me that Reid's longevity isn't tied to his mustache.
DENNIS GREEN (TOTAL GAMES: 207)
CAREER RECORD: 113-94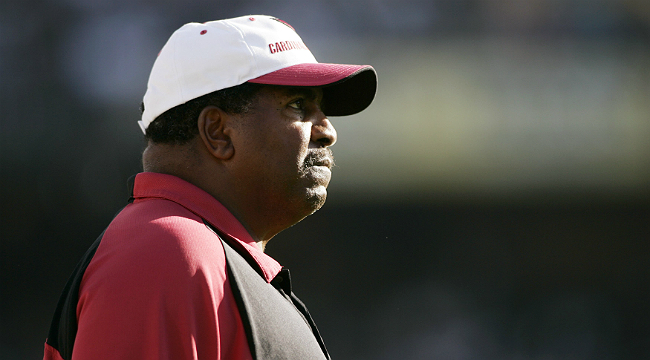 Green and Reid were birds of a feather; great regular seasons, postseason train wrecks. While Reid has flourished in the regular season with the Chiefs, Green went 5-11 in his final season with the Vikings in 2001, then a combined 16-32 in three seasons with the Cardinals.
That's a 21-43 mark over his final four NFL seasons, three of which I attribute to his mustache.
THE OUTLIER MUSTACHE
BRAD CHILDRESS (TOTAL GAMES: 74)
CAREER RECORD: 39-35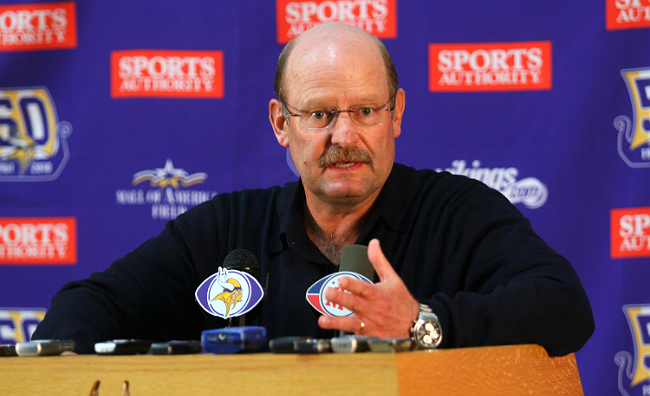 I can't explain this one. This dude looks just like Gerald McRaney. If you asked a child to draw a football coach's face, this is what you'd get. He went 36-28 over his first four seasons, went to the playoffs twice, then got canned after a 3-7 start in 2010.
I mean, this guy has a mustache, right? Six years later and he hasn't gotten a head-coaching job. Is it a fake mustache? Is it an implant? WHY ISN'T MAJOR DAD COACHING THE DOLPHINS RIGHT NOW???
ONE GOATEE BECAUSE I WANT TO DISCUSS IT
KEN WHISENHUNT (TOTAL GAMES: 119)
CAREER RECORD: 48-71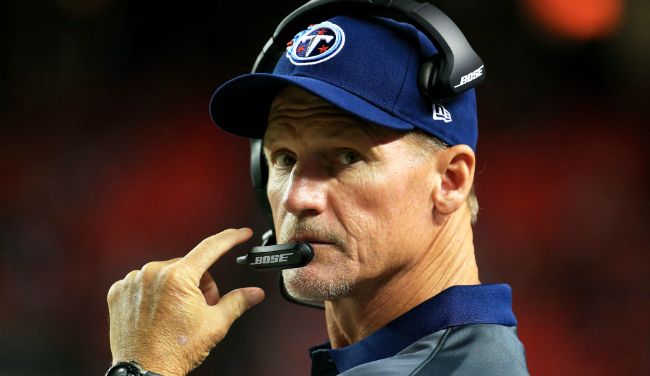 The entire point of this thing you probably can't believe you've read this far is dudes that look like coaches last longer, and even though Whisenhunt was strictly a goatee guy, this mean-looking bastard rocked facial hair and coached for a very long time despite subpar results.
Most goatees make coaches that have them look more like extras in 1990s movies than coaches (see: Gregg Williams) and while Whisenhunt doesn't qualify to be part of the mustache data, he's the consummate "get that guy because he looks like a coach" coach.
THE THEORY-BREAKING MUSTACHES
JIM TOMSULA (TOTAL GAMES: 17)
CAREER RECORD: 6-11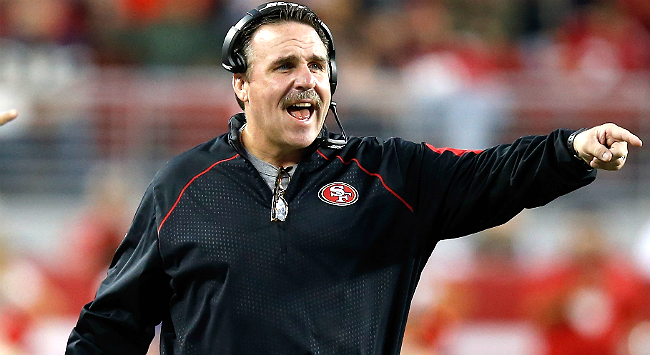 This guy is another "holy crap this guy looks like a football coach" guy, yet he bumbled himself out of a job after one season. Based on his look, he should have coached 100 games easy. This really damages the theory.
Also: Why does San Francisco of all places hate mustaches? Don't you people have facial hair competitions out there?
PERRY FEWELL (TOTAL GAMES: 7)
CAREER RECORD: 3-4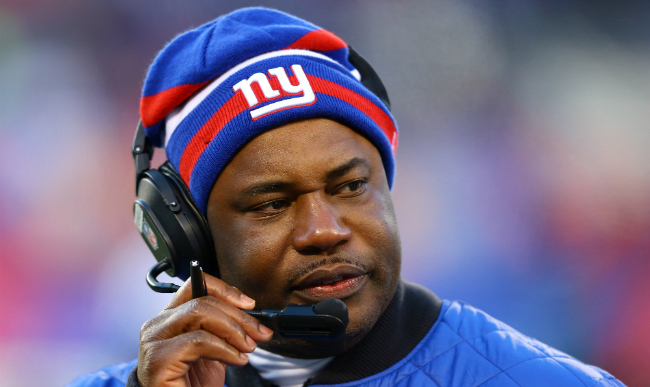 I hate that I'm including interim gigs like this, but whatever.
RICK VENTURI (TOTAL GAMES: 19)
CAREER RECORD: 2-17
Another interim guy. Even still, there isn't a mustache that can overcome 2-17.
THE MUSTACHE WE ARE HERE FOR
JEFF FISHER (TOTAL GAMES: 328)
CAREER RECORD: 170-157-1
Okay, based on the criteria we set for "bad" coaches, a guy that's won 13 more games than he's lost isn't bad. But he is.
• Out of his 20 full seasons, Fisher has had a winning record six times. SIX!
• In the two partial seasons (his first and the current one), he is 2-6.
• In four-plus seasons with the Rams, he is 28-37-1. That's 66 games and counting when 53 is where most sub-.500 coaches since 1990 get fired.
• Since 2009, he is 42-55-1.
• Since 2004, he is 82-95-1.
And now, he is staring down a potential three-year contract extension.
Fisher doesn't fit into the bad coach portion of this study, but if he gets a three-year extension, that career record will almost definitely go below .500, thus cementing the validity of my mustache theory.
But as of now, does the theory hold water? Counting only the mustachioed careers of Wannstedt, Rhodes, Sparano, Crennel, Edwards, Jones, Tomsula, Fewell and Venturi, we have:
The average sub-.500 coach's longevity since 1990: 53 games.
The average sub-.500 mustachioed coach's longevity since 1990: 70 games
If we don't include Fewell and Venturi: 87 games
If we don't include Fewell and Venturi but include Fisher: 117 games
Parents, teach your kids to throw left-handed and grow mustaches.