This NFL season is only three weeks past its opening, so it feels somewhat crass to make too sweeping a declaration, but what you can see are the trend lines, when tendencies start to become predictable. And three weeks is certainly enough time to see the kinds of benchings, serious injuries, and boneheaded coaching moves that could cost you a season, being that a win in September — as far as I know! — counts as much as one in December.
So because of all that, there are a lot of raw emotions that arise this early in any season — anger, joy, that tingly feeling of dread when Andy Reid is making important decisions beyond the two-minute warning — but the last holdout is always hope. That you can hold on to past all the others.
Which brings us to the curious case of the NFC East, which is fast draining its finite supply of the stuff. No matter who you root for in this division, it's hard to see who has it best or worst, but with these four teams, that may be a distinction without a difference. All have been beset by many of the deepest fears that haunt any red-blooded football fan. Who's going to win this division? I mean, are we sure there has to even be a winner?
The standings may not appear so dismal — the NFC North alone has two of the league's four 0-3 teams, and the AFC South literally doesn't have a winning team as of now — but look deeper and you'll find only pain and uncertainty. Trying to figure how this division is going to play out would be only a prediction rooted in sadness. Not a single team has more than 40 percent odds to win the division. That's parity, born not of competition, but simple attrition.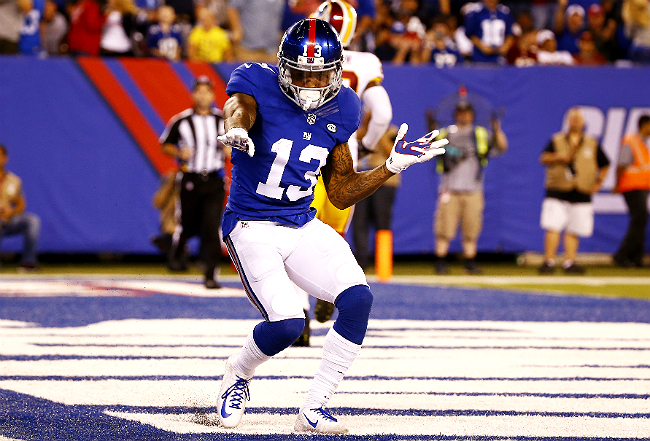 The New York Giants (1-2), despite their obvious woes, could reasonably be 3-0 and in first place, if not for some historically abysmal fourth-quarter play over the first two weeks. Coming into this season, the defense was already down a big-time player, who himself is down maybe one-and-three-quarter fingers. Victor Cruz just suffered another setback and he may yet still be weeks away from returning. The defense has only three sacks thus far and the lack of QB pressure shows, as New York is giving up 335 passing yards per game, the worst of anyone in the league. Odell Beckham, Jr. is the lone bright spot on this entire roster — he might be the most talented player in the entire division — but he's still only as good as Eli Manning's right arm can get him the football, and it feels like that's often a suspect proposition.
Some teams, though, would consider themselves fortunate to have someone as competent and consistent as Manning. Washington (1-2) benched Robert Griffin III before the season even started and replaced him with Kirk Cousins, who has thrown more picks (four) than TDs (three). What's got to be most frustrating for fans is the full knowledge that Cousins is not the longterm answer at quarterback, yet there is no better option.
Alfred Morris and Matt Jones have combined for almost 130 rushing yards per game, which is nice, but it's nicer if there's one person you can count on in those moments you need three, four, five yards at a clip. Because Cousins is the antithesis of what you might call a dynamic pocket passer, the great majority of his targets have gone to running backs and tight ends, especially with the team's lone deep threat — DeSean Jackson — being sidelined since injuring his hamstring in the first quarter of the season.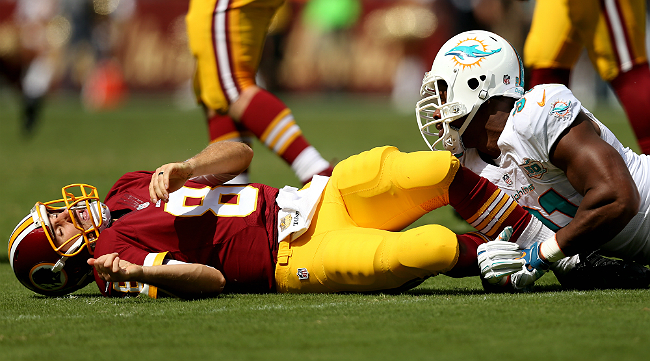 This dink-and-dunk offense has led to only 228 passing yards a game (21st in the league) and has formed the sad backbone of the 26th-ranked scoring offense (18.3 points per game). Maybe the biggest issue here on offense is that there isn't a single player (save for perhaps Jones and defensive end Ryan Kerrigan) who you could see being on this roster in five years. At least the defense (second-fewest yards allowed per game) is keeping them somewhat competitive.
Was there a team coming into this season with more hope to improve on last season than Dallas? The Cowboys (2-1) haven't been to a conference title game in 20 years, since they won Super Bowl XXX, and last season was supposed to be something of a rebuilding year, but instead Dallas produced its first rushing champion since Emmitt Smith and rode a much-improved defense to a 12-4 record and its first division crown since 2009. But what should've been a catalyst to another successful year has flamed out fast.
Murray bolted for Philadelphia. Dez Bryant broke a bone in his foot and is still a few weeks from returning. Tony Romo broke his collarbone and is not expected back until maybe Week 11. Joseph Randle (68 rushing yards a game) has been a significant dropoff from Murray (although Murray would do cartwheels to have those numbers thus far in Philly). The Cowboys will be fine in the longterm, but this season may already be something of a lost cause. How can they possibly tread water until Romo's return? Even after he returns, Dallas still has road games to play at Buffalo and Green Bay. If 10-6 gets you to the playoffs, they need to be better than 5-5 when they get Romo back. It's incredibly hard to envision that scenario, given this loss of personnel.
But given all the other strife throughout the NFC East, the Philadelphia Eagles (1-2) may be cratered in the deepest, darkest sinkhole of them all. Every move that head coach/general manager Chip Kelly made has been an abject disaster. DeMarco Murray has been a mere shell of the player he was in Dallas, albeit only through two games. Kiko Alonso, the centerpiece of the trade that sent Shady McCoy to Buffalo, escaped the prognosis of a torn ACL, but will still miss the next month as he rehabs, and an already mediocre defense can ill-afford his absence. And the only thing Sam Bradford has proven in the first three games of the Post-Nick Foles Era is that he may not be a viable starting NFL quarterback.
The Eagles haven't shown much passion or creativity, which might be the most perplexing thing because this is a Chip Kelly-coached team. Once regarded as an offensive innovator, Kelly has been given free rein to bring in the players he believes can execute his offensive vision, but the results have been uninspiring. Years from now, when Kelly is long gone as the Eagles' boss, the biggest mystery will be why he didn't trade up to get Heisman-winner Marcus Mariota, who has impressed in Tennessee. That's an honest answer that every Eagles fan deserves.
So that's the state of this division, with no potential MVP candidate, no viable Super Bowl contender, few legit rising stars, and an SAT's worth of questions. But there are still 14 weeks left in the regular season. Who knows how this trainwreck of a division will play out, but it'll be hilariously entertaining to watch.