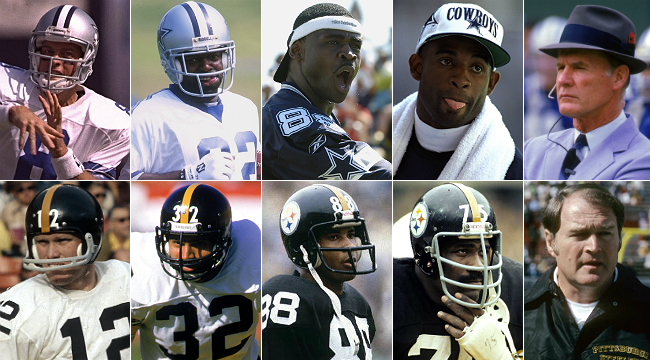 On Saturday, the Class of 2015 will be inducted into the Pro Football Hall of Fame. And this year unsurprisingly has former members of both the Pittsburgh Steelers and Dallas Cowboys, as Jerome Bettis and Charles Haley enter the hall in 2015. That brings the two teams' total Hall of Fame representatives to a staggering 36 members (15 for Dallas and 21 for Pittsburgh).
That's a lot of really good players, especially when you consider that if you combined the Falcons (2), Ravens (1), Bengals (1), Broncos (4), Patriots (4), Saints (3), Jets (5), Chargers (8), Seahawks (3) and Buccaneers (3), you'd still only have 34 inductees based on guys who had played a significant role on said teams. So essentially the Steelers and Cowboys between them have more players in the Hall of Fame than a third of the league. Not bad.
This got us to thinking, what would happen if you build a team out of said Hall of Famers on both Pittsburgh and Dallas? Who would come out on top? We already have three Super Bowls of data (with Pittsburgh pulling off the two matchups in the '70s, and Dallas taking Super Bowl XXX back in 1996), but it's the cross-generational battle we're more interested in right now.
First we need to break down who would play where.
I'm going to limit this to 10 players each (five on offense, five on defense) to keep things simple because otherwise we'd be here all day. So while this is going to leave out some great players (sorry, Tony Dorsett), it's for the purpose of streamlining the exercise.
Dallas Cowboys
OFFENSE:
QB – Troy Aikman
OL – Larry Allen
RB – Emmitt Smith
WR – Bob Hayes
WR – Michael Irvin
DEFENSE:
DL – Randy White
DL – Charles Haley
DL – Bob Lilly
DB – Mel Renfro
DB – Deion Sanders
COACH – Tom Landry
Pittsburgh Steelers
OFFENSE:
QB – Terry Bradshaw
OL – Mike Webster
RB – Franco Harris
WR – Lynn Swann
WR – John Stallworth
DEFENSE:
DL – Joe Greene
LB – Jack Ham
LB – Jack Lambert
DB – Rod Woodson
DB – Mel Blount
COACH – Chuck Noll
First off, let's address some of the notable people left off. I went with Franco Harris over The Bus because Harris was an absolute streamroller and even now looks like he could survive 300 or so carries in a season. Bettis' longevity and durability is obviously a big deal, but Harris brings that "It" factor that you look for in your lead back. Plus he had a famous beef with Jim Brown, and that might just tip the scales in his favor. It was close, and ideally you'd carry both on the roster. And you'd get both of those sweet, sweet beards.
If there were more spots for Pittsburgh, I'd give Jack Butler some burn, consider Ernie Stautner, and probably put Dermontti Dawson in there too, although he might be redundant with Webster already locking down the center position.
As for the Cowboys, Aikman gets the slight edge over Staubach because of recency bias, so call me a dumb millennial and be done with it. (Staubach was great. But Aikman was that good for a long time. Plus, count the rings, or something.) We already mentioned Dorsett, who was incredible, but Smith is the pick for being such a workhorse for so long. You can't really ignore the 18,355 yards. I kind of wish I had a spot for Rayfield Wright on the offensive line. That dude could play.
Now to the matchup itself. From the quarterback position, I think Aikman tops Bradshaw even though Aikman's never done a one-man show like Bradshaw has. From a playmaking perspective, Aikman throwing to Irvin just beats Bradshaw to Swann, even though the two of them could do this:
But from the running back position, in one game, I'm going with Harris. As much as I love Emmitt, Harris would bring it when it counts. The Cowboys are probably going to score, even against the Steel Curtain. That's how good those '90s teams were at getting it done.
Defensively, as good as the squad of Haley, White and Prime Time are, it's all Steelers. Don't get me wrong, I assume Sanders is going to get his and make a big play against Bradshaw defensively or make his presence felt on special teams.
But you're trying to run the ball against Joe Green and Jack Ham and Jack Lambert. You're just not going to do it. They're too mean, and I'm not just saying that because one of the dudes' nicknames was literally "Mean."
So we're looking at a 21-20 game probably, and it's going to come down to coaching. How do you pick between The Hat and Chuck Noll? Noll had four Super Bowls, Landry two. Landry was one of the most innovative coaches in history (shoutout 4-3), while Noll was the better drafter. But I think in a one-game situation Landry is going to make the better adjustments and have some tricks up his sleeve, err, hat. If I have to take one, it's Landry.
Which means I'm actually saying the Cowboys Hall of Famers beat the Steelers Hall of Famers. American's Team, indeed. Oh, no. What have I done? But of course if they played 10 times, it'd probably be five wins for each. And we're never going to settle this anyway. It's still fun to think about, though.