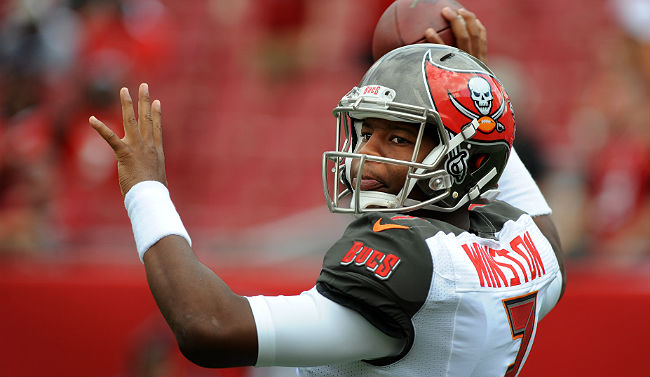 The 2017-18 NFL season has run parallel with off-field controversy NFL owners would love fans to forget. NFL ratings are down. Roger Goodell's job is in jeopardy. Donald Trump can't stop tweeting about it. It's been a full-fledged disaster on many levels.
Protests during the national anthem, started by Colin Kaepernick, reached a fever pitch earlier this season, but are still ongoing, with Oakland Raiders RB Marshawn Lynch the latest to stir up controversy in Mexico City. It's been a major cause of friction between NFL players, owners, and political figures.
Then, you've got the Ezekiel Elliot suspension saga. Elliot was supposed to miss the first six games of the NFL regular season after the NFL suspended him for a domestic violence incident, but a series of appeals and legal madness kept Elliot on the field until he finally gave up the fight earlier this month.
According to reports, NFL commissioner Roger Goodell promised Cowboys owner Jerry Jones that Elliot wouldn't be suspended, and since Elliot was suspended, Jones has been actively trying to remove Goodell from the NFL. It's just been that kind of season where off-field issues overshadow the game, and we've got another story that is going to do just that.

According to ESPN's Adam Schefter, Tampa Bay Buccaneers QB Jameis Winston is under investigation by the NFL for allegedly groping a female Uber driver in March of 2016. The driver is claiming that Winston groped her while in line at a Mexican restaurant, and Buzzfeed news published her story in an article last week.
"I started driving, and right away, Jameis behaved poorly" by shouting, in part, homophobic slurs at pedestrians, said Kate, who did not want to be identified by her full name for fear of negative attention and potential backlash from football fans. He then asked to stop for food.

Waiting in line at the drive-thru of Los Betos Mexican Food, "he reached over and he just grabbed my crotch," Kate said, alleging that Winston held his hand there for three to five seconds and removed it only after she looked up in shock and said, "What's up with that?"

"I wasn't just creeped out," said Kate, who had been driving with Uber for more than two years at that point. (She no longer drives for the service.) "I was frozen." She described Winston as "very physically imposing."
Former college roommate of Winston, and current Philadelphia Eagles cornerback, Ronald Darby, released a counter-statement claiming that he was in the car with Winston, and the driver's allegations are false. In fact, Darby claims that Winston wasn't even sitting in the front seat.
Upon hearing Darby's comments, John Clune, the lawyer representing the Uber driver, is also requesting that the NFL investigate Darby's involvement, but as of right now, the NFL's investigation is focusing on whatever Winston did or didn't do that night. This, of course, isn't the first time Winston has found himself at the center of serious allegations involving misconduct with a woman, having dealt with a high profile sexual assault case while at Florida State, with charges eventually not being pursued by the state attorney.