We're a quarter of the way through the 2016 season, and while we're getting some clarity as to which teams are actually good this year (Patriots, Broncos, Vikings all seem legit) we still aren't sure which players are.
Last year there was a clear three-man race between Cam Newton, Tom Brady and Carson Palmer. Newton eventually pulled away after the Patriots faded down the stretch, and the Panthers 15-1 record combined with Newton's phenomenal play elevated him above Palmer. Now, let's look at where these three are now.
Brady hasn't played yet; he may play well enough in 12 starts to vault himself into the race; in fact, that wouldn't really surprise anyone. Still, missing four games is a bit of a hill to climb. Meanwhile, Newton and Palmer's teams both have losing records. Newton's Panthers have seen a lot of the problems that they were able to sweep under the rug last year (particularly their weak receiving core) come back to bite them, while Palmer's inconsistent play has been a reminder of just how surprising it was that he was in the MVP discussion last year.
Palmer and Newton could still turn their seasons around, and Brady might be so good as to render the fact that he missed four games irrelevant. Still, for the time being, it appears that this year's MVP race will look a lot different from last year's.
So, who jumps into the fray? Von Miller has played well enough through four games that you'd have to think he'll get some consideration to become the first defensive MVP since Lawrence Taylor in 1986. Aaron Rodgers has been strong, but somewhat underwhelming by his own ridiculously high standards. His 7-1 touchdown-to-interceptions ratio is impressive, but for the second straight year he's struggled with accuracy, completing just 58.5 percent of his passes so far. At this moment, if we were to pick a favorite for MVP, it would probably be Matt Ryan. Through four games, his passer rating is an eye-popping 126.3, and he's made incredible use of Julio Jones, who had 300 yards receiving last week. Ryan has been a "good-but-not-great" QB for most of his career, and jokes about him being boring have abounded over the years, but for the first for weeks of the 2016 season, he's been the best player in the NFL by a fairly wide margin.
Also in the mix is Ben Roethlisberger, who has an incredible weapon in Antonio Brown. The Steelers passing game has been as strong as ever this season, and if he keeps this play up, it wouldn't be entirely shocking if voters decided to reward him with an MVP nod. His QBR this season is 87.8, which would beat his previous career high by over 10 points if he kept it up. He's also thrown 11 touchdown passes, which would put him on pace for 44 and vastly surpass his previous career high of 32. The Steelers passing game is as dominant as its been in the Roethlisberger era, and he made end up being rewarded for it in a big way.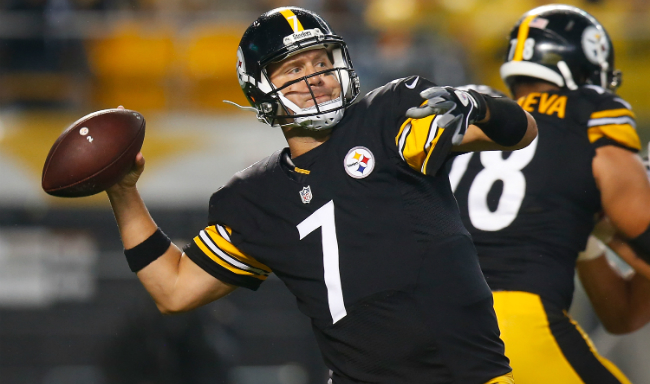 But could there be spoilers? Oh, definitely. First off, let's talk about Carson Wentz, whose Eagles destroyed Roethlisberger's Steelers 34-3 two weeks ago. That game was likely an anomaly for the Steelers, but it also went a long way in proving the legitimacy of a stunning 3-0 Eagles team. They've been boosted by a stout defense, and the surprising play of Wentz, who most thought wouldn't even be ready to play this season. Wentz has yet to turn the ball over in three games, and he's thrown five touchdown passes while looking as poised as any rookie QB in recent memory. He also has an impressive adjusted yards/attempt of 8.5, differentiating him from other rookies who tend to check the ball down, and in three games, he's been sacked just four times. Starting a rookie QB can lead to offensive hiccups, but Wentz has the passing game operating at quite a high level.
Wentz might not even be the only rookie in the discussion. In fact, the Cowboys might have two on the same team. Ezekiel Elliott has been every bit as good as advertised this season, particularly last week when he ripped the 49ers secondary to shreds. After a slow start, he's rushed for 278 yards in the past two weeks, and he's currently the only back in the league averaging more than 100 yards per game. Meanwhile, Dak Prescott has made good on his strong preseason, avoiding turnovers and consistently making intelligent throws. Prescott has completed 67.9 percent of his throws (good for sixth in the league), while averaging more than 250 yards per game. If Prescott can continue to avoid mistakes while leading the Cowboys to an NFC East title (remember, if Terrence Williams steps out of bounds, they might be undefeated), he could actually sneak his way into the MVP conversation. Of course this assumes Dallas doesn't go back to Tony Romo once he's healthy.
So, we have three rookies with an outside shot at winning MVP, and we haven't even gotten to the most inexplicable candidate yet — Sam Bradford. Since taking over in week 2, Bradford has played the best football of his career, making tight, confident throws while avoiding turnovers. Bradford is completing 69.5 percent of his passes, easily beating his career average of 60.5 percent. He also has an adjusted yards per attempt of 8.4, vastly besting his 6.2 career mark. With weapons like Stefon Diggs and Kyle Rudolph at his disposal, Bradford is playing the most confident football of his career.
When the Vikings lost Teddy Bridgewater, their chances of being Super Bowl contenders appeared doomed, but a risky trade for Bradford has paid off massively. What's been particularly impressive about Bradford is that he's played this well against the strong defenses of the Panthers and Giants. The Vikings already had an amazing defense, but Bradford has kept Minnesota's offense going despite injuries to Bridgewater and Adrian Peterson. If the Vikings finish with the league's best record, or near the top, Bradford might go from an injury-prone bust to the league MVP in the span of a single year. If that seems impossible, consider how many people in the early '90s would have ever expected Rich Gannon to win an MVP.
It's still early, but this looks like it could be one of the strangest MVP races ever. Three rookies, and a man who was considered to be no more than a placeholder as recently as six weeks ago are all in the mix. Will it stay that way? Who knows, but it'll certainly be fascinating to watch the rest of this madness play out.