After devoting their entire lives to a sport, it's fair to say that every professional athlete has at least one nickname; it's just a matter of whether or not fans care enough to remember them all. Nicknames can summarize a player's legacy, become their brand, or be a sad reminder of better days.
Throughout the history of the NFL, fans have seen their share of good, bad, and ridiculous nicknames that have become synonymous with player's identities. But we only remember the best ones long after the players hang up their cleats.
So, here's a list of the best NFL nicknames, inspired by our first entry, Walter Payton, who would have turned 61 this weekend.
Walter "Sweetness" Payton
Walter "Sweetness" Payton is considered to be one of the greatest players to ever set foot on an NFL field. But he's also considered to be one of the best all-around people, which is why someone's given the Walter Payton NFL Man of the Year Award every year. To this day, no one really knows if his nickname came from his agility on the field or his character when he was off.

William "Refrigerator" Perry
At 6-foot-2 and 355 pounds, William Perry actually was as big as a refrigerator. The Chicago Bears defensive tackle was a force to be reckoned with, especially when he was on the other side of the ball as a fullback. Just imagine all of that coming towards you on a goal-line stand.

Marshawn "Beast Mode" Lynch
"Beast Mode" is really the only way to describe what happens when Marshawn Lynch gets the ball. Which raises the question of why he didn't get the ball at the end of Super Bowl XLIX, but I digress.

Calvin "Megatron" Johnson
If you're one of those people unfamiliar with Transformers, Calvin Johnson's nickname may seem pretty strange. But "Megatron" is the name of a giant-sized robot that's willing to risk everything to wipe out his enemies. While Johnson may not be as dramatic, his huge hands make him hard for cornerbacks to defend on the football field.

"Broadway Joe" Namath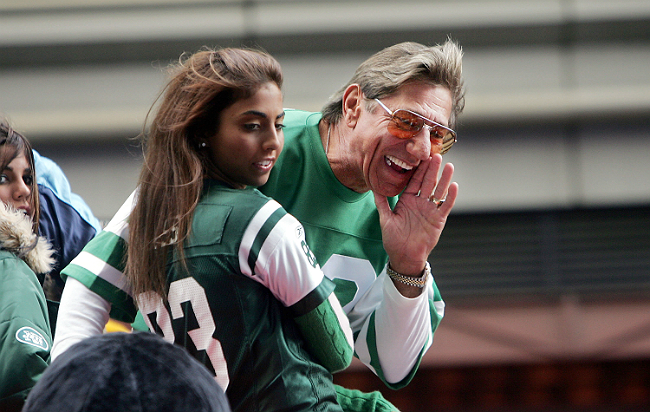 There was once a time where professional athletes were not thought of as global celebrities. Joe Namath changed that, thanks to his braggadocios ways and his fur coat. Put simply, "Broadway Joe" enjoyed the spotlight.

David "Deacon" Jones
"Deacon" Jones' first name wasn't actually "Deacon." It was David, but he felt like his name was too common, and he wanted to stand out, so he reportedly gave himself the nickname. Jones would go on to be one of the most terrifying and successful defensive ends in football. His time in Hollywood, playing for the Los Angeles Rams, even led to an acting career.

Charles "Mean Joe" Greene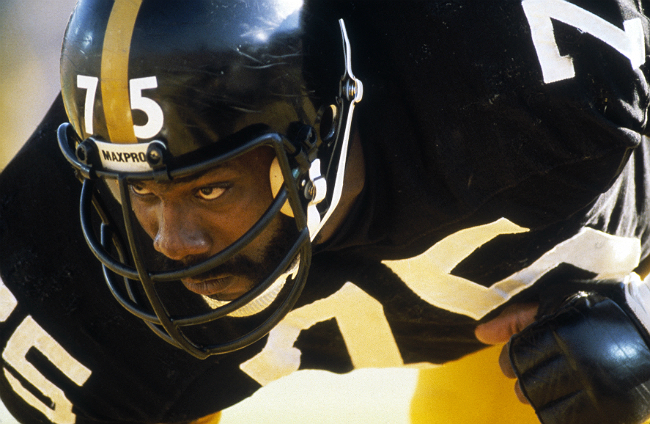 "Mean Joe" Greene actually got his nickname on accident when someone mistook the nickname for the defense he was a part of – the "Mean Green" – as his individual nickname. But it stuck, nonetheless, because word got around that Charles Greene actually was pretty mean. Which is why this classic Coca-Cola commercial really won people over.

Reggie "The Minister of Defense" White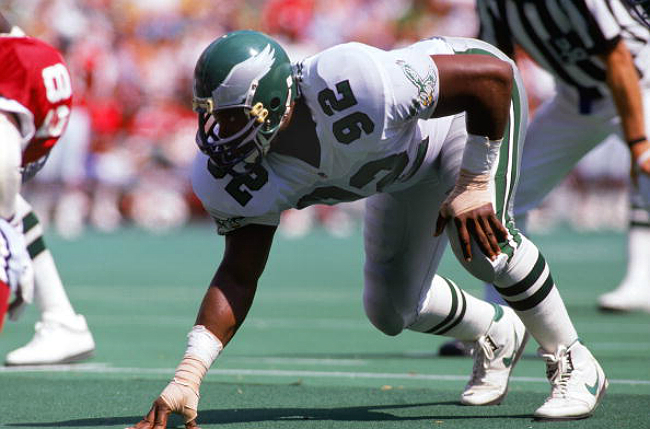 It's always clever when nicknames combine different aspects of players' lives. In the case of Reggie "The Minister of Defense" White, he was a serious defensive force, but also an Evangelical minister. Be honest, that nickname sounds pretty badass.

Jerome "The Bus" Bettis
Chances are, if you were a defender trying to take down Jerome "The Bus" Bettis in the open field, you were going for a long ride. The nickname stuck with the six-time Pro Bowl running back, who coincidentally wore black and yellow with the Pittsburgh Steelers for most of his career. But it's believed the nickname first appeared while Bettis played for Notre Dame.

Michael "The Playmaker" Irvin
Michal Irvin was one of the star players of the Dallas Cowboys in the 1990s. His ability to make big plays when they were most needed is a key reason that that team won three Super Bowls.

Dick "Night Train" Lane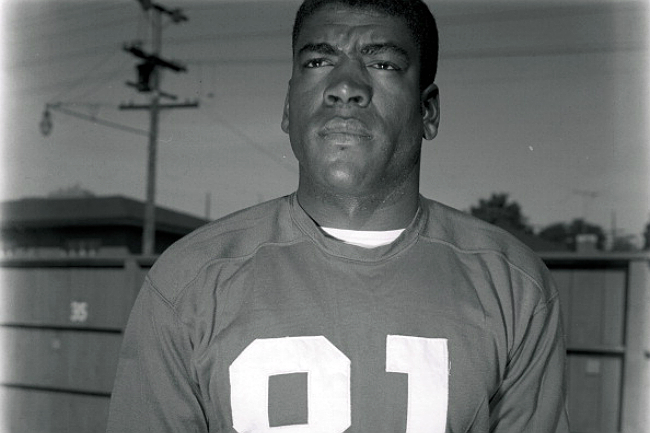 The nickname "Night Train" is admittedly pretty intimidating and makes you think of some large, overbearing presence about to knock you on your ass. But there are two problems: 1) Richard "Night Train" Lane got the nickname because he was afraid of planes and would always take night trains for road games, and 2) He was a cornerback. Not taking away from his success, though, he still has the record for most interceptions in a season at 14.

Roger "Captain Comeback" Staubach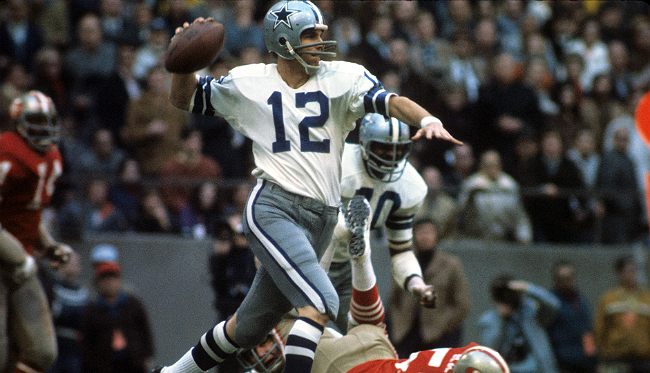 Roger Staubach, former quarterback of the Dallas Cowboys, has more than one good nickname, and they're all pretty awesome. "Captain America" came from him leading what was considered to be "America's Team." "Captain Comeback" came as a result of the Cowboys' last-minute victories. And "Roger the Dodger" came from his ability to move around in the pocket to avoid defenders.

Darrelle "Revis Island" Revis
You could argue that "Revis Island" isn't as much of a nickname for Darrelle Revis as it is an imaginary place that's associated with him. Either way, it's a clever way to explain how receivers may feel stranded and alone when they realize they can't get any passes when they're being covered by the shutdown corner.

Ed "Too Tall" Jones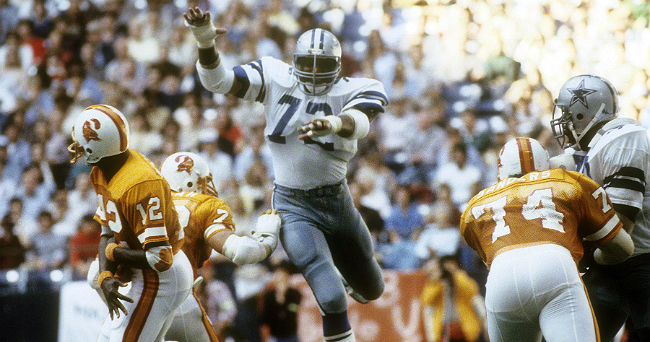 Ed Jones was 6-foot-9, so his nickname definitely fits. When you think about it, it's hard to imagine a need for an almost 7-footer in football, but Ed "Too Tall" Jones showed that it's definitely not a bad thing. The defensive end was drafted first overall in 1974 by the Dallas Cowboys and was selected to three Pro Bowls.

Christian "Nigerian Nightmare" Okoye
Christian Okoye seemingly came from nowhere. But, in truth, he came from Enugu, Nigeria and specialized in track and field. He didn't even think about playing football until he didn't make the Nigerian Olympic team. Just three years later, he was in the NFL and giving linebackers headaches as the Nigerian Nightmare.

Craig "Iron Head" Heyward
As a fullback that bounced around the NFL a bit, Craig "Iron Head" Heyward could've gotten his nickname a couple different ways. One could be because his head was reportedly larger than average. The second is that he used to used to lower his head (a big no-no now-a-days) when playing pick-up games, knocking the wind out of his opponents. This is definitely an instance of a cool sounding nickname outshining a player's career, though.

Kordell "Slash" Stewart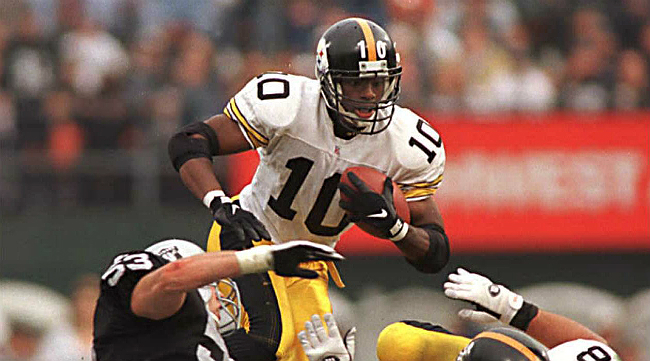 Kordell "Slash" Stewart didn't get his nickname from his breakneck speed across the field. He got it because he could play quarterback, running back, and wide receiver. Some better than others, but you almost wonder if Stewart was born a decade too early when it comes to the kind of speed that he brought to the quarterback position.
Billy "White Shoes" Johnson
You could say that Billy "White Shoes" Johnson got his nickname from painting his shoes white as a part of a dare, or you could make it a tall tale and say that he was so fast that his feet looked like they were covered in white heat. Not the coolest sounding nickname, but a 1960s original all the same.
Brett "The Gunslinger" Favre
Always willing to take risks and make impossible passes seem possible (or throw them to the wrong team), Brett Favre earned his reputation as one of the NFL's foremost cowboys while leading the Packers in the '90s and early aughts. Although the end of their partnership was a bit rocky, No. 4 just had his jersey retired by the Packers this past week to commemorate his accomplishments.

Deion "Prime Time" Sanders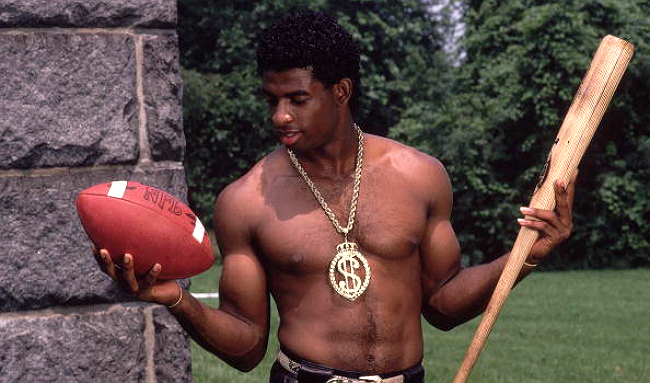 Deion Sanders is one of those players that has taken his nickname and given it a life of its own, even after he retired. "Prime Time" was one of the most entertaining players to watch during his time as both a charismatic cornerback and an impressive punt and kick returner. You never really knew what he was going to do, but you knew you had to watch him.