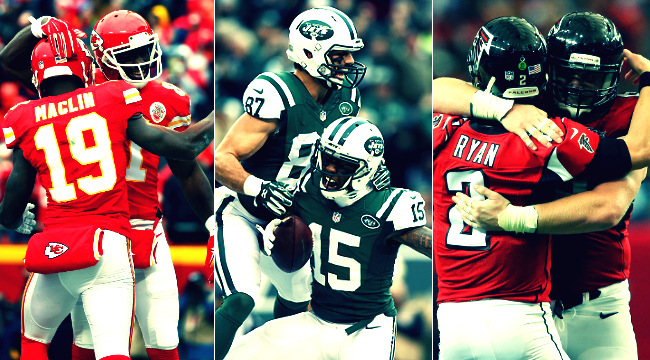 When the first pictures surfaced of Andy Reid dabbing, I knew all was lost.
The Kansas City Chiefs — maybe the best NFL story it feels like nobody is talking about? — had just earned a playoff berth after winning their ninth-straight game by beating woeful Cleveland. Mind you, they started out this year 1-5, and they're now only the second team ever to start that poorly and still qualify for January. So, this is a big deal! And then, just when the world couldn't seem any more improbable, there was Reid, all clad in red and black and dabbing in the locker room. With that image cascading aimlessly around inside my noggin, nothing seems to make sense anymore and that's fine by me.
We've got one week left in the regular season. Let's get goddamn weird.
Weirdness certainly abounded in the waning moments of the Pats-Jets matchup, which was mostly meaningless for the former, but was a season-saver for the latter. So, heading to overtime, the Pats win the coin toss and elect to … kick? Like, on purpose, knowing that if the Jets score a touchdown — which they did, o f c o u r s e — the game would be over? Yep, and that's pretty much what happened. Bill Belichick thought that was "the best thing to do," the Jets took advantage, and now Ryan Fitzpatrick can clinch his first career playoff appearance with a win next week at Buffalo, his old home, because no one ever said lumberjacks can't also live happily ever after. (And the conspiracy theorists who think Belichick purposely orchestrated this ending so that the Jets could make the playoffs and keep the Steelers from rolling in by winning out? Never change, you're too much fun at parties.)
Another legit shocker was how Carolina lost its first game of the season to an Atlanta Falcons team that has looked amazing! … and then more like hot, putrid garbage … and then one roster of players that sorta remembered how to play actual football far too late in the season for it to matter much. Alas, their biggest win of the year came Sunday at the expense of the heretofore flawless Panthers, who are now 14-1, still with the services of the best all-around player in football, and need only to win at home against Tampa Bay next Sunday to secure NFC home-field advantage.
Credit to the Arizona Cardinals, who destroyed Green Bay and are now forcing a team that started 14-0 to play a semi-meaningful game in the season's final week, but the Panthers remain the class of the conference, and the road to Santa Clara should (and deservedly so) roll through Charlotte.
But being that we're talking about the Arizona Cardinals — a team I freely admit to having not written all that many words about this season — what a performance at home against a Packers team that is pretty depleted, yet still boasts Aaron Rodgers and is therefore Always Capable of a Good Game. Not so yesterday, and Arizona dominated every facet of the contest in a complete and thorough 38-8 drubbing. So, the Cardinals now have the best point differential in the NFL, a very good quarterback in Carson Palmer (who has a non-zero percent chance of winning league MVP), a sneaky-elite running game (No. 6 in rushing yards), and a top-five defense to boot. There are arguments to be made that Arizona is the NFC's best bet for the Super Bowl come next month, and a Panthers-Cardinals matchup in the conference championship might even be a game that ultimately overshadows the Big Game itself in terms of competitiveness. Just a feeling.
And thanks to that complete lack of competence by Green Bay, the Minnesota Vikings seem to have all the momentum in the race for the NFC North crown. After their 49-17 thrashing of the inept and outclassed New York Giants, the Vikings can win the division with a win at Lambeau Field. There's so much anticipation here that, in a no-brainer move, NBC flexed the game to Sunday Night Football and assured itself of a massive audience. The AFC North and West both still need to be decided, but the NFC North will come down to a single winner-take-all game, making this matchup the most dramatic of any in the season's final weekend. Everything sane and logical says the Vikings probably win this game … except it's being played in Green Bay and Aaron Rodgers is of sound mind and good health, so who the hell even knows?
For a Week 17, there's still a nice bit of sussing out that still needs to happen. We'll examine it more closely as it's upon us. But for now, this past weekend was a clear reminder that everything we think we know about how the games will shake out … well, we don't. But it's the chaos that makes it so unforgettable.