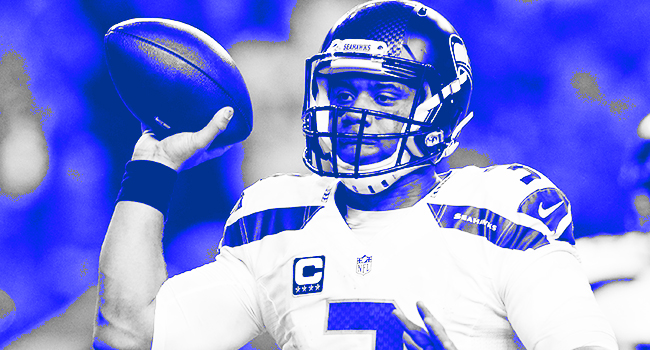 The 2017 NFL season starts this Thursday night as the Kansas City Chiefs face the Super Bowl Champion New England Patriots with a full slate of games taking place on Sunday. I already previewed the AFC, so here's a look at the National Football Conference as well as my pick for Super Bowl winner and who will win all the major NFL awards.
NFC EAST
New York Giants
Record: 12-4, 3rd in NFC (Last year: 11-5)
The Giants have the look of a serious contender. They went from six wins in 2015 to 11 last year and I'm giving them one more because that young defense they have is going to get better. They are strong in the secondary (keep an eye on S Landon Collins) and that will allow them to blitz a lot, which defensive coordinator Steve Spagnuolo loves to do. The offense should be pass heavy because I don't think RB Paul Perkins is a special back that can do that much. Look for QB Eli Manning to throw as much as any starter this year and as long as he can keep his interceptions down, they should win a lot of games. If they get to the playoffs, can they get a win because last year they got crushed 38-13 by the Packers and that's something the Giants should use to come into this year angry.
Fantasy Spin: I loved the signing of WR Brandon Marshall because it's going to help star WR Odell Beckham, who might have his best year yet. Last year Beckham went for 101 catches, 1,367 yards and 10 TDs. I'm crazy enough to think he might top it because if defenses pay attention to Marshall then that will open things up for everybody including Beckham. Plus, he wants to get a big raise and money is always a good motivator.
Dallas Cowboys
Record: 10-6, 1st Wild Card (Last year: 11-5)
The Cowboys were a big surprise team last year as they went from 4-12 in 2015 to 11-5 last year thanks to rookies QB Dak Prescott and RB Ezekiel Elliott. Thanks to the best offensive line in the league, they should have another great offense again. As of this writing, Elliott is still suspended for six games, but that could change this week. They should still be very good without him because of how dominant that line is. The defense was first against the run and then 26th against the pass (in terms of yards), so they need to improve against the pass. That's why they drafted Taco Charlton (great name) to help the pass rush to make it difficult for opponents. A ten win season is very realistic for this young team that's going to grow together.
Fantasy Spin: Elliott changed so many fantasy drafts because if he didn't have a suspension he was a top five pick in every draft. Due to the suspension, he was dropped to a late second round pick or a third rounder. After getting 1,631 rush yards and 16 total TDs it's easy to get excited about him. Here's hoping he's not out for too long and that he proves to be a huge fantasy football difference maker again.

Philadelphia Eagles
Record: 7-9 (Last Year: 7-9)
If the Eagles go 7-9 this year then it would be the third straight 7-9 finish. That's frustrating for the fans, but when you look at this roster there's really nothing that jumps out at me. Their second year QB Carson Wentz looked good in the first half, but then he looked overwhelmed towards the end of the year. Long term I think he'll be very good. The problem is they don't have a lot of weapons because WR Alshon Jefferey has trouble staying healthy (missed 11 games in last two years) and Torrey Smith is past his prime. The run game is poor too. Defensively, they were in the top half of the league against the run and pass, so they can slow teams down at times. It just feels like they are still building and it's going to take another year or two before they can jump the two better teams ahead of them.
Fantasy Spin: Their running back situation is something I avoided in every draft. I don't trust LeGarrette Blount to be as good for them as he was with the Patriots. Darren Sproles is a good receiving back that is just a role player. Wendell Smallwood hasn't done much to impress either. When you have that much uncertainty in the backfield, the best thing to do is look for other options elsewhere.
Washington Redskins
Record: 5-11 (Last Year: 7-8-1)
There is likely going to be a stumble somewhere in the NFC East with two playoff teams up top, so I'm leaning towards Washington for that. While Kirk Cousins is extremely well paid to be a top 15 QB, they just don't have enough around him to go very far. The run game is below average, the WR group lost their best deep threat and there are health concerns about star TE Jordan Reed, who is healthy but also dealing with a nagging foot injury. They were 28th in the NFL in terms of yards on defense and didn't improve enough to get excited about them. I think they'll be a team in a lot of shootouts this year.
Fantasy Spin: WR Terrelle Pryor interests me a lot. He's coming off a 77 catch season on a bad team, so he signed a one year deal with a much better offense in Washington where he could definitely top the 90 catch mark. Pryor is on a one year deal, so he's playing for a long term deal as well.

NFC NORTH
Green Bay Packers
Record: 12-4, 2nd in NFC (Last Year: 10-6)
It all starts with QB Aaron Rodgers, who is arguably the best QB in the game and a two time regular season MVP that has one Super Bowl win as well. The Packers are always in contention in the NFC because of Rodgers, a talented WR group and one of the best offensive lines in the league. There are questions at RB with Ty Montgomery taking over after he was a WR to start his career. Montgomery looks the part and should do very well, but they are still a pass first kind of team. The defense has issues because they were 31st against the pass in yards and they didn't do any significant moves to make me think they will improve that much. I still think they're the class of the division. I'd be very surprised if they don't win the NFC North again.
Fantasy Spin: Rodgers had a monster year with 4,428 passing yards, 40 TDs and just 7 INTs. It's the second highest TD total he's ever had (45 in 2011 when he won his first MVP award) and I'm crazy enough to think he might top that 45 total. Why not? This offense is as good as any he has had, so as long as he continues to be aggressive an throw downfield we could be looking at Rodgers' best year ever. Spoiler: He's my pick for NFL MVP this year.
Minnesota Vikings
Record: 8-8 (Last Year: 8-8)
The Vikings ranked 3rd on defense in yards and 28th on offense in yards. They are very good at shutting people down, but the problem is they just can't score enough or build up leads to help the defense out. The offense is very conservative with QB Sam Bradford, who set the record for completion percentage at 71.6%, but if most of those throws are short then there really isn't much to them. They need to be more aggressive downfield. The problem is they didn't add much in terms of downfield threats. The defense will be outstanding again. No doubt about that. They might get into the playoffs, but I think the lack of aggressiveness on offense will hold them back.
Fantasy Spin: Rookie RB Dalvin Cook should get a lot of carries early on and he might be the best rookie RB this year. The concern is that the Vikings O-Line isn't very good, so if they are unable to create holes it may be tough on him. I like his potential and snatched him up in a few leagues. When you know a RB is going to be featured early on, that's who you need to target.

Detroit Lions
Record: 7-9 (Last Year: 9-7)
The Lions got into the playoffs last year even though they lost their last three games. It was a weird year for them as they managed to come back to win a bunch of games they probably could have lost. It wasn't a surprise when they lost in the playoffs 26-6 to Seattle. Most of the same players from last year are back with QB Matt Stafford getting a raise to become the highest paid player in the NFL making about $27 million this year. Good for him, but he's not going to carry them anywhere this year. Maybe if RB Ameer Abdullah has a healthy year they can make a bit of noise. He seems to be pretty average, though. They were in the bottom half on offense and defense last year in terms of yards, so it's hard to get excited about them. I say they drop down a bit this season.
Fantasy Spin: I hope TE Eric Ebron finally has a breakout year because he's got so much potential. Last year he caught 61 balls, but only one TD. They have to look for him in the end zone more because they could use the points.
Chicago Bears
Record: 4-12 (Last Year: 3-13)
It would be a surprise if the Bears didn't finish last in the division. They are one of the five worst teams in the league with issues all over the place. One of their strengths is the run game with impressive second year RB Jordan Howard. Their passing offense stinks, though, and losing talented WR Cameron Meredith to a torn ACL didn't help matters at all. They have QB questions with Mike Glennon running the show for now while rookie QB Mitch Trubisky is waiting in the wings. Why even draft Trubisky when you have so many other needs? There's not much to get excited about defensively either although head coach John Fox is a good defensive coach. They'll play hard for Fox, but they are overmatched in terms of talent.
Fantasy Spin: RB Jordan Howard had an impressive rookie year with 1,313 rushing yards and 7 TDs. The expectation is that he'll carry the load again and should top the 252 carries he got last year. The issue is their opponents know that too, so it may be difficult for him in year two. It could be like Todd Gurley in year two with the Rams where he was very impressive as a rookie and was a big disappointment in year two. I'm cautiously optimistic about Howard.

NFC SOUTH
This is the hardest division to predict. Any of the four teams could end up with double digit wins and any of them could have double digit losses. You just never know.
Carolina Panthers
Record: 11-5, 4th in NFC (Last Year: 6-10)
I believe in the Super Bowl loser curse or hangover or whatever you want to call it. The Panthers were 15-1 in 2015, got smoked by the Broncos in the Super Bowl and fell to 6-10 last year due to a lot of injuries and bad luck. They come into this year looking healthy with QB Cam Newton expected to run a bit less often since he's got a rookie RB Christian McAffrey who could catch 70+ balls out of the backfield and rush 150 times too. He's a weapon that this offense has needed for a long. I'm a big fan of the consistency of TE Greg Olsen and expect WR Kelvin Benjamin to have his best year ever. I also expect the defense to turn it around. They have a lot of talent on that side of the ball and they dealt with a lot of injuries last year, so if they can get everybody back on track I can see them being a top five defense again rather than finishing 21st like they did last year.
Fantasy Spin: Newton and McCaffrey both intrigued me a lot. I know there are reports that Newton may run less this year, which is fine, but I think having McCaffrey is going to lead to more TD passes for him. I expect Newton to be closer to the 2015 Cam rather than what we saw last year. As for McCaffrey, I drafted him a bunch of times because he'll probably get 15-20 touches every game and as long as that happens, he'll produce big numbers. Veteran RB Jonathon Stewart will vulture some goal line runs, but McCaffrey is going to have a big year.
Atlanta Falcons
Record: 10-6, 2nd Wild Card (Last Year: 11-5)
It's tough to think about what this team might be this year. On paper, they should be one of the best offenses in the league after averaging nearly 34 points per game. Every key player they had last year is back, but they did lose offensive coordinator Kyle Shanahan. Considering he called the plays that led to them losing the Super Bowl after blowing a 28-3 lead, that may not be a bad thing. How can they recover from that loss? It's going to affect them because every time they have a lead there will be doubt in their mind. I hope it makes them better, but as I mentioned above the Super Bowl loser hangover is real.
The trio of QB Matt Ryan, RB Devonta Freeman and WR Julio Jones should all have monster years again and that offense should produce a lot, which is why they're still a playoff team. Their defense is better than a lot of people think too. There's a lot of young talent there. Vic Beasley is going to be Defensive Player of the Year within the next three years. The secondary has improved a lot. I have them getting in the playoffs again and they'll be dangerous come playoff time.
Fantasy Spin: Julio Jones is one of the best WRs in the game. We all know that. However, he has dropped off in terms of scoring touchdowns. In the last three seasons, he has 323 catches with TD totals of 6, 8 and 6. I hope this is the year where he gets over 10+ TDs (he has done that once) and maybe even double where he was last year. They need to target him in the red zone more.

Tampa Bay Buccaneers
Record: 9-7 (Last Year: 9-7)
The Bucs are that team a lot of people are looking at this year and saying they could be like the 2015 Panthers or the 2016 Falcons as a team that jumps up from the middle of the pack to go to the Super Bowl. It's easy to see why because QB Jameis Winston is in year three and could have a monster year by targeting star WR Mike Evans and newcomer deep threat WR Desean Jackson.
What I don't like about their offense is the running game isn't very consistent with RB Doug Martin or Jacquizz Rodgers back there. To get to that next level, the run game needs to be better. Their defense is young and very fast, but they're still in the bottom half of the league against the run and pass. They have the potential to take the next step. I just think the two teams I ranked ahead of them are that much better.
Fantasy Spin: Mike Evans is considered by most to be the No. 4 WR in the game after the big three of Antonio Brown, Odell Beckham and Julio Jones. If you look at his stats, he's right there with any of them after putting up 96/1,321/12 last year. Evans could have an even better year with DeSean Jackson joining the team as a deep threat. I'm excited about what he might do this year.
New Orleans Saints
Record: 7-9 (Last Year: 7-9)
It's the same old story with the Saints. They'll score a lot of points (2nd most last year) and give up a lot of points (2nd most last year). Veteran QB Drew Brees is 38 years old, yet shows no signs of slowing down after throwing for 5,208 yards and he spreads the ball around as well as anybody. They had a big addition this offseason by bringing in RB Adrian Peterson (a future Hall of Famer like Brees) that has had several injury plagued seasons, but he provides an interesting 1-2 punch with Mark Ingram.
I think Peterson will outplay Ingram, although the Saints will be cautious with Peterson. Second year WR Michael Thomas should have a massive year as Brees' top target too. Defensively, they have some young talent that needs to improve quickly if they want to stop the potentially outstanding offenses in their division. Look for the Saints to have a lot of high scoring games and hover around the .500 mark again.
Fantasy Spin: I'm not the type of fantasy player that drafts QBs high, but I made sure to get Brees once because when you see he's had at least 32 TDs every year for nine years straight it's impressive. Plus, you know he's going to get around 5,000 yards passing too, so it's nice to have some consistency at QB. Since he has shown no signs of slowing down and he appears healthy at 38, Brees is a safe bet at QB every year.

NFC WEST
Seattle Seahawks
Record: 13-3, 1st in NFC (Last Year: 10-5-1)
This feels like the year where the Seahawks re-establish themselves as the best defense in the NFL. Other teams like the Denver Broncos and Houston Texans may have passed them, but I think they will be a monster group with the addition of DT Sheldon Richardson of the Jets, who should help them a lot in the run game. We know they can cover the pass well with an elite secondary and the LB group is really fast too. The rest of this division are lacking in terms of high powered offenses, so they should dominate.
It also feels like a year where QB Russell Wilson may elevate his game from one of the best in the game, to perhaps the very best. He's my No. 2 MVP pick behind Aaron Rodgers because I think the run game will be inconsistent, but Wilson should have more confidence this year throwing to TE Jimmy Graham and WR Doug Baldwin. The Seahawks are a veteran team with a great coaching staff that will become the best team in the NFC again.
Fantasy Spin: Jimmy Graham is coming off a couple of injury plagued years and now he comes into 2017 healthy after dealing with knee problems. I think Graham will improve on the 63/923/6 stats he put up last year with over 80 catches, over 1,000 yards and he should hit the double-digit TD range like he last did with the Saints in 2014.
Arizona Cardinals
Record: 7-9 (Last Year: 7-8-1)
The Cardinals have bounce-back potential after missing the playoffs last year (they lost the NFC title game two years ago). It all starts with superstar RB David Johnson, who is the best all around RB along with Le'Veon Bell of the Steelers. Teams design their defenses around trying to stop Johnson, yet he can still put up over 2,000 yards from scrimmage for 20 total TDs last year. The problem is that QB Carson Palmer is coming off a bad year and at 37 years old, it's unlikely that he's going to turn it around. Plus, I don't like the WR group that much since WR Larry Fitzgerald is 34 years old although he still produces.
Can their other WRs (John Brown, JJ Nelson, Jaron Brown) really step up with consistency? I'm not so sure. They have a good defense that was No. 2 in the NFL in terms of yards against, yet it didn't really get them anywhere last year. It feels like another year around the .500 mark for them.
Fantasy Spin: I managed to get RB David Johnson in one of my leagues, which excites because of how consistent he is. Matchups matter in fantasy of course, but if you have Johnson on your team you play him no matter the opponent. Johnson is the most reliable player going into this season although, as we have seen many times before, anybody can go down on any play. I hope it doesn't happen for him because I want to see if he can top what he did last year. Since he's only going into year three, it's very possible he might be better this year.

Los Angeles Rams
Record: 7-9 (Last Year: 4-12)
The Rams are my team. It's been 31 years and started in 1986 when a cousin bought me an Eric Dickerson jersey and got me an autograph. He was a fan, so he got me hooked when I was six years old. Most of that time has seen a lot of losing and they haven't been in the playoffs since 2004. Is this the year they make that leap? I doubt it. The roster is really young with QB Jared Goff going into two. While I don't expect him to be as bad as last year after improving the O-Line and adding Sammy Watkins at WR, he's going to have some struggles.
The defense should be pretty good since Wade Phillips might be the best defensive coordinator in the NFL. My concern is that the Rams best player DT Aaron Donald is holding out and if he's not on the field, it's going to hurt the whole team. Hopefully he can get that new contract soon because he's worth every penny. People used to joke about how Jeff Fisher teams always finish at 7-9. This year, I have my Rams at 7-9 in the year after Jeff Fisher because I think last year's four wins represented a team that quit on Fisher because his coaching style did not work in today's NFL. Here's hoping the Sean McVay-led Rams use this year to build to a successful future.
Fantasy Spin: RB Todd Gurley disappointed a lot of people last year. He was a top five pick in most drafts and while he played all year, he finished with just 885 yards and 6 rush TDs. I expect a bounce back because the offense should be more wide open, the left side of the line is strong with new LT Andrew Whitworth (a Pro Bowler from the Bengals) and Gurley will be motivated. The talent is there. I think Gurley will get to 1,200+ yards and 10+ TDs this year. He should get off to a hot start with an easy schedule in the first few weeks too.
San Francisco 49ers
Record: 3-13 (Last Year: 2-14)
The Niners are in full rebuilding mode. While former QB Colin Kaepernick keeps getting all the headlines, current QB Brian Hoyer represents a team in a holding pattern that are likely going to draft their franchise QB next year because Hoyer is really just a backup at best. The run game should be fine with RB Carlos Hyde, but the lack of a pass game will make it tough for them to run. None of their WRs are going to scare anyone, no offense to Pierre Garcon or Marquise Goodwin. They were the worst defensive team in the NFL in terms of yards and points against (480 points, which is exactly 30 points per game) with their only two wins coming against my lowly Rams. I'll give them one more win this year, but they have a long way to go to get back to respectability.
Fantasy Spin: There's not much to like here other than RB Carlos Hyde. I didn't end up drafting him once because of how leery I am of this offense. His numbers are good with 988 yards, 6 rush TDs and a 4.8 average, but teams are going to key on him even more this year and that will make things difficult. It's not like the passing game will open up the field for him. If you have him, start him depending on matchups, but if he's playing a great run defense you should keep him on the bench.

Wildcard
#6 Atlanta over #3 NY Giants
#4 Carolina over #5 Dallas
Conference Semifinals
#1 Seattle over #6 Atlanta
#2 Green Bay over #3 Carolina
NFC Championship: Seattle over Green Bay
SUPER BOWL 52 PREDICTION
New England 27 – Seattle 23
That prediction may make people groan and believe me when I tell you I don't like the Patriots much at all, but I can't ignore how good they are.
AWARDS
NFL MVP: Aaron Rodgers
NFL Offensive Player of the Year: Le'Veon Bell
NFL Defensive Player of the Year: JJ Watt
NFL Offensive Rookie of the Year: Christian McCaffrey
NFL Defensive Rookie of the Year: Myles Garrett
NFL Comeback Player of the Year: JJ Watt
NFL Coach of the Year: Bill Belichick