WHAT A WEEK OF THE FOOTBALLS. Every team was just football'n all over the place this past week, except for maybe the Eagles. They didn't appear to want to football, which is bad news for Eagles fans. Man, the Eagles are a confusing mess who can't decide if they want to be good or not, the 76ers are just a complete trash heap, and the Flyers are below .500. Looking at Philly sports, you can kind of understand why the most important sports statue in the city is of a fictional boxer played by a mumbling Italian.
So, what did we learn from this week of football? Let's test your knowledge with a quiz!
1. Who made the best catch of the week?
Answer: Redskins Coach Jay Gruden!
2. What team honored their future Hall of Fame running back and had one of the worst losses of the year?
A. The Los Angeles San Diego Chargers!
3. What is the name of Case Keenum's father?
A. He probably doesn't know, either!
4. What causes the worst bias among NFL referees?
A. If you listen to Jason Hatcher, the Redskins name!
5. What team won, but still basically lost?
A. The Ravens!
6. What team now has four wins and a reasonable chance at winning the division?
A. The Jaguars. We also would have accepted the Eagles and Redskins.
7. Who is the Texans starting QB next year?
A. Probably RG3 or Colin Kaepernick.
8. How tall is Brock Osweiler?
A. 6'7, three inches shorter than Peyton Manning's forehead.
9. Who is the No. 1 receiver for the 10-0 Carolina Panthers?
A. Ted Ginn Jr.! Yes, that Ted Ginn Jr.
10. Are the Patriots still undefeated?
A. Ugh.
So, let's get to the cartoons. Not a good week for me, with six incorrect calls. Certain teams are just confusing, and the rule of any given Sunday is in full effect.
If the Jaguars win, I will draw a COLOR RUSH Blake Bortles flushing a COLOR RUSHED blue toilet.

If the Ravens win, I will draw Joe Flacco doing a striptease because why the hell not?

If the Lions win, we get Jim Caldwell with Mark Davis hair.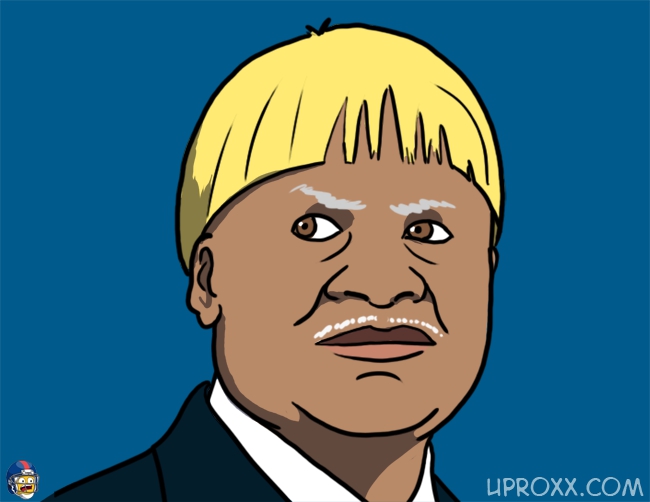 If the Texans win, I will draw J.J. Watt swatting down Jets as King Kong.


If the Bucs win, I will draw Chip Kelly getting punched by the Rocky statue.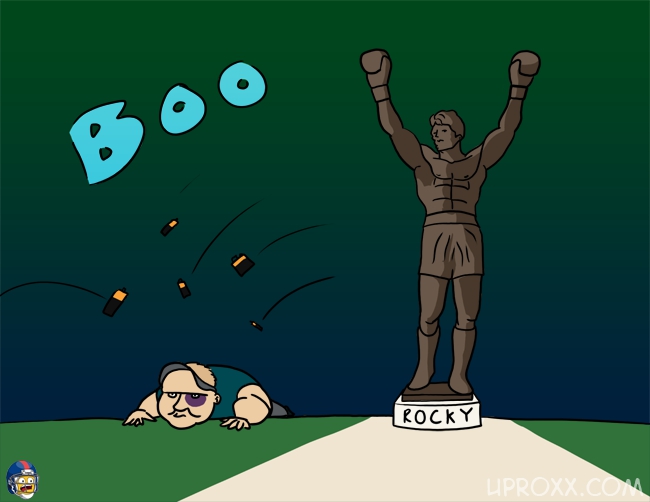 If the Packers win, I will draw viking Teddy Bridgewater defeated by a cheese dragon.

Check out these links to previous illustrations! 
WEEK 1 | WEEK 2 | WEEK 3 | WEEK 4 | WEEK 5 | WEEK 6  | WEEK 7 | WEEK 8 | WEEK 9 WEEK 10
So, what do I get wrong this week? Let's look ahead to Thanksgiving week in the NFL season! Let's start with the three games you will be watching to avoid talking with your family:
EAGLES @ LIONS
The Eagles are starting Mark Sanchez and just got embarrassed by the Buccaneers. But this is the Lions we are talking about. The Lions! Their Thanksgiving record isn't very good, even with the win last year. This will be a very bad game of football and I would recommend not watching it, but the alternative is talking politics with your family, so you should probably watch it. Thanks, Obama.
If the Lions win, I will draw Mark Sanchez running into Jim Caldwell's butt.
PANTHERS @ COWBOYS
Hear me out. This game smells funny. Funny like Jerry Jones' armpits funny. Funny bad. The Panthers are 10-0 with a stifling defense and a star QB playing out of his mind. The Cowboys are 3-7 and struggled to beat the Dolphins even with Romo back. There is no reason to pick the Cowboys to win this, but that's what makes me nervous. The Panthers have to stumble and fall eventually, and this feels like prime trap game material.
If the Panthers win, I will draw Cam Newton as Calvin (from Calvin and Hobbes) peeing on the state of Texas.
BEARS @ PACKERS
It would appear we buried the Packers too early. The Bears have replaced the Vikings as the team nobody is paying attention to and is actually playing decent football, but the Pack own Jay Cutler almost as hard as they owned the Lions.
If the Bears win, I will draw Jay Cutler walking away from a fat Wisconsinite exploding.
BILLS @ CHIEFS
The Chiefs are HOT HOT HOT, which makes no SENSE SENSE SENSE, but whatever. You call the hot hand when you see it.
If the Bills win, I will draw Rex Ryan smoking a cigar in his den with a trophy of Feet from QBs he's beaten.
RAMS @ BENGALS
The Bengals are finally back in Sunday afternoon where they belong. It was a rough couple of weeks there, but HELLO ANDY DALTON COMFORT ZONE, BABY. The Rams always play up to competition, but the offense is an absolute disaster, and Case Keenum can't remember his name thanks to Jeff Fisher being either extremely dumb or extremely negligent.
If the Rams win, I will draw Andy Dalton falling off a cliff as Tom Petty sings "Free Falling."
SAINTS @ TEXANS
The Texans have found a winning formula: T.J. Yates. The Saints may have benched Rob Ryan, but that doesn't mean the defense will suddenly turn good. It just means DeAndre Hopkins will only score like two touchdowns instead of four. The Texans are starting Brian Hoyer, though, so if they lose, they deserve it. #FreeYates
If the Saints win, I will draw Hobo Fabio Rob Ryan.
CHARGERS @ JAGUARS
Being that I stopped picking the Chargers, I've had two games where I felt bad, because the Chargers still very easily could have won both games. But they didn't. Here's another game that the Chargers can win. But nope, can't pick them. They disgust me, but at least I don't have to draw them anymore.
If the Chargers win, I will draw Philip Rivers being very excited to eat a hot dog.
BUCCANEERS @ COLTS
The Colts are not a good team, and the Bucs are better than you'd expect. This is a winnable game for the Bucs, but they haven't performed well enough to actually trust yet, so I'm going tiny horsies.
If the Bucs win, I will draw Doug Martin as the Muscle Hamster plowing through Andrew Luck.
DOLPHINS @ JETS
I picked the Jets two weeks in a row, and both times they let me down like they were the Chargers or something. Well, I'm not gonna get burned again by these lousy pretenders, so now the Dolphins have a chance to disappoint me instead. I fully expect that to happen, but I'M GOING FOR IT ANYWAY. TALLY HO, MCMUSCLES.
If the Jets win, I will draw Jets colors StarScream stomping on Ndamukong Suh.
VIKINGS @ FALCONS
Did you see it? The Vikings had our attention for two weeks! Two whole weeks! We finally saw that they were good and we gave them our love! Then they took it and dropped it in the trash against the Packers, proving we should never love again. Well, now the Vikings are punished back into the world of "who cares" teams, which seems to agree with them. This week, they get to beat up the Falcons. Remember six weeks ago when the Falcons looked like one of the best teams in football? Yeah, that actually happened. Dan Quinn looked like a Coach of the Year candidate. We were all so young.
If the Falcons win, I will draw Matty Ice partying.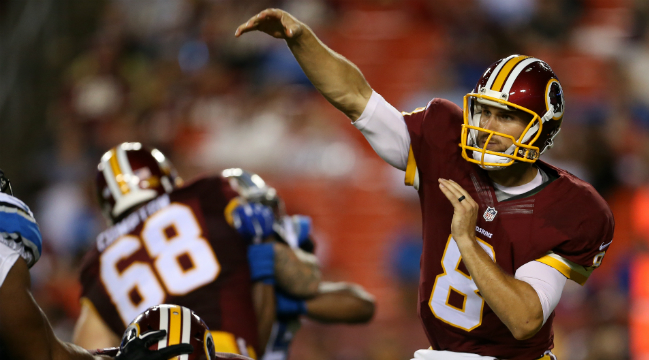 GIANTS @ REDSKINS
This battle between a 5-5 Giants team and a 4-6 Redskins team is for control of the NFC East. Yup. The NFC East is bad. The Giants, however, have only been blown out once, and they tend to own the Redskins, so let's go with them.
If the Redskins win, I will draw Eli Manning and Tom Coughlin confused by a clock.
RAIDERS @ TITANS
The Titans are bad. The Raiders are semi-bad.
If the Titans win, I will draw Marcus Mariota with Mark Davis hair.
CARDINALS @ 49ERS
The 49ers put Kaepernick on IR. They think Blaine Gabbert is the answer. I'll repeat that: They think Blaine Gabbert is the answer.
Blaine Gabbert.
Blaine.
Gabbert.
Yup.
If the 49ers win, I will draw Blaine "The Pain Train" Gabbert pelvic thrusting at Carson Palmer.
STEELERS @ SEAHAWKS
The Steelers make no sense. They've faced horrible injury luck, but continue to win games, anyway. They are like the anti-Ravens/Cowboys.
If the Seahawks win, I will draw Marshawn Lynch saying "yeah."
PATRIOTS @ BRONCOS
Curse you, noodle arms! This could have been it! You could have stopped them! With this defense and those weapons, the old Peyton Manning could have ended this annoying reign of Patriots terror and get people to shut up about being undefeated. But noooooooooo, you had to go get old and bad and leave us stuck with Brock Osweiler as a legitimately better option at QB. Curse you.
If the Broncos win, I will draw Brock Lobster.
RAVENS @ BROWNS
Matt Schaub vs. Josh McCown.
Matt Schaub vs. Josh McCown.
Matt Schaub vs. Josh McCown.
Matt Schaub vs. Josh McCown.
Matt Schaub vs. Josh McCown.
Matt Schaub vs. Josh McCown.
Matt Schaub vs. Josh McCown.
Matt Schaub vs. Josh McCown.
Matt Schaub vs. Josh McCown.
Matt Schaub vs. Josh McCown.
Matt Schaub vs. Josh McCown.
Matt Schaub vs. Josh McCown.
Matt Schaub vs. Josh McCown.
If the Ravens win I will draw Mike Pettine and Johnny Manziel drinking together.
May the football gods save us all.